By Eileen Ogintz
MOAB, Utah — What's the secret? Despite hours on the road, Asta and Carl Dam — ages 10 and eight respectively — haven't complained once or asked how much longer till they could stop.
That's because the Dams, from Denmark, are touring Utah and Arizona in a 36-foot rented RV they picked up in Las Vegas.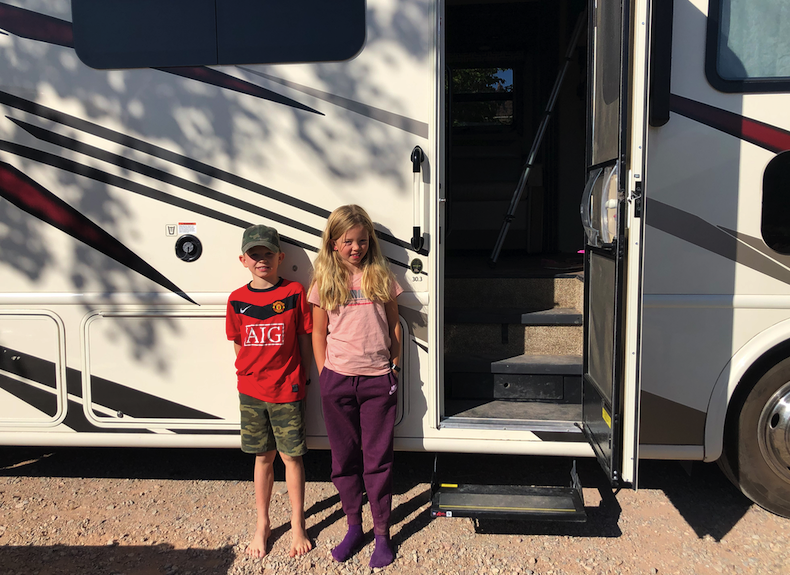 The kids can play games while they are strapped in their seatbelts, their mom Trine, explains, get a snack or go to the bathroom.
"It's not cheaper than staying in hotels," she explains. "It's just a lot easier with the kids. And we are a lot closer to nature."
Sometimes, Trine Dam adds: "the kids forget we are driving because they are playing."
We meet the Dams and other families at the KOA Moab campground, where we are staying in a borrowed Winnebago on a trip arranged by GoRving.com.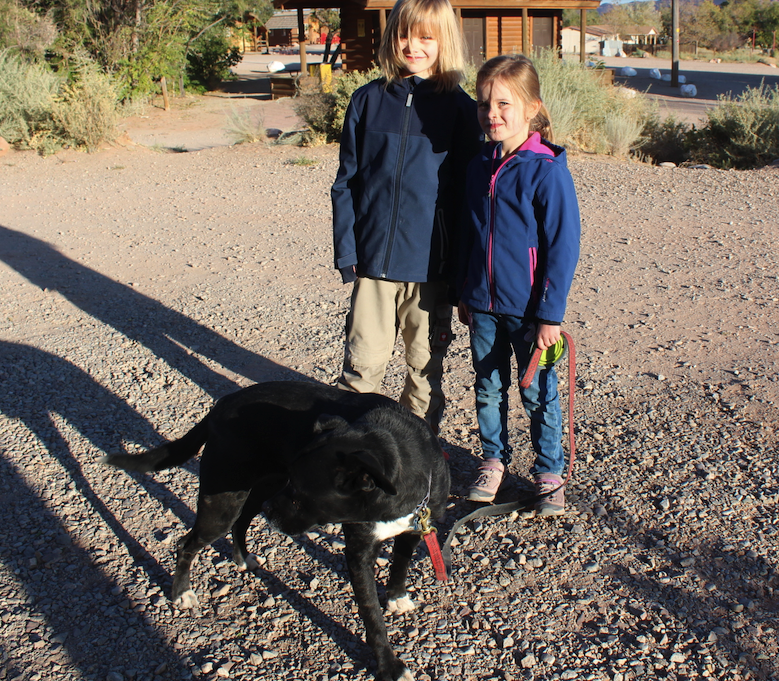 Jonathan and Charlotte Hambach, eight and six, make fast friends with our dog Trooper and share breakfast with us with their parents. They are from Hamburg, Germany, also touring for a few weeks while the kids have an October school break.
"You have everything with you so we can stop when we like," said Jan Hambach, adding the family spent nine weeks touring Australia and New Zealand in an RV. The kids' only complaint: They haven't made many friends because they don't speak English.
That's not an issue for Sophie and Stella Thornhill — ages 13 and 10 — from Fruita, CO. "We always get to meet kids," Stella said, adding "I like to be outdoors but not in a tent!" An RV, she explained, with heat and AC is a lot better when it's cold or hot, and especially when it is raining.
As for their dad Zach, he explains RV camping encourages family time. "If we were home and the weather was bad, we would all be doing our own thing," he explains. "Here we're playing board games or watching movies."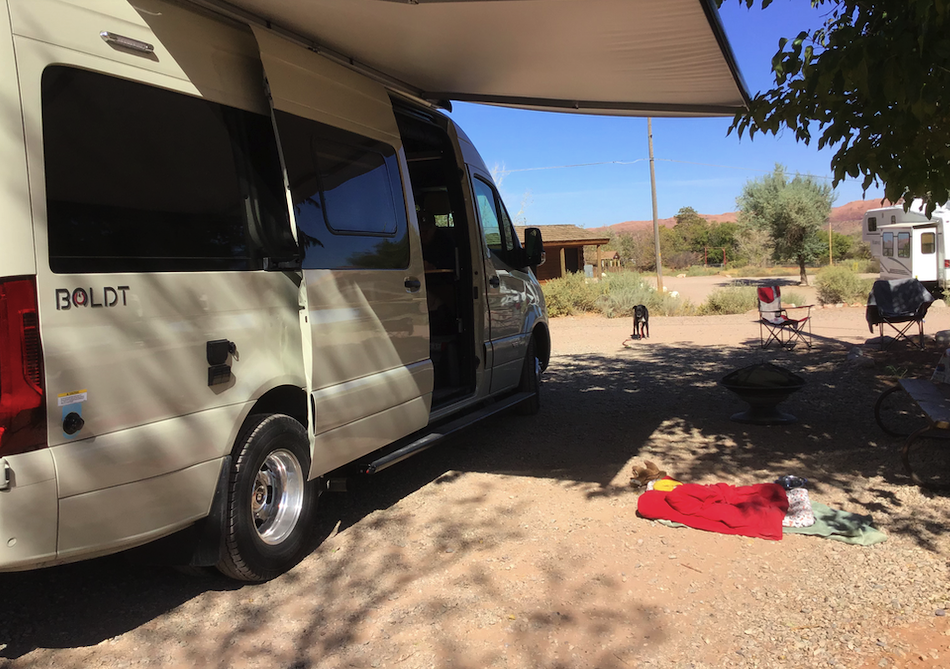 "You can get a lot of hotel rooms for what you spend on a camper or RV he said… but at the end of the day, it is about the memories."
Another plus: "The kids get along because there is less for them to argue over," said Marty Dubey, here with her husband and sons Zach, 15, and Ryan, 12, from Castle Rock, CO. They boys were riding mountain bikes around the camp ground as their parents walked their pooch.
You meet a lot of families traveling with pets — no extra fee for pets in an RV park as there is in a hotel. This KOA campground has a dog-walking trail, an off-leash enclosure for both large and small doggos, and "pet stations" if you forget to bring your pick-up-poop bags.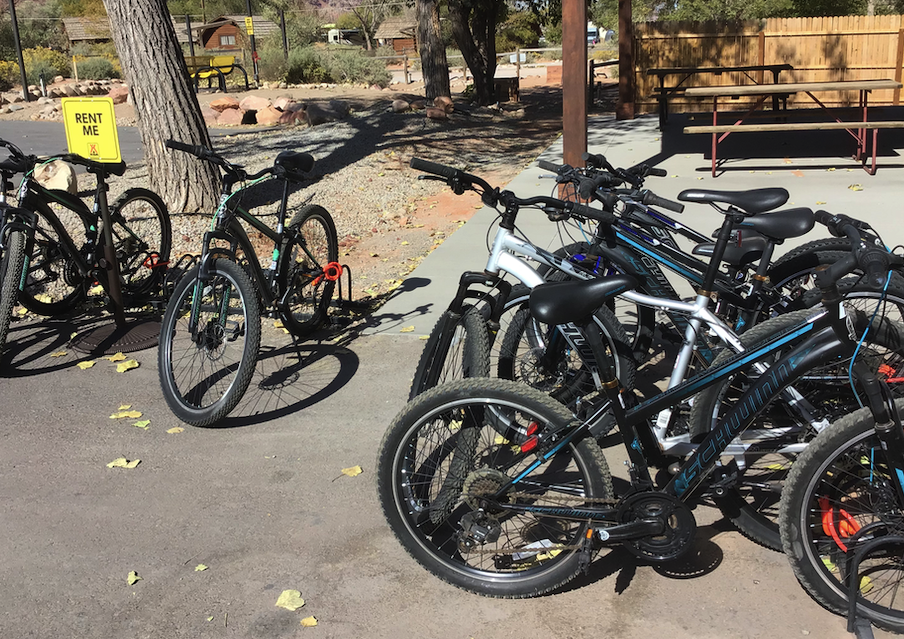 "And if we need something it's all right here," said Ryan Dubey, including their bikes.
"A hotel isn't the same," added Zach Dubey. "We get to be outside more," cooking together, sitting around a fire. (Here, we rent a fire pit for $20 for our stay, plus wood.)
Marty Dubey, the boys' mom adds that she doesn't have to worry about Ryan's food allergies. "We know whatever he is eating is safe," she explained. "And we're not on anyone else's schedule. Sometimes we eat at six, sometimes when it gets dark."
Nor does anyone have to clean up for dinner, the boys added.
The Thornhill girls explained that restaurants aren't really fun for kids anyway and this way, they can bring food they like. They also can have the run of the campground as it is quite safe. They don't mind the close quarters, just the one bathroom. But RV campgrounds generally have bathrooms and showers as well.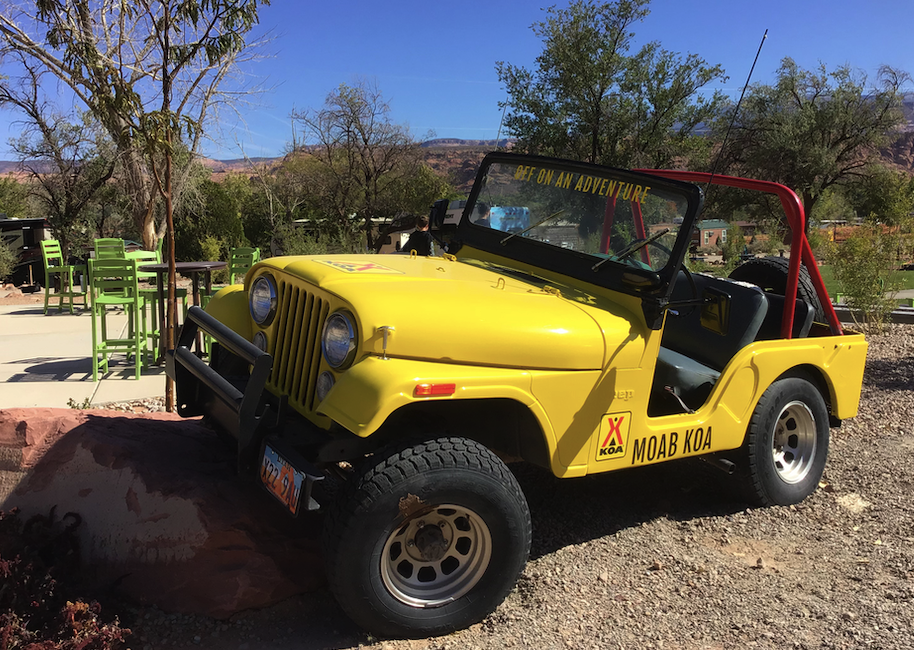 Their dad Zach adds that RVers are a friendly bunch "so if you have a problem, all you need to do is ask someone."
"We only have a couple of more years before they are gone to college," said Paul Dubey, who recently upgraded to a larger vehicle. "For us, it's an investment in the memories we can make while they're kids. We want to make the most of it."