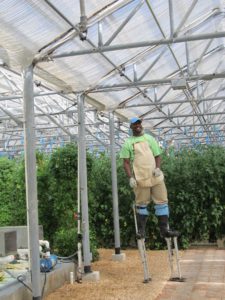 By Eileen Ogintz
Tribune Media Services
They're just off the vine, as are the cucumbers, eggplant, peppers and all variety of herbs. But we're not at a farmer's market. We're at a deluxe Caribbean resort — CuisinArt Golf Resort and Spa on Anguilla, a tiny island (just 16 miles long and a little more than three miles wide) 11 miles via water taxi or ferry from St Martin.
This resort is as famous for its 18,000-square-foot hydroponic farm, which grows 75 percent of the veggies this resort uses — they harvest lettuce and more than 60 pounds of tomatoes most every day — as is for its beautiful 2-mile-long beach, one of more than 30 that ring this island.
But locals are quick to tell you Anguilla, a British territory, isn't only about the beaches, though their motto is "tranquility wrapped in blue." "I have lived in Anguilla for 20 years and the thing that never changes is the people," says children's book author Jo-Anne Mason, originally from Brooklyn. Her latest book is entitled "Paddy the Goat that Saved Anguilla." (You see goats everywhere it seems, even schoolyards.) "Feeling like you are coming home every time you return," Mason says, "that is what makes Anguilla special."
Local historian and boat builder David Carty, whose family has been here since the 17th century, adds that Anguilla's welcoming culture stems from the failure of the sugar cane plantations in the 18th century and the slave culture that made them profitable. Anguillans — white and black — had to rely on one another, he explained. Salt was Anguilla's oldest recognized commodity, collected from the island's many salt ponds. The sleepy island didn't even have full electricity until the mid-1980s.
I chose Anguilla for our annual girlfriends' getaway with my three grade-school friends because we wanted a low-key beach destination with plenty of good eats and activities, but no casinos, big cruise ships or busy tourist towns. (Anguilla has less than 15,000 people, compared to St. Martin, which has more than 100,000).
Hurricane Sandy postponed our trip until after the holidays, but I think we enjoyed the respite all the more by escaping the January cold. Our three-bedroom villa with its own pool and kitchen sat just steps from the beach. We could hear the waves from our living room. (Tip: if you are looking for an adult getaway, go when the kids are in school.)
In case you are wondering about the CuisinArt name, this resort is owned by billionaire businessman Leandro Rizzuto, who also owns Conair Corporation — CuisinArt products come under that umbrella, as does the CuisinArt Resort with its 102 rooms, suites and villas, which are especially popular with families and multigenerational groups during school breaks. The resort's golf course is the only one on the island.
I love that all of the non-motorized water sports are complimentary and that everyone who checks in gets a bowl of cherry tomatoes in their room. "Return guests see the sea and eat their tomatoes and then they feel like they are in Anguilla," says CuisinArt Chef Daniel Leguenan, who, besides the restaurants, including Tokyo Bay, the only Japanese eatery on the island, oversees twice weekly cooking classes for adults (they were preparing grouper with creole sauce the day I stopped in), as well as for kids when there are a lot in house (pizza with veggies from the hydroponic farm).
Leandro Rizzuto was inspired to explore hydroponics, growing plants in nutrient solutions without soil, in the early '90s after visiting Disney World's Epcot. CuisinArt's state-of-the-art food production facility is overseen by Dr. Howard Resh, a well-known expert in the field.
More than 500 schoolchildren visit here each year, but Dr. Resh laments that it is tough to pull them away from the beach — or their video games — but I think a visit here is a must, whether you are staying at CuisinArt, or not. The resort also grows all its own herbs — chives, garlic, rosemary, thyme, parsley, basil and oregano — some of which are used in spa treatments. The CuisinArt Resort and Spa gardens are just as impressive, offering more than 37,000 plants.
Both the gardens and farm make a visit to this Anguilla resort different than your typical Caribbean destination, as do the opportunities for kids to meet up with local kids through the Anguilla Youth Sailing Club — boat racing is the national sport, born at the turn of the century when Anguillan men would race their schooners back from the Dominican Republic where they had gone to work. There is also the impressive $3 million Anguilla Tennis Academy staffed by pros who work at resorts like CuisinArt and teach local kids to play.
We found Anguilla and CuisinArt the ideal place to reconnect and relax, whether on the beach (plenty of sand toys for kids and water sports for everyone) in the pool with its view of the ocean or at the Venus Spa (treatments for teens are available) where we indulged in a soak in the "healing waters" pool that offers a combination, I'm told, of mineral sea salt and fresh water that is supposed to help my aching knee, as well as any other aches and pains.
We also indulge ourselves in one of the best Caribbean barbecues I've ever seen — all-you-can-eat grilled lobster, seafood pasta made to order, barbecue chicken and fresh grilled fish caught just off the island. There are also salads galore with veggies from the hydroponic farm — roasted red and yellow peppers, grilled eggplant, tomato salad, cucumber salad.
Did I mention the desserts? Everything from bananas foster to creme brule to fruit tarts and coconut cake, made with coconut right from the resort's trees. There are more than eight varieties of coconut trees. Brian Corbett, who oversees the gardens, obligingly opened a coconut for us with a machete-like knife and then instructed us to "put our mouths over the hole" and drink the nutritious coconut water as locals do.
My last indulgence before we left: A drink at the resort's beach bar overlooking the ocean, the drink served up in one of those big coconuts.
Indulgence tastes great!
(More on Anguilla in my Travel Diaries)
© 2013 EILEEN OGINTZ, DISTRIBUTED BY TRIBUNE MEDIA SERVICES, INC.