By Eileen Ogintz
ROW Adventures has been practicing "Family Magic" on some of the nation's most iconic rivers for 35 years. Over the years, ROW's rafting program developed into one of the most amazing family vacations you could ever experience.
These five-day trips on Idaho's Salmon River are exclusive to families – you can't join if you don't bring a child!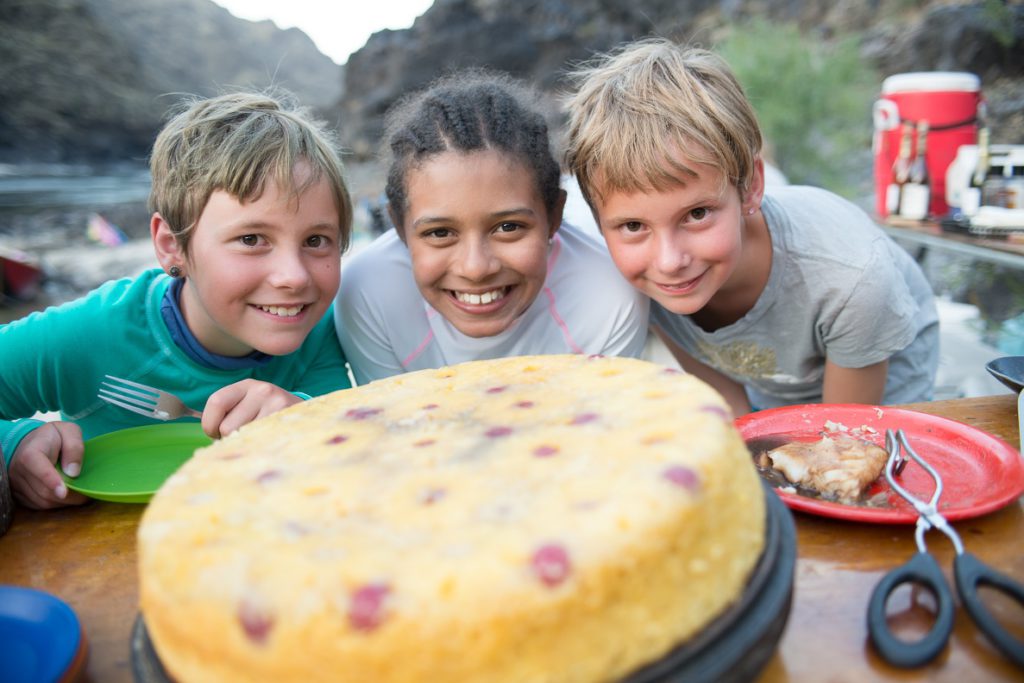 In addition to ROW's staff of talented, fun-loving and professional guides, every trip is staffed with ROW's signature River Jester, who leads kids in nature-oriented games and activities. These trips immerse everyone in nature and remind everyone of the joy of discovery. The stress of life melts away as fresh mountain air fills your lungs, vast vistas of trees and mountains bring wonder to your eyes, and the song of the river whispers in your ears. Read about the experiences of our guests in their own words later on in this blog.
A time to connect: Being in nature on a beautifully-orchestrated river trip sets the stage for meaningful connection for families. Everyone shares in the activities of the day, and because there's no cell service in these remote river canyons, there's opportunity for new focus and truly listening to each other. We bring river games, board games, and for five days, live in a giant natural playground! The journey gives everyone a chance to laugh, play and share undistracted time. This is such a rarity in today's world of gadgets, cell phones, messaging apps and computers..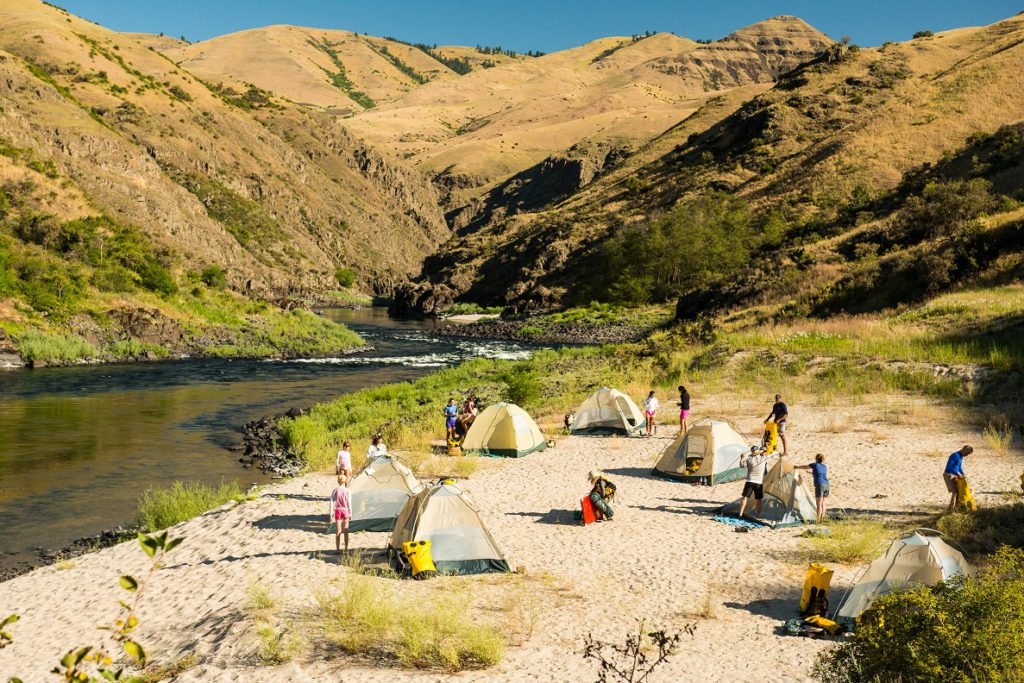 Worry-free travel: Life is busy, and we make these trips easy and worry-free. We provide all the camping gear you need and send you a detailed packing list to help you prepare your personal items. We also provide all the specialized rafting equipment, including our camp kitchen where your guides prepare delicious and healthy meals that appeal to all ages. ROW guides even serve a special kids' meal ahead of the adult meal for those hungry and active youngsters, who are also welcome to join in the adult meal that is served about an hour later.
Welcome to All Ages Five and Up: Our Family Magic Rafting trips through the Salmon River Canyons welcome kids as young as five. They are perfect for multigenerational travel – grandparents, parents and kids. Or maybe grandma and grandpa special time by bringing their grandkids? We've had many families charter entire trips also, with cousins, aunts and uncles and other extended family along for the adventure.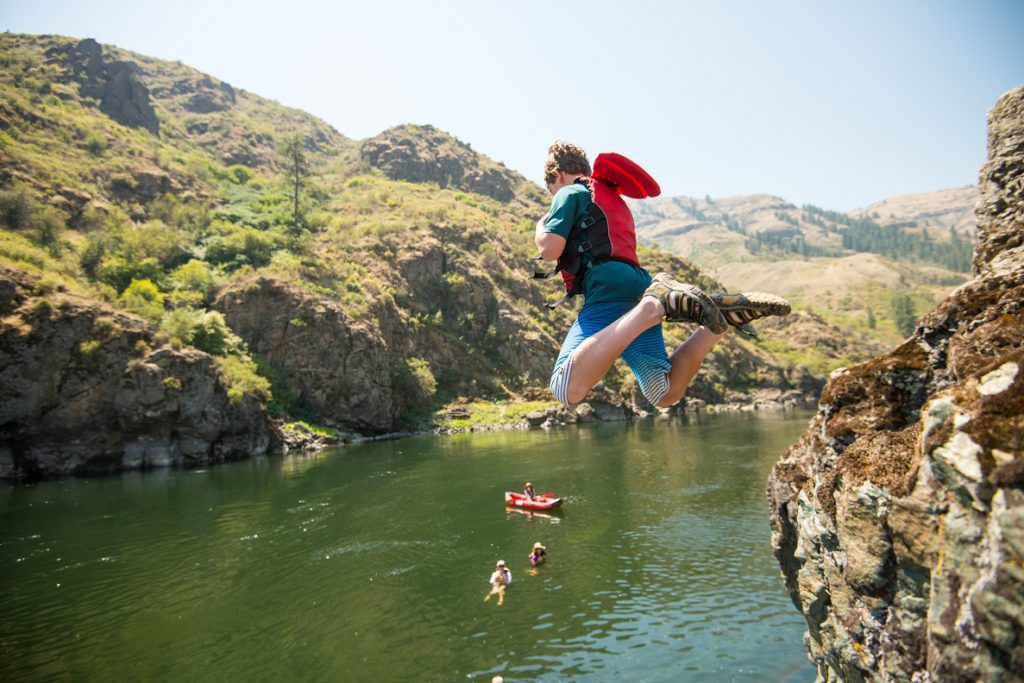 Learning and Exploring: As we float down the river, we stop to visit Native People's rock art, pioneer homesteads and natural wonders. Your ROW guides share their knowledge of these sites and their cultural history. The canyon is filled with trees and plants, birds and wildlife. We see eagles, mergansers, hawks and if lucky perhaps deer, river otter and big horn sheep.
Comfortable Camping: When you arrive at camp each evening, your tents are already set up. Camps are set up on huge white sand beaches where you enjoy four nights. Many of the beaches slope gently into the river's warm water, inviting swimmers for a cool dip. Our guides have also set up a riverside dining room where we serve kids a delicious, specially crafted meal, followed by a gourmet meal for adults. After dinner, a campfire is kindled and reflections of the day flow between laughter, singing and stories. As stars appear in the darkness you may want to sleep out instead of inside the roomy tents we provide. As one guest put it, "The milky way was so bright I didn't want to fall asleep."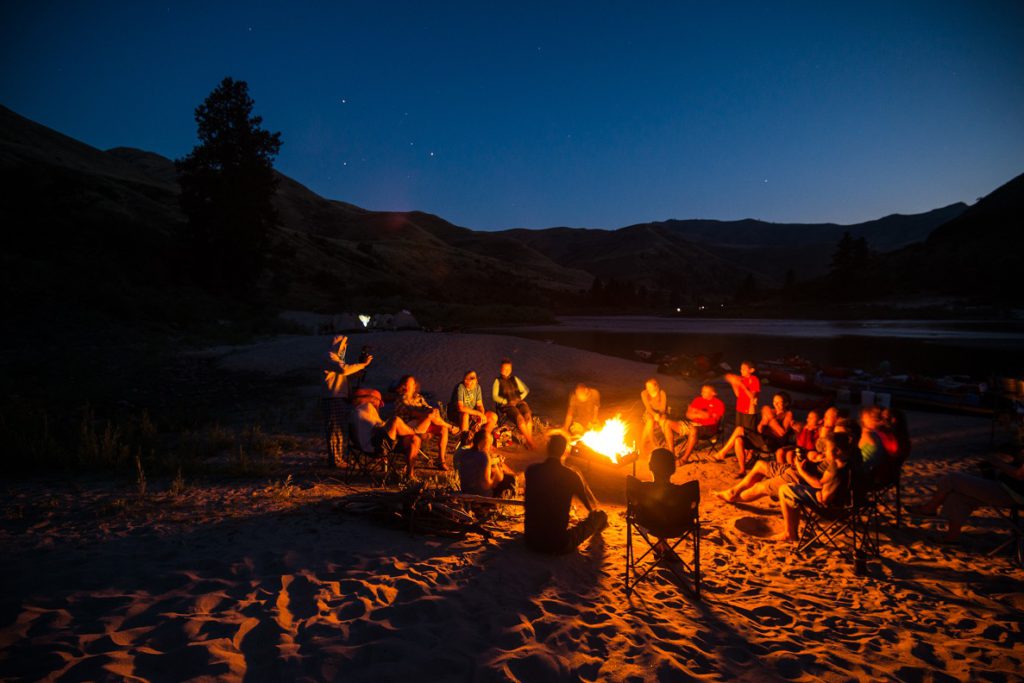 The ROW River Jester: Aside from the gentle rapids and stunning scenery, a highlight for kids is always the River Jester, a specially-trained guide who is all about facilitating fun, learning and games with our youngest guests. From the moment they wake in the morning until they're nodding off beneath a star-studded sky, your family enjoys fun-filled nature hikes and engaging activities that celebrate the area's natural and cultural history.
Snowpack in Idaho is well-above average, so this year promises to have great flows all season. Trips begin in early July and go through early September. ROW welcomes your calls, chats or emails and invites you to join ROW Adventures for a life-enriching family vacation!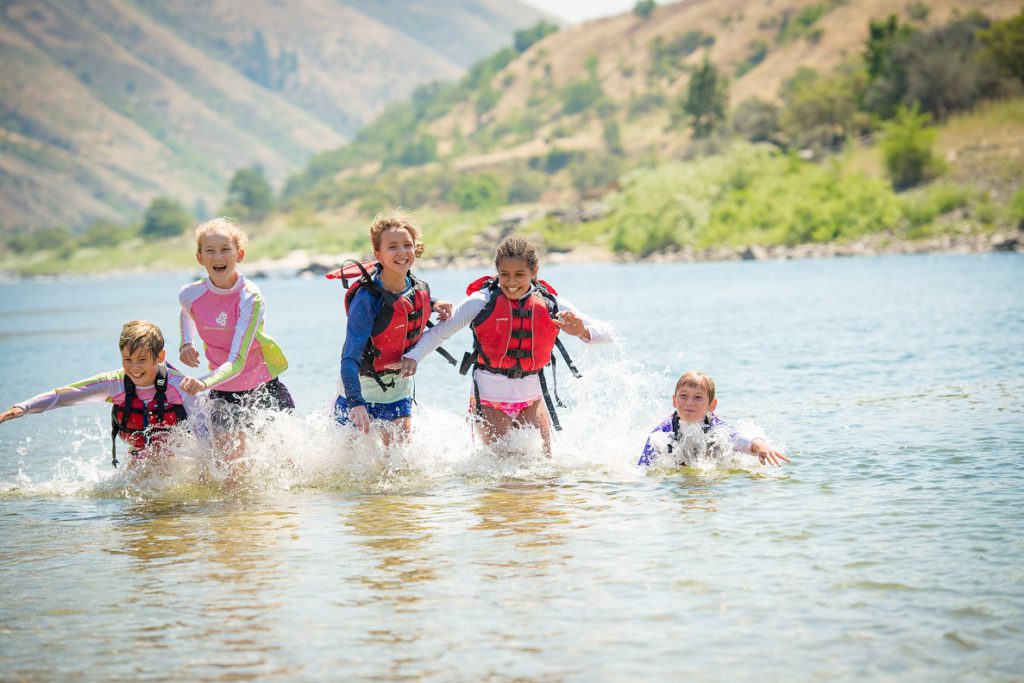 Guest Reviews:
"If I were a teacher I would most certainly give this company an A+!! The grading began long before the trip that my family of four just finished last night. I booked the FAMILY MAGIC trip all the way back in February. From that moment forward the magic truly started! The office staff (Jason, Candy, and Molly) answered my many phone calls, emails, and even chat sessions with kindness and patience for this family new to rafting. I never felt silly or rushed. Frequent communications from them as the trip approached. A streamlined paperwork process all done electronically. An excellent FAQ, blog, and YouTube videos to help with planning and packing. Then the trip finally arrived, and the magic approached the level of David Copperfield and Houdini! Austin and Avery met us for our trip meeting the night before we packed out. They were enthusiastic and professional. The next morning we hit the river and met our other guides – Alec, Ross, Raya, and Sammie. The level of experience, service, safety, education and fun just BLEW OUR MINDS. Each of them had a way of taking the fun and turning it into a magical adventure of connections, friendships, and family…. From impromptu history and geology lessons, rattlesnake relocations, fireside s'mores and singalongs to cliff jumps and river slides and swims…. an atmosphere of family and a lifetime of memories were created by these 6 guides in our short time together. We are forever grateful for this company and these people who have touched our lives in a very significant way…. And as they say as we toast "To the River"! Thank you!!!"
– Angela Van Poppel
"The ROW Adventures Family Magic Trip is, hands down, the best family vacation possible. My husband and I and our 3 sons (ages 9, 15 and 17 at the time) took this trip in 2019. Because of the 6-year age difference between our youngest and middle sons, it can be difficult to find activities that everyone enjoys. My oldest was heading into his senior year, and I knew this may be our last family vacation, so I wanted to do something special. We had taken them rafting a couple times on short day trips, which they really enjoyed, and my husband and I had done a 7-day trip, which we loved, so I thought a rafting trip might be fun, but I was worried about the boys being the only kids on a multi-day trip and being bored when we weren't running rapids. As soon as I read about the Family Magic Trip, I knew it would be perfect! Because my husband and I had done a trip before, I knew everything, from the initial customer service to the farewell dinner and everything in between, would be top-notch, but this trip still managed to surpass my expectations. From the very beginning, the guides connected with each quest and engaged them in learning and fun. Each day, we ate delicious meals; we had an incredible amount of fun running rapids, swimming, play games on the beach, etc.; and we were unplugged and able connect with nature, our family, and our trip mates. For me, the best part was watching my boys have fun and knowing that all 3 of them loved every minute of this trip! Mission accomplished! (My oldest loved this trip so much, he actually enrolled in guide school after graduating last spring and spent the summer working as a rafting guide!)"
– Sydney Lloyd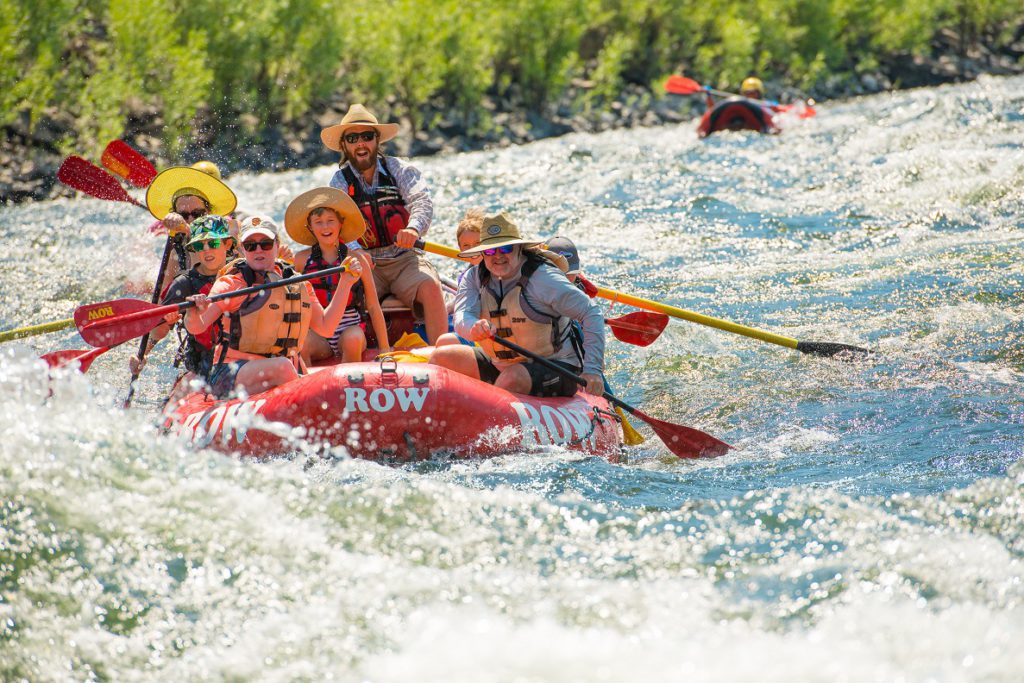 Trip Highlights for Families
Services of ROW's talented adventure consultants and professional guides
Whitewater Rafting Class II-III rapids
Riverside Camping
All Inclusive
Fully Guided
River Jester: Personal entertainer for the kids
Provided beverages for children and adults
Transportation to/from river meeting points
All rafting/camping gear needed
Trip Details:
Minimum Age: 5 years (10 prior to July 15th this season).
Season: July – September.
Trip Duration: 4-5 days.
Price: Adult: $1,990 and Child: $1,860. Special $200 off per person for Taking the Kids readers!
Recommended accommodations before and after your trip: Hells Canyon Grand Hotel in
Lewiston, Idaho.
Private charter trips: Please inquire on 4 and 5-day private charter trips by calling (208) 765-0841.
Group rates: Call ROW if you have a group of 10 or more for special rates. Book Family Magic Trips Now!
This post was sponsored by Row Adventures