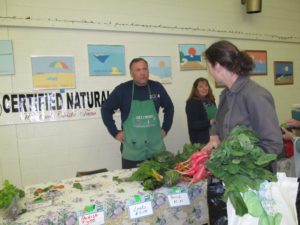 Resident Forager Jane checks out the radishes at Stonington Farmers Market
Where is the kale?
There's plenty of spinach, arugula and lettuce but not the kale or the nasturtium the chef had wanted.
Jan Dane doesn't miss a beat as she looks over the carrots and the radishes, talking to the farmers at the indoor Saturday farmer's market in Stonington, CT, buying cheese from one, eggs and corn meal from another.
Dane, the mom of three, is a modern day Forager. That means it is her full time job to act as the liaison between local farmers and the chefs at the luxe 49-room Ocean House in Watch Hill, RI which is a designated Relais & Chateaux property with a focus on farm to table cuisine.
That's why Dane also teaches classes at the hotel—whether how to shuck an oyster or introducing guests to local New England cheeses. "I loved it when a little boy tried his first oyster," she said. She does classes on butter churning, ice cream making and grilling pizza too.
Of course it is healthier to eat fresh food. It is also important to support local farms and small business. "Kids are very receptive," to the message, she reports. Let's hope the hotel gets more creative with its children's menu!
In summer, Dane says, she visits 5-7 farms a week—there are more than 700 food farms just in Rhode Island, she explains. She stops at large and small farmers markets too looking for what's different (tiny radishes, a cheese she hasn't seen before from a local cheese maker…) "I have more than 49 farms on speed dial," she says.
The chefs at Ocean House, she jokes, have "an Iron Chef mentality and are always up for a challenge." And her finds may well end up on the menu. The evening we were there, we enjoyed a six course tasting menu (well-priced I thought at $85, with a wine pairing at $135). We had roasted beets with local Hannahbells cheese, delicious warm potato and leek soup , white Peking Duckling with kale (I guess the chef found it elsewhere)…and more. Throughout the year, there are special Farm + Vine and In the Kitchen dinners highlighting a particular cuisine.
On Sunday, we enjoyed one of the best brunches I've ever had starting with oysters farmed down the road, an assortment of salads—Waldorf, cous cous, marinated artichokes, crepes(beef tenderloin or wild mushroom?) and then a yummy lobster hash sandwich amid other selections. The atmosphere was lovely too-the dining room with its sweeping ocean views. No wonder so many people come here to celebrate a special occasion! ($54, $25 for kids plus all the champagne you want.)
The original Ocean House, a grand yellow Victorian hotel overlooking a spectacular private beach with views of the Atlantic and Block Island, opened in 1868 and welcomed genteel guests who came for the entire summer for 135 years. The new structure was built in the footprint of the original and is just celebrating its second anniversary. I love the relaxed elegance, that there are artifacts from the original hotel throughout, the fanciful artwork and thoughtful touches (jars of goldfish and malted milk balls in our room and miniature scones to welcome us.) There is even a children's book by local author Ardith M Schneider about two mice, Mortimer and Max who watch the demolition of their old home in the old Ocean House and find a new home in the Watch Hill Chapel across the road. Mortimer Mouse and the New Ocean House.
Did I mention the fabulous OH! Spa with signature services inspired by the ocean and the harvest? (Think locally harvested lavender, beach stone massage and a facial that uses peach butter and a buckwheat mask.) You won't want to leave the relaxation room which overlooks the ocean.
The owners now are working to restore the Weekapaug Inn a few miles away that was originally built in 1899 in the community of Weekapaug, Rhode Island, with views of Quonochontaug Pond, and the Atlantic just beyond.
This 27-room (and four two-bedroom suites) inn will that is expected to open in October with activities that will focus on the water (think sailing and kayaking), the outdoors (think bird watching with the resident naturalist) and bringing families together (think pizza made outside and curling up to read a story or play a game in the expansive public spaces.)
Dane agrees that with kids who are fussy eaters—including one of her own—it is easier to take the path of least resistance and serve them chicken fingers or burgers—the standard kids' menu fare. Take them to visit a farmer's market or a farm. (Websites like www.farmfreshri.org in Rhode Island, www.localharvest.org and www.farmstayus.com can help)
"You have to be positive about what you are eating and the kids will be responsive to that," she suggests. Order menu items to share.
"When you are traveling," Dane continued, "It seems like such an opportunity to get kids to try new foods….it is absolutely part of the adventure!"
In France recently with her children, even her picky eater tried sauces and quiche—a big step for a child who likes everything plain and white. Most restaurants in France didn't offer children's menus, Dane said–just smaller portions for smaller prices. "That makes so much sense," she said.
Clearly.