DAY ONE — Ready to reach out and pet a penguin?
The baby is so fluffy!  I petted the four month-old still covered in dark brown down. I did that at the behind the scenes tour at the brand new Antarctica Empire of the Penguin exhibit at SeaWorld Orlando—home to 250 penguins from four different species.
I felt like I'd stumbled into a playground—chattering adults catching up as kids ran (or in this case swam) and played.
We opted for the "Wild" ride  that isn't really that wild (kids just need to be 42 inches tall) but even toddlers can enjoy the mild one—a long as they can sit up and be strapped in the seat belt.
Did you know 90 per cent of our planet's ice is found in Antarctica but it is melting at an alarming rate?
Just as Puck  the Gentoo penguin, who is our animated "guide" on this adventure, is waddling and sliding, we do the same in our "car" looking at the caverns he is taking refuge in from a blizzard—giant icicles,  glowing blue glaciers.  "That was the best part," said  six year-old Andrew Coit, visiting with his family from New Orleans.  "And then you saw the real live penguins!"
Lots of them—four different species who all live in one large colony in apparent harmony.  Gentoo is the large penguin with a white band on its head. They're the fastest penguins, swimming 25 mph!
King, the largest penguin in Antarctica, has a vivid orange patch on each side of his head and upper chest. They can dive up to 1000 feet and hunt food together to protect themselves from predators.
Adelie, the classic black and white penguin, navigate the ocean using the sun as a guide.
Rockhoppers, with distinctive red eyes, sometimes will leap three times their height out of the ocean to avoid predators.  They got their name because they are often hopping from rock to rock on land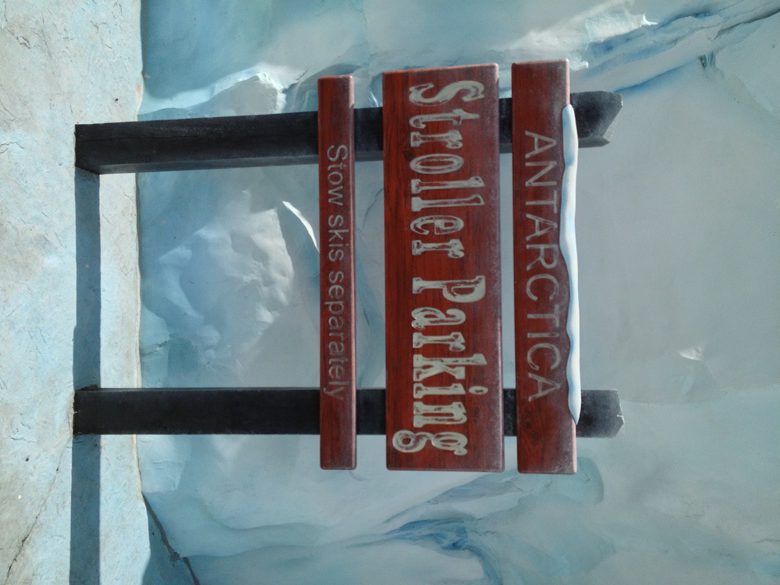 Penguins are acutely attuned to the sun—summer is their winter—and the computerized light system is adjusted to simulate sunrise and sunset in Antarctica.  So if you visit early in the morning in summer, it may seem dark; If you are here in December, it will be bright 20 hours a day.
Check out the three level viewing area and watch the penguins play n the water 16 feet deep.  (It's not as freezing here!)  As you go from warm to freezing temperature, we're supposed to appreciate the unpredictable and harsh environment penguins grapple with constantly.
Some of the "glaciers" are 50 feet tall, and the icicles were hand blown (of Pyrex) to exactly replicate the clarity of the ice in Antarctica.  It took nearly 400 designers, craftsmen, animators, a symphony orchestra, penguin experts, scenic and lighting designers as well as ride experts to conceive e and build this attraction
The Coits weren't sure the hour-plus wait was worth it for the attraction (typical for a new attraction at any of Orlando's parks) but gave high marks to the VIP tour they had done at Sea Sorld.  "It was phenomenal," said Jeff Coit. "The guide was really knowledgeable and could answer all our questions."
Twelve year old Alex was most impressed with the trackless ride while everyone loved getting up close and personal with the penguins.
There are little puzzles in the line.  Look down and see four species of penguin footprints—look for the date on a lighting pole Dec. 1, 1959 when the original Antarctica Treaty was signed.  Need to cool off? A few times an hour a blizzard passes through Antarctica.
How many penguins can you find embedded in the scenery?
Still, the wait can be too much, especially for younger kids.  (If you are staying at one of SeaWorld's partner hotels, you can hit the park an hour early and beat the crowds but you'll still wait if you get here when the park opens.  "Everyone else had the same idea," said Alex Coit.  And the park's front-of-the line passes don't apply to Antarctica yet.
"Make sure to bring a sweatshirt," advised Cassie Meitzler, who was here with a five year old.  Even so, he had a hard time tolerating the 30-degree temperatures for more than a few minutes—even with the penguins right in front of him.  "I'd say wait until the crowds die down," she said
"It's a long time to wait but they really like penguins said Miriam Mondes de Oca, here with her seven and nine year old daughters.
"It was good but probably not worth the wait," added Crystal Brown, here with her 11 year old and some friends from Arbondale, FL.
"Really fun!" said  11 year old Bethanie Brown, who said she and her two friends entertained each other during the more than hour wait.  "I've never seen penguins this close before," she said.  "They're really cute!"
How can you not love the penguins?  They live in one of the harshest environments in the world, yet work together to survive—young penguins even staying together in a penguin version of a day care while their parents go out hunting for fish.  Moms love that Penguin dads share responsibility—even sitting on the nest.
In fall, depending on where the penguins build their rock nests, visitors sho be able to see that first hand—and maybe some little baby penguins.
As soon as we have finished Puck's story, we are literally face to face with the colony of Adeli, Gentoo, king and rockhopper penguins in a habitat that mimics Ant rtica with wind, snow and cold water.  It takes some 400 pounds of fish to feed them every day, I learn on the behind the scenes tour.
Mark Bishop, one of the supervisors, says this is a great exhibit to teach kids that their actions here can impact animals like penguins so far away—everything from global warming to over fishing is harming the penguin colonies.  In the behind the scenes tour—besides actually stepping onto the penguin habitat and petting a penguin or two and of course posing for pictures, you see where their food is prepared, and where they are cared for.  Every one has a bracelet that identifies his species; each has a number too.  
"The most important thing I appreciating the penguins who live in such isolated areas but are impacted by what we do here," Bishop said.
Even the souvenirs are designed to bring home that message.  For $15.95, kids can design their own reusable drink cups choosing the color (pink or neon green to go) and every time they get  drink (just 99 cent refills) they are told how much CO2 they've saved…of course they can fill the bottle with water too.  The Cup that Cares has an RFID chip embedded in it that interacts with software to calculate CO2 and congratulate guests on how they are being more environmentally responsible. SeaWorld donates $1 from each purchase to the SeaWorld and Busch Gardens Conservation Fund that helps protect wildlife around the world
Bishop noted that some of the penguins here live well into their thirties—aged by Penguin standards and breed every year well into their 20s.
I love the fun facts.  Did you know some penguins stand on their egg—warming them with their warm webbed feet?  Penguins are birds but they can't fly—they use their flippers underwater like birds use their wings.
Antarctica of course is largely unexplored, much of it under 9,000 feet of ice and not claimed by any one country.  (The Expedition Café, in fact, serves food inspired by the United States, Asia and Italy—three of the major countries of the original Antarctic treaty.  I was glad to see that fresh herbs from a hydroponic garden are incorporated in the menu and that the kids as well as adults offerings included salads and baked chicken, not just typical fried fare.  (Kids pepper steak or teriyaki chicken).
Outside, kids measure up to all 18 species of penguins cared into the rocks in the Plaza there are kid-friendly touch screens and talks with SeaWorld educators who underscore how penguin  colonies must work together to survive—just like we must.