By Eileen Ogintz
Tribune Content Agency
I'm in the hotel elevator in a bathrobe with not much underneath, and I'm not the only one.
Welcome to new-style Apres Ski, in this case at the popular Westin Riverfront Resort & Spa in Avon, Colorado, a short gondola ride from Beaver Creek's slopes where there are villas and well-appointed and pet friendly rooms, complete with mini fridge, microwave and two-burner stove.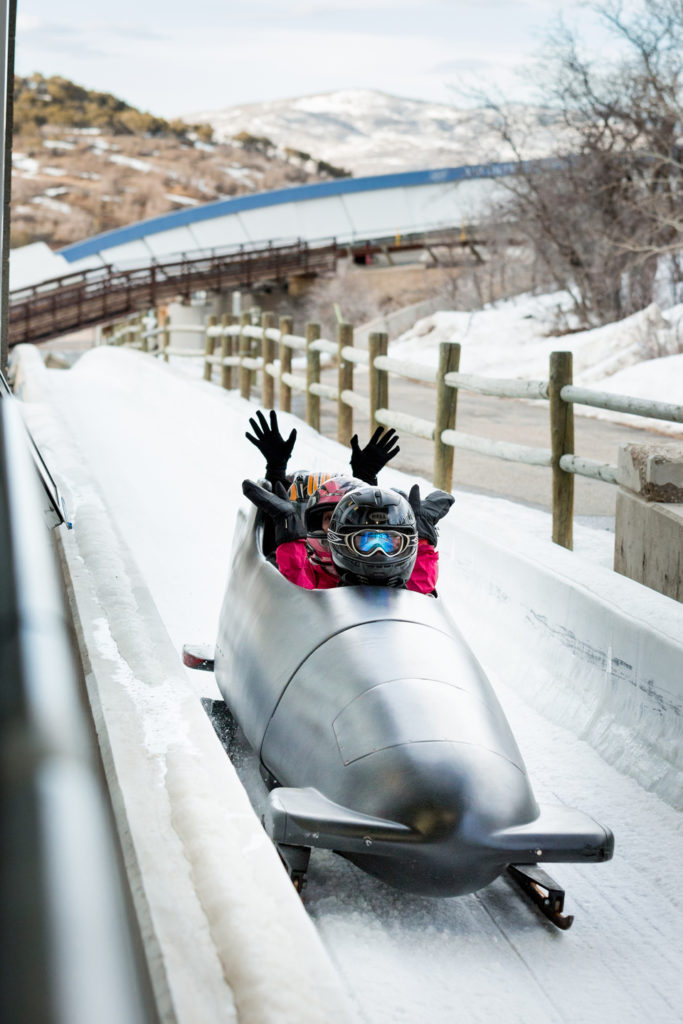 Instead of bars (or watching the kids veg-out in front of the TV, families are opting for ever-growing options off the slopes, even forgoing ski days to try other activities. They want to try everything they can, suggested Lori Leary, a longtime private ski instructor at Beaver Creek. That might be dog sledding or snowshoeing, tubing or an alpine coaster, shopping in an historic mountain town like Breckenridge, Colorado, or Park City, Utah, indulging in a family dinner that required a Snowcat ride to get there. That may be especially true for still-skiing grandparents who don't want to spend all day every day on the slopes, especially when there is so much else to do.
Why the robe? I'm headed to the expansive Spa Anjali where incidentally the treatments are focused on mountain traditions. Others are going to the Athletic Club where there are a variety of classes, hot tubs as well as a big fitness center and heated pool overlooking the Eagle River.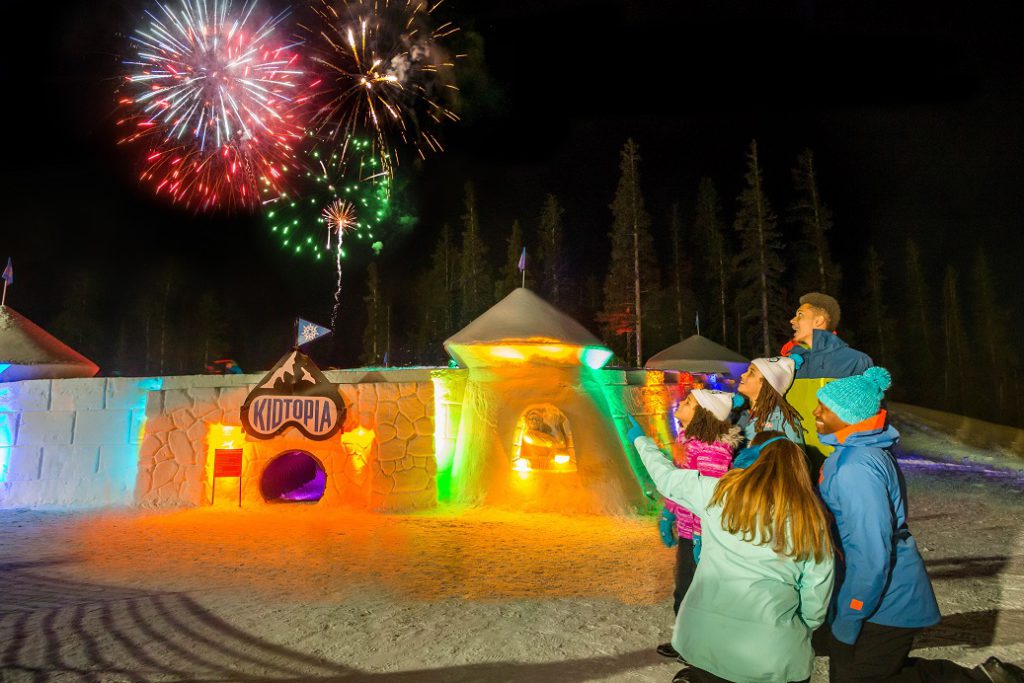 Wellness (think yoga, Pilates, private sessions with trainers and spa treatments) are incredibly popular in snowy climes, even for teens and in some places, younger kids (Check out the offerings at Exhale Spa at the Park Hyatt Beaver Creek.
Spring also is a great time to come to the slopes with plenty of sunshine, warmer temperatures and late season deals. (Check out the Antlers at Vail offer, which includes free snowshoes, and the Westin's hot tubs, outdoors near the pool. The "Chill Out" Family Spring Break package includes an upgrade to a unit with a separate room with bunkbeds, kid ski and snowboard rentals, loaner sleds and snowshoes, a yoga class and more for under $2,700 for four day — a good deal in the pricey Vail Valley.)
Besides hitting the spa — and the hot tubs — here are nine more ways all ages can have fun in the snow off the slopes — and save some bucks:
— Explore the largest snow fort in the world atop Dercum Mountain at Keystone Resort, one of the closest major resorts to Denver, which has a daily array of free Kidtopia activities — everything from giant LEGOS and arts and crafts at the Kidtopia headquarters, milkshake socials, Super Snowy Science, the chance to meet an avalanche rescue dog, parades, fireworks and more — something different each day. Even better, the resort is touting rates starting at $129 a night with kids skiing free, as long as you book two nights.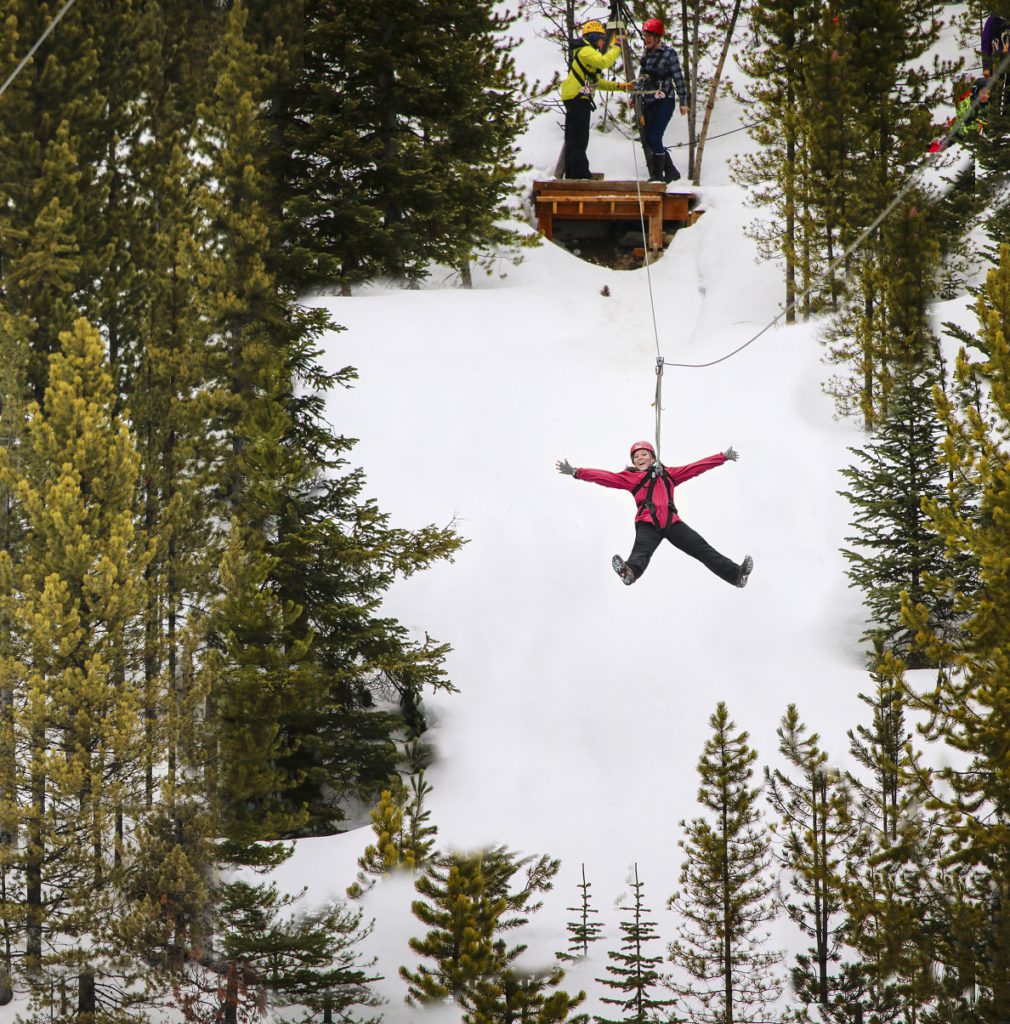 — Strap on the snowshoes. Even babies and toddlers can get some fresh mountain air in a parent's carrier. You can opt for a guided tour like the ones the Aspen Center for Environmental Studies offers at the top of Aspen Mountain and on Snowmass Mountain. You can also go on your own adventure at a Nordic Center or golf course, renting gear. In the White Mountains of New Hampshire, The Appalachian Mountain Club offers complimentary gear from the L.L. Bean Gear Room (including clothing suited for fun in the snow). It offers a wide variety of free programs and moderately priced cozy accommodations, as does The YMCA of the Rockies in Estes Park, Colorado, where you can enjoy a guided snowshoe (no charge for the gear) into Rocky Mountain National Park without the summer crowds.
Tackle a zipline whether you are in Montana (Big Sky Resort), N.Y. (at Hunter Mountain in the Catskills or Vermont (ArborTrek Adventures), among other places.
Feel like an Olympian as you race down the bobsled course at Utah Olympic Park in Park City, built for the 2002 Winter Olympics; race around the Olympic Skating Oval in Lake Placid, N.Y., celebrating the 40th anniversary of the Winter Olympics when Team USA took home six gold medals, including the famous gold won by the men's hockey team.
Try a new winter sport like ski biking at Adventure Ridge. It's the size of a football stadium and at the top of the Eagle Bahn gondola at Vail Resort. There's the chance to race down the mountain tubing, ride a mountain coaster and more. Go snowmobiling, like at Smugglers' Notch in Vermont, Colorado ski towns like Breckenridge or Crested Butte, Maine, Montana or Wyoming. Check out the Maine Dog Sledding Adventure.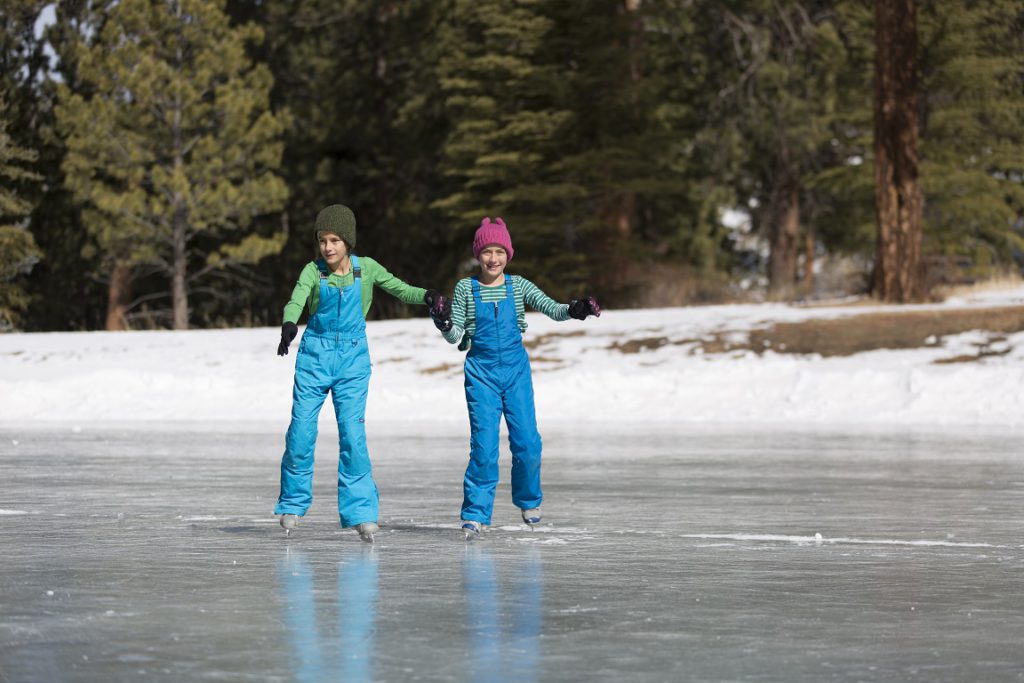 Commune with the animals. Take a sleigh-ride tour of the National Elk Refuge in Jackson Hole, Wyoming. Thousands of elk migrate to this refuge in the winter months. See bison, elk, moose and more in Yellowstone National Park. See how many different animal tracks you can identify in the snow. (An app like the free iTrack Wildlife Lite or others from iTrack can help.)
Soak in outdoor hot springs like in Glenwood Springs, Colorado, where visitors have been coming to "take the waters" with some 15 minerals for more than a century. There's also Strawberry Park Natural Hot Springs and Old Town Hot Springs in Steamboat.
Stargaze on a winter Lake Tahoe Snowshoe Tour, ideal for kids eight and older. Thanks to limited light pollution that makes for very dark skies, Lake Tahoe is perfect for star lovers.
Hit a museum for an hour or two like at the interactive free Breckenridge Welcome Center and Museum where you will learn how Breckenridge evolved from a mining camp to an international resort. Learn more about the history of snow sports at the Colorado Snowsports Museum in Vail, also free, or the Vermont Ski and Snowboard Museum in Stowe, where the suggested donation is just $5.
Who is ready to make snow angels?
© 2020 EILEEN OGINTZ
DISTRIBUTED BY TRIBUNE CONTENT AGENCY, LLC.