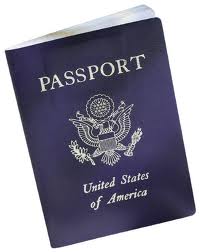 By Eileen Ogintz
Nothing is worse!
You get to the airport for a long-planned overseas trip only to discover you can't board your flight— because your passports expire within six months!
Many countries will no longer accept a passport that is expiring within six months. I know people this has happened to. They've lost days of their trip while renewing their passports.
Don't wait until the last minute whether your U.S. passport is going to expire, you have a new baby or one of your kids is traveling overseas for the first time. The good news: If necessary, you can still get a passport in 24 hours, though it will cost you more than if you had planned ahead.
Check out the helpful blog Rush Passport Services that shows reviews of nationwide expediters, including Fastport Passport (877-910-7277), a family-run operation based in Brooklyn who we've worked with. With the appropriate documents either sent overnight or hand-delivered, they can expedite a passport often within 48 hours, though that may cost a few hundred dollars on top of the Passport Agency Fees.
(Your alternative will be to bring your tickets –within two weeks—to a regional passport center, pay an additional $60 fee and then return in person or have the passport delivered at another extra fee.)
These days working with a passport expediter might save a lot of time and aggravation, for those who discover they need a passport fast. These services can also handle international visas—especially helpful for those who don't have access to a consulate or embassy.
Other national expediters include It's Easy (866/487-3279); Passport Plus Visas (212/759-5540) and A. Briggs Passport Plus (800/806-0581).
Here are some tips and resources from the U.S. Passports and International Travel office and compiled with our partners at Family Travel Forum to make the whole process easier. (For Spanish language information on how to get or renew a U.S. Passport: Travel.State.Gov/Pasaporte. The National Passport Information Center's toll-free phone assistance line, 877-487-2778, manned by English and Spanish speaking live operators from 8am-10pm weekdays, EST.) Here is what you need to know:
1. Every U.S. citizen—even a newborn—must have a passport and for all those under 16, applying requires both parents to be present with proof of parentage (a birth certificate) or one parent with either a notarized letter of permission from the other parents. (There is a special form, DS-5525 for divorce papers, death certificates, lawyers' letters.) These rules also apply to same sex parents.
2. If you have plenty of time (at least six weeks) you can download the forms at the U.S. Department of State and bring the appropriate documents to a U.S. Post office or one of th more than 8,000 passport centers noted on the U.S. State Department Passport Info. website. If you are applying for the first time, you must apply in person. Anyone who needs to renew a passport issued when the passport holder was under 16 must also apply in person. Adults can renew a passport via mail again if you have plenty of time.
3. For each member of the family you will need:
–Application (download and fill out before appointment)
–Proof of Citizenship (previous passport, birth certificate)
–Two Photos. Color – no black and white! And also remember — passport photos will no longer be accepted if the applicant is wearing glasses. There is an app called Passport Photo Creator that gives you the parameters you need to line up a passport-worthy photo on your smartphone. You can also get photos at places like CBS.
–Proof of ID (previous passport, driver's license)
–Fees by check or credit card
4. Be prepared that passport fees have gone up significantly. You will have to pay $13(first time passport, valid 10 years), $105 (children under 16 years, valid 5 years only), or $110 (renewal, valid 10 years). The only good news, Family Travel Forum reports, is that some Caribbean and Mexican resorts offer summer family travel specials in which they reimburse any family member who had to purchase a passport to get there!
5. For those 18, make sure to check the he national passport website before arriving at their office.
Note: It's smart that any parent who has a different surname than their child also carry a photocopy of the child's birth certificate while traveling, providing legal evidence of "guardianship" in case of need. Grandparents and others traveling with children who aren't their own should also carry a notarized letter from the parents giving them permission to travel and seek medical care, if needed.
Parents with custody issues may request that their children's names be entered in the U.S. passport name-check system.: The Children's Passport Issuance Alert Program provides notification to parents of passport applications made on behalf of minor children, and denial of passport issuance if appropriate court orders are on file with the CPIAP. The Office of Children's Issues will provide more information.
For those who don't plan to travel internationally, there is a U.S. Passport Card good for land and sea crossing between the U.S. and certain West Hemisphere countries. It is cheaper ($55 for those 16 and older) You will need to submit one photo and your forms to an agent in person; visit U S. Department of State for applications and information.
Finally, don't get stuck at the Canadian border! All US Citizens 16-years of age and older must present a valid passport to travel outside of the country to Canada, even by car or boat. (Exceptions include kids age 15 and under who can present an original or copy of their birth certificate or other proof of citizenship to travel by land or sea to Canada, Mexico, Bermuda and 17 Caribbean nations. Teens between the ages of 16 and 18, when traveling with an organized group, can follow the same procedures as younger children.)
Happy Travels!
This blog is sponsored by Fast Passport