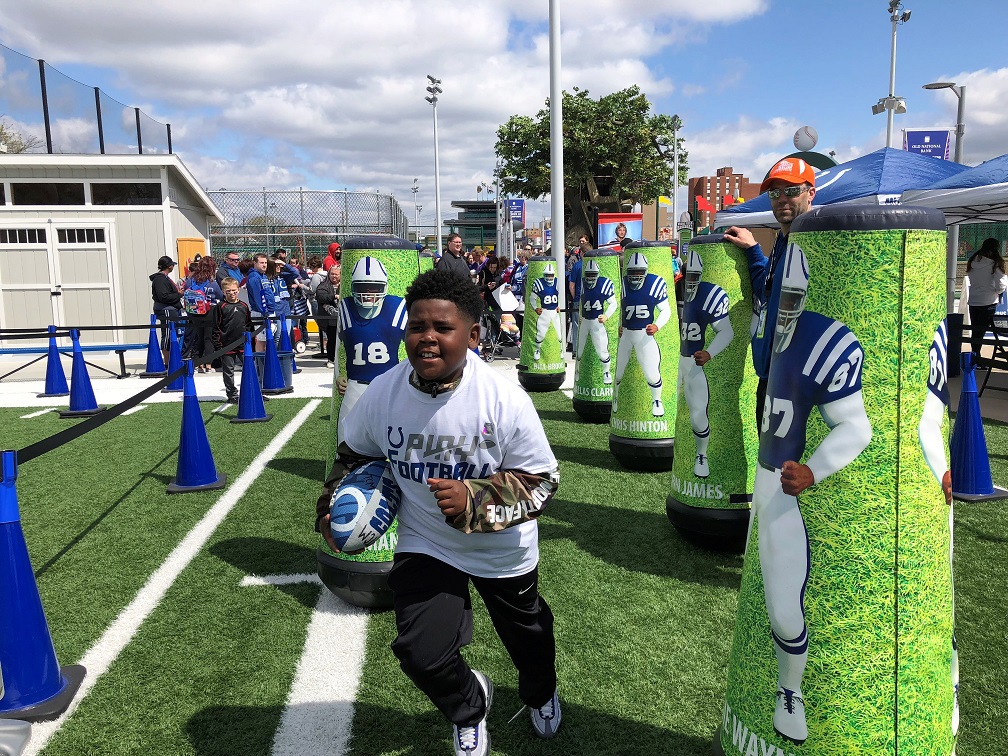 By Eileen Ogintz
Tribune Content Agency
Twins Payton and Taylor Marquette, 15, aren't "sports people," they say. But that hasn't stopped them from having a blast trying an array of sports — from tennis to golf to racing and basketball — on a sunny summer morning in Indianapolis.
"I don't have to worry about embarrassing myself," explained Taylor.
Welcome to the new outdoor 7.5-acre Riley Children's Health Sports Legends Experience at The Children's Museum of Indianapolis, the world's largest children's museum, which welcomes 1.5 million visitors annually.
"This is good for all ages," said the twins' mom, Jennifer Markette, adding that her other two children, 9 and 13, were also having fun — as was she. That's not always easy to accomplish when kids of different ages and interests are part of the equation, other visiting parents noted.
The Sports Legend Experience has been designed as a model for family health and fitness, one that hopefully will inspire kids and adults to develop a healthy lifestyle. "Health and Fitness and obesity are huge challenges for many children, parents and grandparents — if the museum can play a key role in leading the way for living healthier lives, more children and families may be inspired to be more physically active," said Dr. Jeffrey H. Patchen, the museum's president and CEO.
The morning I visited, there were a dozen experiences where adults and kids of different ages took part in different sports at their own pace and level, thanks to age-appropriate equipment. Think graduated hoops at the Indiana Pacers and Indiana Fever Basketball Experience, pedal-at-your-own pace at the Indianapolis Motor Speedway Pedal Car Racetrack and the toddler and nine-hole putting courses designed by Pete and Alice Dye that replicate some of the couple's most famous course designs.
"I wish I was a kid again instead of a grandfather," joked Jack Barber, a golf pro, as he watched his grandson Jamison, 2, swing a tiny club on the toddler course. "Sport teaches kids so many lessons, including how we can't win all the time," he observed.
(Museum admission includes The Children's Museum and Sports Legends Experience; Buy at least a day ahead to save money. Check out the Sports Legends evenings — likely cheaper for a family than playing putt-putt golf!)
The Children's Museum of Indianapolis is famous for using real stories and artifacts to teach and engage kids. "The Power of Children: Making a Difference," for example, tells the stories of three children — Anne Frank, Ruby Bridges and Ryan White — who each in their own way fought hatred, racism and fear and offers families a way to not only discuss difficult topics but learn how children can make a difference.
Kids and parents are transported to the tomb of an ancient Egyptian pharaoh and the site of China's Terra Cotta Warriors, complete with archeology lab, to 65 million years ago when dinosaurs roamed the earth to today's Egypt and into outer space, among other experiences.
What is striking is that inside the museum — and at the Sports Legends Experience — exhibits and activities are designed so that all ages can enjoy and benefit from them.
And learn something new. Even sports greats have their struggles. Tamika Catchings, one of the best players to ever play basketball, was bullied as a child for her hearing disability, but she didn't let that dissuade her from pursing her dreams. There are 12 bronze sculptures representing 16 sports legends with Indiana connections and stories from the most famous athletes like NBA champion Larry Bird, NHL legend Wayne Gretzky to those not well-known like Marcenia Lyle "Toni" Stone and Mamie "Peanut" Johnson, who played Negro League baseball. More than 50,000 Indianapolis children have taken part in youth tennis programs initiated by Barbara Wynne, who comes to the courts here to give kids tips. "Tennis provides life lessons in honesty and integrity, sportsmanship, teamwork," she said. "It can also provide a safe haven for those who are looking to escape troubling situations."
There is a fitness path and track where strollers and wheelchairs are welcome and the equipment is designed for those of different heights and abilities; Kids love the 60-foot-tall Fantasy Tree House of Sports, complete with an interior spiral staircase and hidden slides. It's wheelchair accessible via a special lift.
"I like that you can do all of these different sports in one place," said Olivia Alvarado, 10, visiting with her mom and younger brother.
"I like that this introduces kids to all different sports. You can find what they like to be more active," said Jen Stafford here with her 6-year-old daughter. "Each time we come, we find something different to do."
That's the idea, Dr. Patchen explains. "I've been surprised at how many dads and grandads want to play with their children in sports areas they may not have tried previously," he said, whether they shoot with street hockey equipment at the Indy Fuel Hockey Experience or race each other on the Indianapolis Motor Speedway Pedal Car Racetrack Experience.
"Being active — as kids, parents, grandparents and grandkids together is not only important, but can be fun," said Robert Markette, 13. "You are never too old for this place."
© 2018 EILEEN OGINTZ
DISTRIBUTED BY TRIBUNE CONTENT AGENCY, LLC.