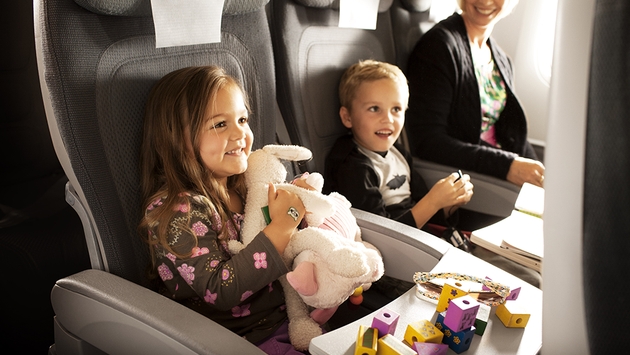 By Eileen Ogintz
Over the past several years I have been contacted by more and more readers with complaints about the poor practices of seating of families on airlines. With most flights at 100 percent capacity, the airlines have often randomly assigned seats so that parents were separated from children — sometimes even toddlers — and often rows apart.
Well, there's good news on the horizon. The new FAA Reauthorization Act has been passed by Congress (that's something of an accomplishment in itself given now little actually gets done in Congress these days). And included in the law is a bipartisan provision requiring airlines to seat any children aged 13 and younger "adjacent to the seat of an accompanying family member over the age of 13," all "to the maximum extent practicable and at no additional cost."
"The Families Flying Together Act will put an end to the absurdity of toddlers sitting separate or unattended on an airplane — requiring airlines to plan ahead so that families with young children can fly together," commented said Rep. Jerry Nadler (D-NY) who co-authored the provision with Rep. Rodney Davis (R-IL) . "For several years, we have tried to force the airlines to enact family friendly seating policies, and to not shift the burden onto other passengers to vacate their seats so that children can sit with their parents. Thankfully, the new FAA bill includes this common sense measure allowing families with small children to travel together safely and reliably without disrupting other passengers."
"Traveling with young children can already be very stressful for parents and when you can't sit together on a flight, it only makes this process more difficult," added Davis. "All we're asking is for airlines to do a better job of accommodating parents ahead of time so we can make flying a better experience for families and other passengers aboard. I think most airlines have the same goal. This provision is important to updating an industry that continues to see growth in family travel."
Incidentally, the FAA Act will also require airlines and airport to accelerate the security screening process and issue prompt refunds for baggage fees when luggage is lost for more than 12 hours.
All of this good news comes in part from efforts by consumer advocates as well as the new Family Travel Association, of which I am a board member. The FTA also worked hard to keep some anti-family provisions out of the bill, including one attempt to hold travel agents responsible — and subject to potentially huge fines — if families were not seated together. The fact is the airlines control the seating, not the travel agents.
(Click here for a summary of other new and interesting provisions included in the FAA extension or read this helpful Washington Post article about it. The full legislative text is found here.)