By Eileen Ogintz
ABOARD THE QUEEN MARY 2 ON AN ATLANTIC CROSSING (Day 2) – Fifteen thousand meals a day!
And that's not counting the popular daily Tea with five kinds of sandwiches, two kinds of scones (cream and jam of course) and five kinds of pastry that's served daily. Twenty-five hundred guests and 1,250 crew have to be fed every day on Cunard Line's flagship Queen Mary 2.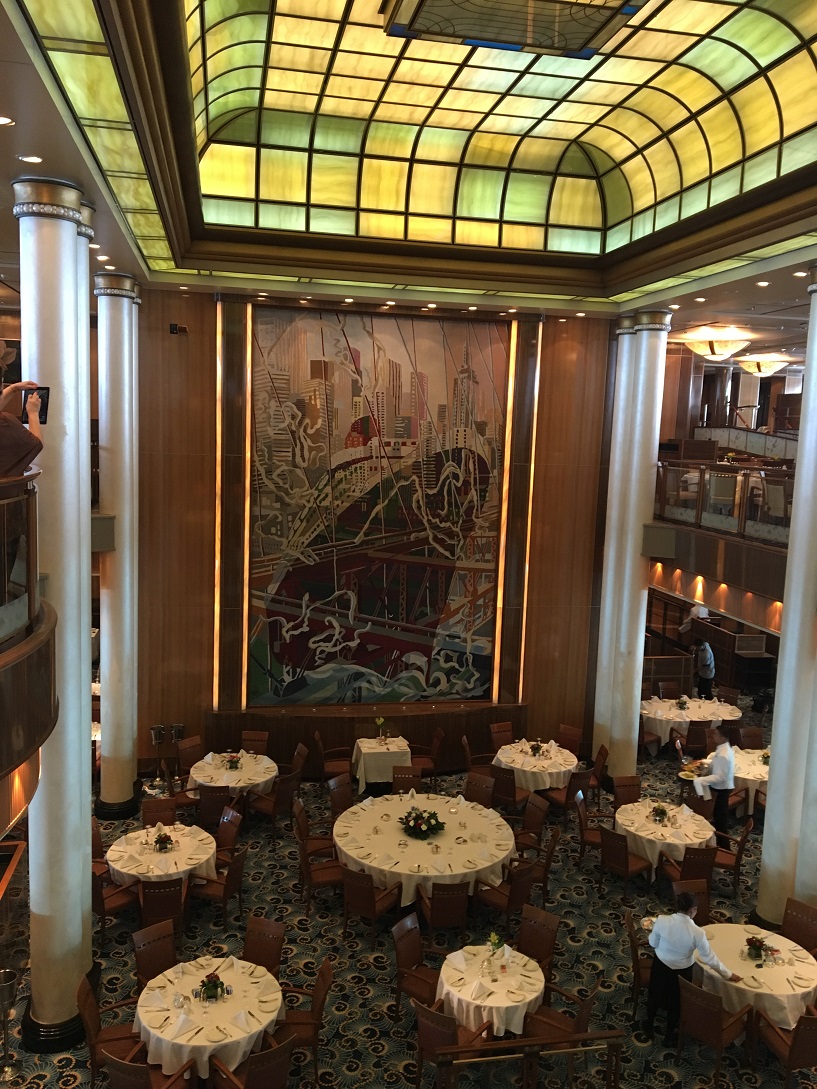 There is also late night pizza and other snacks and room service 24-7 and the "light bites" served in the Carinthia Lounge—maybe a mini bagel or yoghurt parfait for breakfast, a Panini, salad or charcuterie plate at lunch, cookies in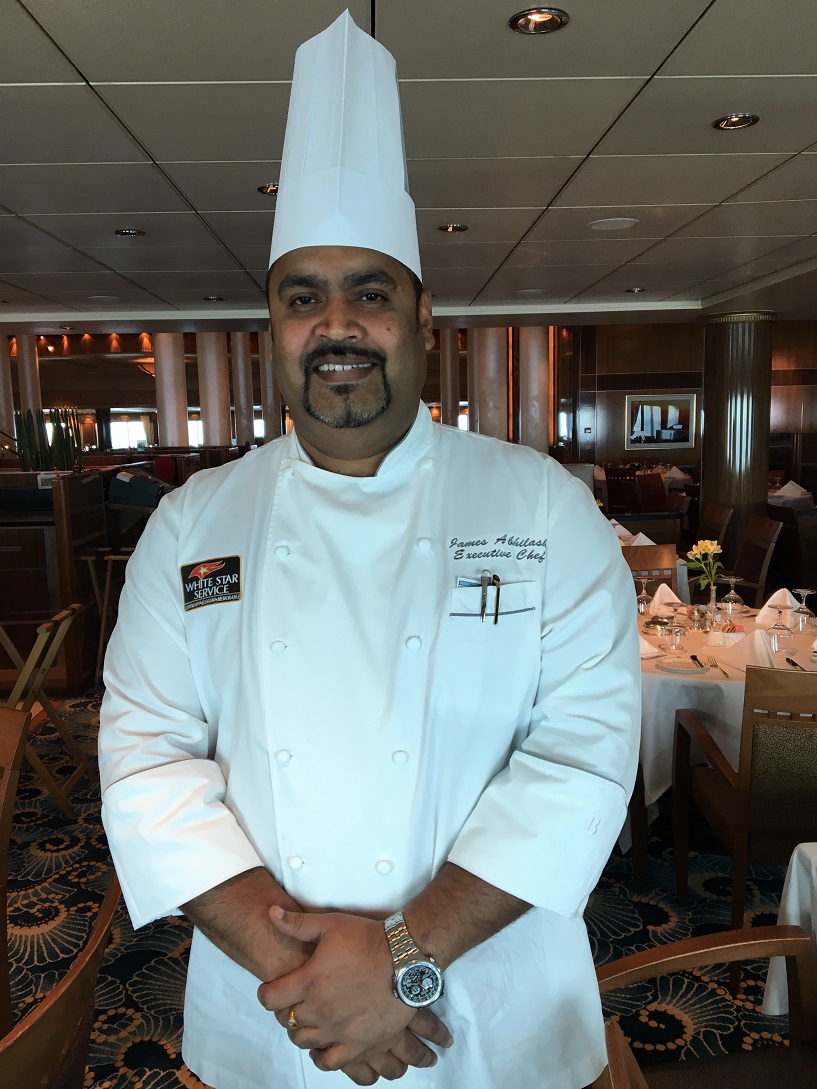 the afternoon.
Let's not forget the Pub serving traditional pub fare (maybe shepherd's pie) for lunch. It seems there's food being served somewhere all the time.
No wonder the chefs (147), galley workers (86), bakers(8) and pastry chefs (18) man a 24-hour-a-day operation, explains Executive Chef James Abhilash, a 20 year Cunard Veteran.
Here are some fun facts:
–The sugar used on board would make eight million scones which are served daily at Tea.
–The annual tea consumption would fill an Olympic-sized pool.
–5,000 fresh bread rolls are made daily.
–50 tons of fresh fruit and vegetables will be used on a one-week transatlantic voyage.
–1,000 bottles of wine are opened during each dinner service.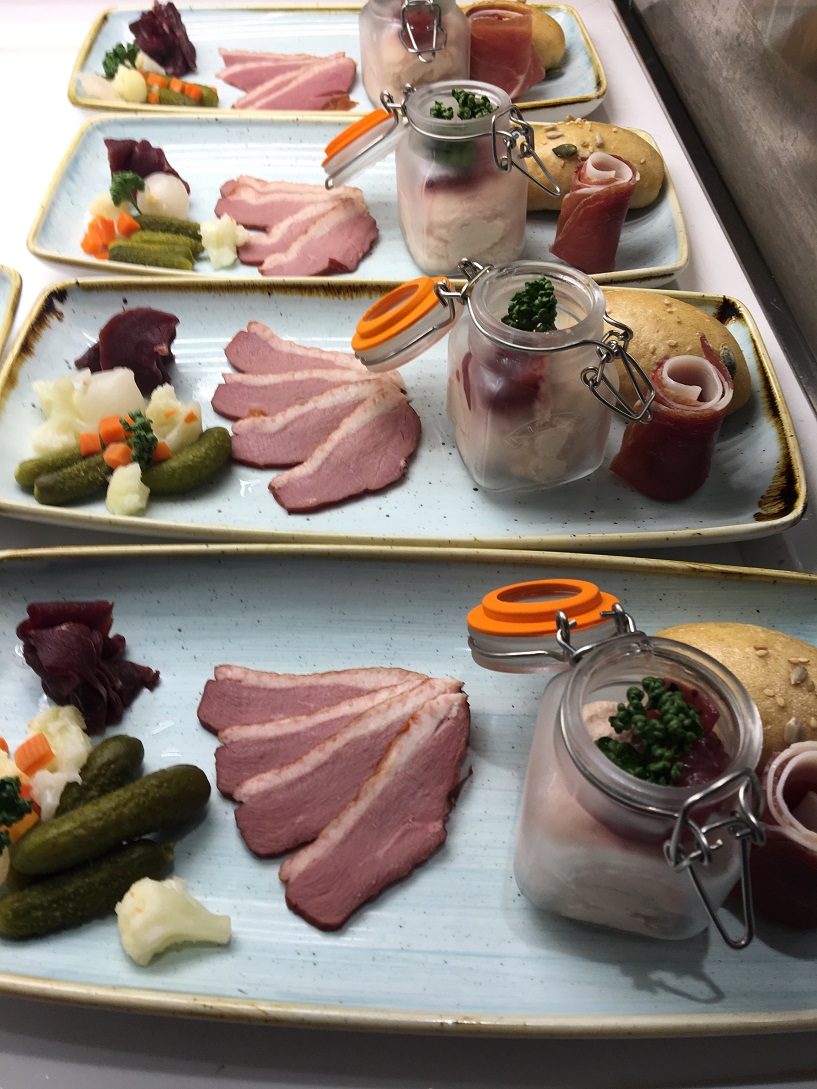 The ship even has two designated chefs for fruit and vegetable carving. They make ice carvings for special occasions. Midnight buffets are a thing of the past but there always is a Chocolate Buffet at one lunch. "It's about the presentation," Chef Abhilash explains.
On a transatlantic voyage with no ports, Chef Abhilash explains, food is especially important—and the kitchens especially busy with food served somewhere from early morning till late at night.
While other cruise lines have done away with evening dress codes and assigned seating in the dining room, guests choose Cunard for that traditional experience. In fact, the Chef said, they will complain if someone isn't dressed properly in the evening. (Jackets for men! No jeans, no matter how pricey they were!)
Of course there are kids menus with pizza, chicken nuggets, burgers and pasta, among other choices) but, Chef Abhilash said, "Once the kids are eight or so, they opt for the adult menus. And, as there is a Canyon Ranch spa on board, there is always a Canyon Ranch spa menu at dinner in the main dining rooms as well as vegetarian offerings and an entire vegetarian menu. The staff also accommodates all varieties of dietary restrictions—with one chef assigned to that task feeding roughly 10 percent of the guests, as long as they've given the kitchen 24 hours notice.
"Sometimes it's easier to say what can you eat than what can't you eat," Chef Abhilash said.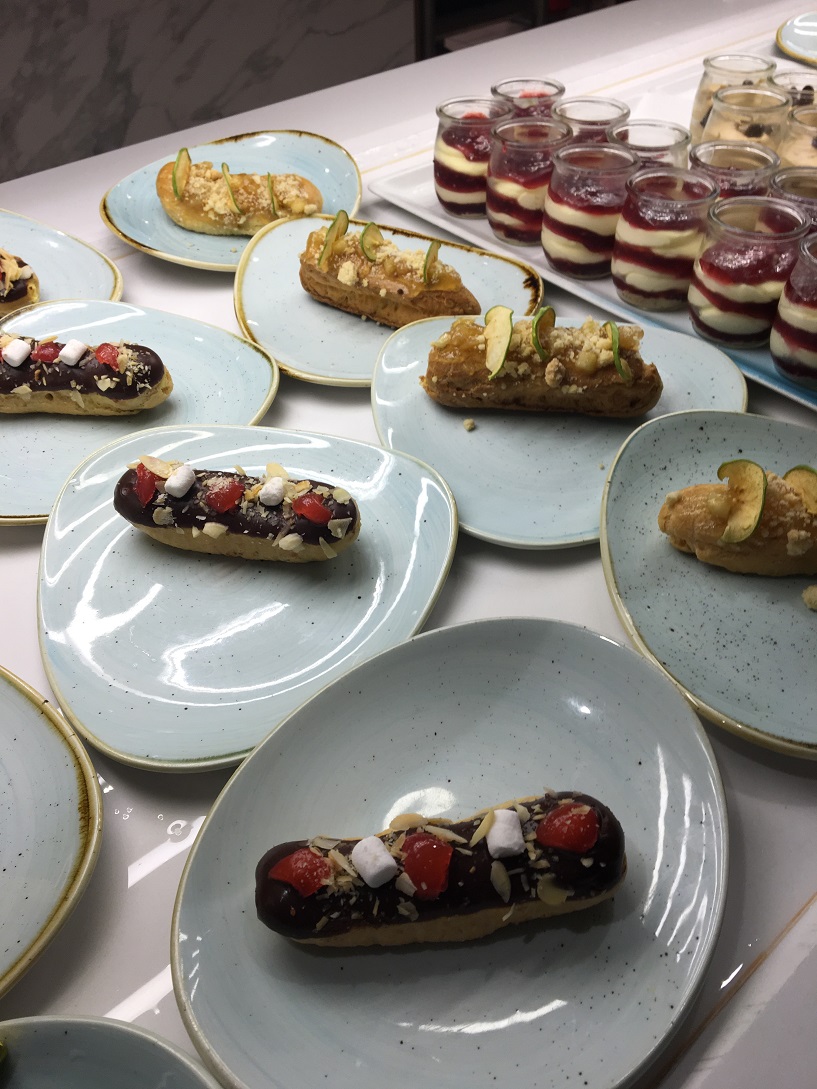 Food on board, Chef Abhilash explains, has evolved over the last 20 years with guests looking "for quality not quantity." They want more flavorful dishes and simple choices, especially on long World Cruises.
Each galley has its own chef—the main Britannia Dining room which adheres to the two assigned seatings serving more than 1,000 passengers a night; the more intimate Queens and Princess Grills for those booked in suites (serving 160-180 guests a night); the Verandah with 50-60 people paying an extra $50 for that experience, and the alternative (with a $17.95 upcharge) that changes—Italian, Indian, Asian, American barbeque.
Only about 10 per cent of the guests opt for the specialty extra charge restaurants, the Chef said, while half will choose the bountiful buffet for breakfast (omelets made to order!) and lunch (always a sushi station!) and as many as 20 percent for dinner because they want a more casual experience without dressing up.
Americans, he noted, are more fond of the buffet than the British passengers (this voyage there are 1,216 Brits, 923 Americans, 117 Canadians and passengers from 39 other nations—everywhere from Germany and France to Zimbabwe, Thailand, Bosnia and the Russian Federation.
The 1,250-member crew are from 59 different nationalities and the staff that cooks for them makes sure to serve dishes that are their comfort foods — from the Philippines, Eastern Europe, Asia and Europe. Some are on board for 9 months at a stretch and they work hard — 10 hour days seven days a week!
Thank you for working so hard for us! But is it possible to leave without gaining weight?