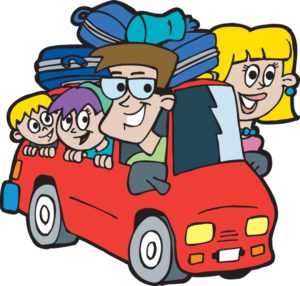 Are you ready?
Memorial Day official kicks off summer vacation season and AAA says 34.8 million of us will be traveling—up 500,000 from last year.
I guess that means we're feeling better about the economy. We're not letting gas prices keep us home, AAA says, and most of us—almost nine out of 10 holiday travelers—will drive. A survey of intended travelers found that 53 percent said recent increases in gasoline prices would not impact their Memorial Day holiday travel plans. (Free AAA apps for iPhone and Android devices use GPS navigation to help travelers map a route, locate nearby member discounts and find current gas prices. Travelers can learn about AAA apps and AAA Mobile Web at AAA.com/mobile.)
Another just released survey co-authored by MMGY Global and the U.S. Travel Association, suggests an estimated 154 million Americans –more than three in five U.S. adults–are planning on taking at least one leisure trip during the next six months.
Presumably, a lot will have kids and grandkids along. Orlando ranks #1 in AAA's top summer land vacation destinations. AAA's Bill Sutherland, AAA's Vice President of Travel Services, reports that family travel is emerging as a leading segment of the travel industry. "We're seeing it grow by leaps and bounds," he said at the N.Y. Leisure Travel Summit, adding that as a result, the hotel industry is working harder to cater to families with programs and rooms to accommodate them.
That's good news, of course. But it is up to us to continue to nudge the hotel industry to do more for us—healthier options on kids' menus, more complimentary programs, more second rooms offered at a discount. Disney's Aulani Resort in Hawaii has it right: Their kids club is free. Not only is the programming terrific but it gives parents a chance for some adult R&R. And at the Walt Disney World Swan and Dolphin, parents get free time at the kids club if they eat at the hotel's excellent Blue Zoo restaurant or use the spa.
Makes sense, right?
We also need to be smart and safe when we fly with kids as so many of us do. That's why the FAA has launched a new web site and online information toolkit with information about how to keep children safe when traveling by air. The site includes a downloadable tip sheet and a video demonstration on how to properly install a child safety seat on an airplane. Even though children under two can fly free sitting on a parents lap, it is prudent to buy them seats so they can be properly restrained.
"It's important to remind everyone that the safest place for a small child on an airplane is in an approved child safety seat, not on an adult's lap," said Acting FAA Administrator Michael Huerta.
"Children should have the same protection adults have in the airplane cabin and by using an approved child restraint device, even our most vulnerable passengers will have much-needed protection in the event of an emergency," said Association of Flight Attendants International President Veda Shook.
We all want to keep our kids safe, of course. We wouldn't think of putting a baby in a car without an appropriate safety seat so why on a plane?
Speaking of cars, make sure your safety seats are installed correctly before your summer road trip. Most aren't. Seatcheck.org can tell you where to go to get your safety seat checked.
We also want the best value for our vacation dollar. We can't return a vacation after all. That's why if you aren't happy, make sure the hotel/airline/car rental company knows why. In this economy, they need our business and they need us to return.
AAA's Memorial Day forecast suggests that we're all economizing too but not by staying home. We'll cut spending on entertainment (65 percent), stay at a lower priced hotel (34 percent), stay with friends and relatives instead of reserving a hotel room (31 percent) or stay in a hotel that includes value-added amenities like free breakfast and internet (27 percent).
We should all get the most bang for our vacation dollar this Memorial Day and this summer. All that really a matter is we don't cut the fun quotient.