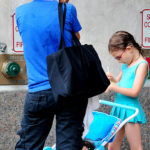 (sponsored post)
By Ken Grunski
Most people don't realize it, but our travel habits have changed a lot in the past few years – at least when it comes to our phones.
I meet a lot of families who thought they'd be able to travel without texting, tweeting, Instagramming, and Facebooking while abroad, but are shocked to see what an international roaming phone bill looks like when they get back to the states.
Here are a few questions to consider before taking your smartphone aboard an international flight or on a cruise. Believe me, a little preparation and research will go a long way.
1.)   Can I wait till I get home to tweet/ text/ upload pictures/ update my status?
People may think they'll wait until they get home before uploading cute pictures of their kids dancing in front of the Arc de Triomphe, but they usually don't. We've gotten used to sharing our lives 'in the moment', and oftentimes special moments happen when we're on vacation. Instead of sacrificing those live updates to your friends and family, shop for an international cell phone package before you go on vacation – you'll be able to upload, post, and share without breaking the bank.
2.)   Am I just traveling to one country, or to multiple countries?
Not every traveler needs an international SIM card. There are cheaper, local SIM cards available if you'll be primarily in one country or region. But keep in mind – international SIM cards come with a local US phone number so people calling you from the states won't be hit with long distance charges. Local SIM cards, on the other hand, have a country-specific phone number so other people in that country won't be dialing a long distance number to get to you.
3.)   Will I be tempted to play games on my smartphone while I wait in the terminal?
The best thing to do is avoid games and apps altogether. In fact, people with iPhones should turn off apps, data roaming and fetch data. Every time these update, precious data…. and cash… is burned. Though if you must use those apps, make sure to shop around for cheap data rates.
4.)   Can I give up my long evening phone calls to my mom/ husband/ friends?
If hour long conversations about how your day went are a regular thing for you, then you should travel with a calling card. Calling cards are prepaid, rechargeable, and come with a host of features including voicemail and the ability to listen to your emails over the phone. Telestial has calling cards in 151 different countries with rates that can save you up to 70%.
Cheating on your 'no-data' rule in another country (even if you cheat just a teeny tiny bit) is going to cost you dearly. The fact is many people don't change their smartphone habits while abroad, and would be much better off getting an international phone and/or SIM card. Not have to worry about your cell phone bill will make your family vacation that much more enjoyable.
Ken Grunski is an evangelist for cell phone savings and founder of Telestial.com, an international cell phone provider. Photo by Ed Yourdon (CC)