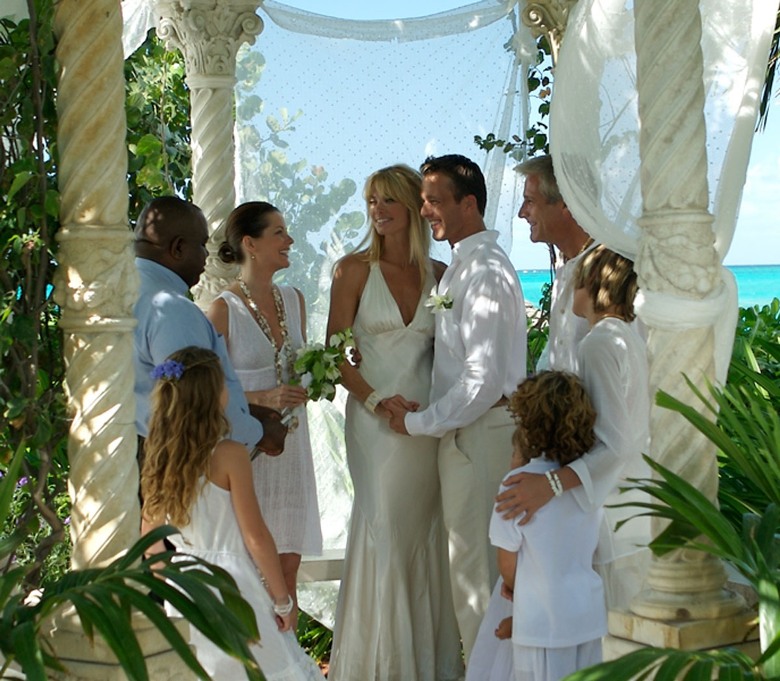 By Eileen Ogintz
Tribune Media Services
Four-year-old Grace Layman, decked out in full frilly flower girl regalia, excitedly led her smiling surprise guest to the separate kids' party she was hosting at her dad's wedding reception. Mickey Mouse wowed everyone — grown-ups too.
"I was teary eyed," said the groom, Grace's 31-year-old dad, Grant Layman. "It was fantastic."
Layman, a Columbus businessman, said he and his wife, Jennifer, also in business, opted for a Disney destination wedding in large part because of Grace and all of their friends' children.
Nothing against Columbus, he said, but they wanted a locale where their friends, scattered around the country, would be willing to pay to fly — and would want to bring their kids. "I'm a family kind of guy," Layman said. "I wanted it to be a place where all the kids would have a good time." And as it turned out, 25 of their 89 guests were children who, of course, couldn't have been happier at the choice of locale. "The wedding was a good excuse for everyone to come down to Orlando," he said. "It was a blast. We would do it again in a split second."
Not only are destination weddings — from Orlando (Disney does 1,500 a year) to the Caribbean to Hawaii to cruise ships — more popular, they account for 16 percent of weddings every year, up 400 percent in the last decade — but kids increasingly are part of the equation says Milli Martini Bratten, longtime editor-in-chief of Brides Magazine. "It becomes like a family reunion," she said. That trend is only expected to increase with the California Supreme Court's recent decision to legalize same-sex marriages. The popularity of same-sex weddings in California — many couples coming from out of state — is expected to boost revenue in the state by more than $60 million over the next three years, a UCLA Law School study forecasts. Wherever a wedding is held, eight out 10 couples surveyed by TheKnot.com invite kids to their nuptials. And for couples that already have children and don't necessarily want the hoopla or expense of a big wedding at home, destination weddings prove to be an appealing option. There's the added plus of starting anew on neutral turf, said Anja Winikka, editor of TheKnot.com, which has published "The Knot Guide to Destination Weddings."
"This wasn't just a marriage of two people, but of the three of us," said Marjorie Campbell-Kennedy, 33, the mom of a 6-year-old. She and her fiance, now husband, Dylan Kennedy, worried Colter "would get lost in the shuffle," at a big wedding at home in Arizona. Instead, the couple opted for a country they love and an intimate beach wedding at The Inn at Robert's Grove in Belize complete with a pre-wedding snorkeling and BBQ day at a private island. I watched the new family happily dancing their wedding night way at the resort.
"I got ample time with everyone and for myself," said Campbell-Kennedy, who had been a widow. "And it was as much fun for Colter as for us."
The on-site wedding planners make it even easier, observes The Knot.com's Winikka. "You are removing yourselves from the chaos."
"I didn't have to cook, clean or change sheets for guests," joked Campbell-Kennedy. "I was really on vacation."
"It was so carefree," said Candice Gilder, a Pontiac, Mich., school counselor who got married last spring, her two kids and various family members in tow. She married Antoine Gilder at Beaches Negril, one of the Sandals all-inclusive properties catering to families. There were plenty of organized activities for the kids, teens and grown-ups. "We didn't have to worry about anything." It was also much cheaper for the couple because they had less than 30 guests, as compared to the more than 200 friends and relatives they would have felt obligated to invite at home. Many of her guests, Gilder added, had never been out of the country before her wedding and she was glad to have the opportunity to introduce them to a new experience.
So many couples with kids are opting for destination weddings that resorts are starting to take notice with special programs and packages. The four Beaches all-inclusive Sandals resorts (www.beaches.com) designated for families, for example, have initiated a FamilyMoon package complete with a special group concierge and a Unity Sand Ceremony to physically represent the union of the new family. "We are seeing a huge trend in this," says Joann Delgin, Sandals' new chief romance officer, who helps guests celebrate romantic milestones — whether it's a proposal, wedding, honeymoon or anniversary.
The all-inclusive Elite Island Resorts (www.eliteislandresorts.com) in the Caribbean are offering free weddings (valued at $899), if couples book a FamilyMoon package. Mexico's Azul Hotels (www.karismahotels.com/azul/), upscale all-inclusive resorts that cater to families, promise everything from complimentary walkie-talkies to keep track of everyone to organized children's activities — even junior spa treatments, which seem to draw more couples, said Faith Wishnie, the director of wedding services for Azul Hotels by Karisma. At Walt Disney World (www.disneyweddings.com), ceremonies often include special gifts to the kids in honor of the moment, said spokesman Michelle Bauman (not to mention special guest appearances by the kids' favorite Disney characters!)
But perhaps the biggest reason destination weddings have become so popular — and we're talking an average 368,000 a year, more than 7,000 every weekend, according to Brides Magazine research — is because of the Internet, said Brides' Bratten. Much of the planning — and that includes coordinating with the guests — can now be done online.
And then there is the cost. A destination wedding can be a lot cheaper because fewer guests come (an average 47 to 165). Not to mention the fact that the honeymoon can start as soon as the wedding ceremony is over — with plenty of relatives on hand to watch the kids.
Still, the Laymans opted to steal away for some just-us time. But Marjorie Campbell-Kennedy and her husband Dylan kept Colter with them after everyone left. "It was wonderful — just the three of us," she said. "The perfect ending to a perfect wedding."
There's just one problem. Colter keeps asking when they can go back to Belize.
——–
IF YOU ARE CONSIDERING A DESTINATION WEDDING WITH KIDS:
Here are some tips from Brides' Editor-in-Chief Millie Martini Bratten and TheKnot.com's Editor Anja Winikka:
— Start planning a year ahead (assuming you are engaged then!)
— Factor in the travel time when choosing the destination (you don't want kids — and their parents — arriving cranky after a long trip!) and opt for a locale that is kid-friendly. Make sure the venue can accommodate all of your guests, no matter what their ages.
— Send out a "Save the Date" note so families can begin making their plans.
— Offer several different options for accommodations nearby, including hotels, condos and suite hotels appealing to families, at different price points. Negotiate the best rate you can at each place. (Doubletree Hotels, www.doubletree.com/weddings, has just launched a new Weddings by Doubletree Website.
— Include gifts for the kids in the welcome bags and suggest area activities for the families with children, as well as for the adults in the wedding party.
— Plan for downtime. Kids can't go nonstop!
— Don't invite more guests than you really want to come.
(c) 2008 EILEEN OGINTZ DISTRIBUTED BY TRIBUNE MEDIA SERVICES, INC.