By Eileen Ogintz, Tribune Content Agency
Is it safe?
After being cooped up with their kids for more than two months, families are desperate to get out of the house.
"I don't know how much longer the kids can take it," said Pearl Martinez, a Denver mom of four.
Parents either.
But is it safe to head out of town? "It is a really difficult position we are in. I am concerned we will see an increase in cases, but I recognize we can't stay locked up forever," said Dr. David Kimberlin, a professor at the University of Alabama at Birmingham and co-director of the Division of Pediatric Infectious Disease. He is also a spokesman for the American Academy of Pediatrics on infectious disease. (In addition to the Academy of Pediatrics' main COVID-19 page, HealthyChildren.org offers a collection of articles in response to the pandemic in both English and Spanish.)
For more camping ideas, read our column here.
"I think what we all have to do — and for a long time, months if not years, is to protecting ourselves and protect others by maintaining social distancing, not gathering in large crowds, wearing masks in public, washing your hands frequently. By doing that, those who have COVID and are asymptomatic are much less likely to spread it and at the same time, we can protect ourselves."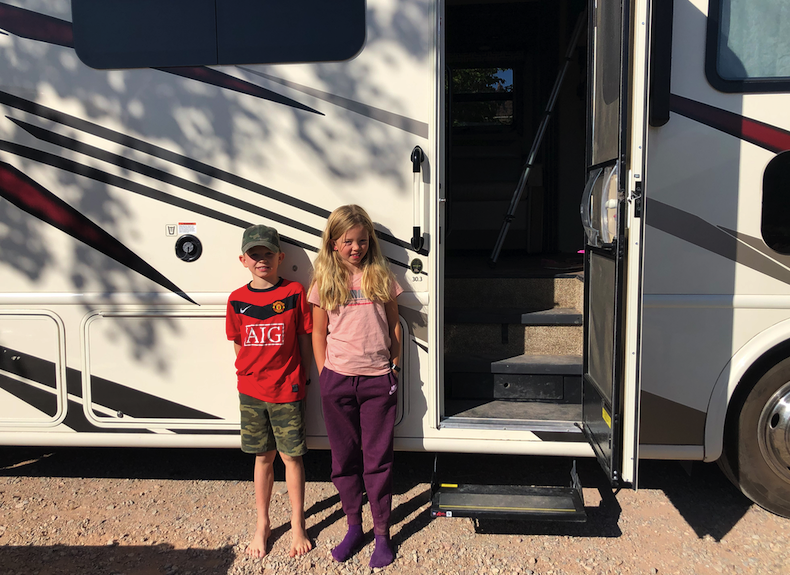 Families, it seems, think camping can be the antidote they seek — and a way to get out of town safely, according to a new COVID-19 edition of the North American Camping Report, sponsored by Kampgrounds of America.
Nearly double the number of travelers surveyed the end of April — 60 percent — now report they believe it is more important than ever for kids to get outdoors. And two-thirds of those who plan to take kids camping for the first time report they are motivated by their newfound conviction that kids need to spend time outdoors.
"Intuitively, it makes sense that people are going to gravitate toward outdoor activities after having been under stay-at-home orders for so long," said Toby O'Rourke, KOA president and CEO, who adds that her two kids are clamoring for a camping trip.
Nearly a third of those surveyed say they are most looking forward to spending time outdoors with their family — as compared to just 4 percent who want to travel somewhere new. Interest in camping has grown steadily for the past decade, adding millions of new camping households each year, but this year especially, families want a safe, affordable vacation that is close to home. Another plus, they can bring their pooch with them.
Nearly half of those surveyed — campers and non-campers — report camping is the safest type of trip to take right now — as compared to a resort vacation (15 percent) or even a rental home (14 percent). Only 10 percent report they think it is safe to fly. A third of leisure travelers who have not camped before say that they are now interested in camping. And should schools remain closed and remote work a continuing option, families see the potential to extend their camping experience beyond the summer. That doesn't mean everyone wants to pitch a tent or hoist a heavy backpack into the wilderness. Those with generous budgets may opt for deluxe glamping resorts like Paws Up in Montana on a working cattle ranch with safari-style tents, Moose Meadow Lodge in Waterbury, Vermont, with the option to stay in a treehouse or LEED-certified Fireside Resort in the Teton wilderness near Jackson, Wyoming.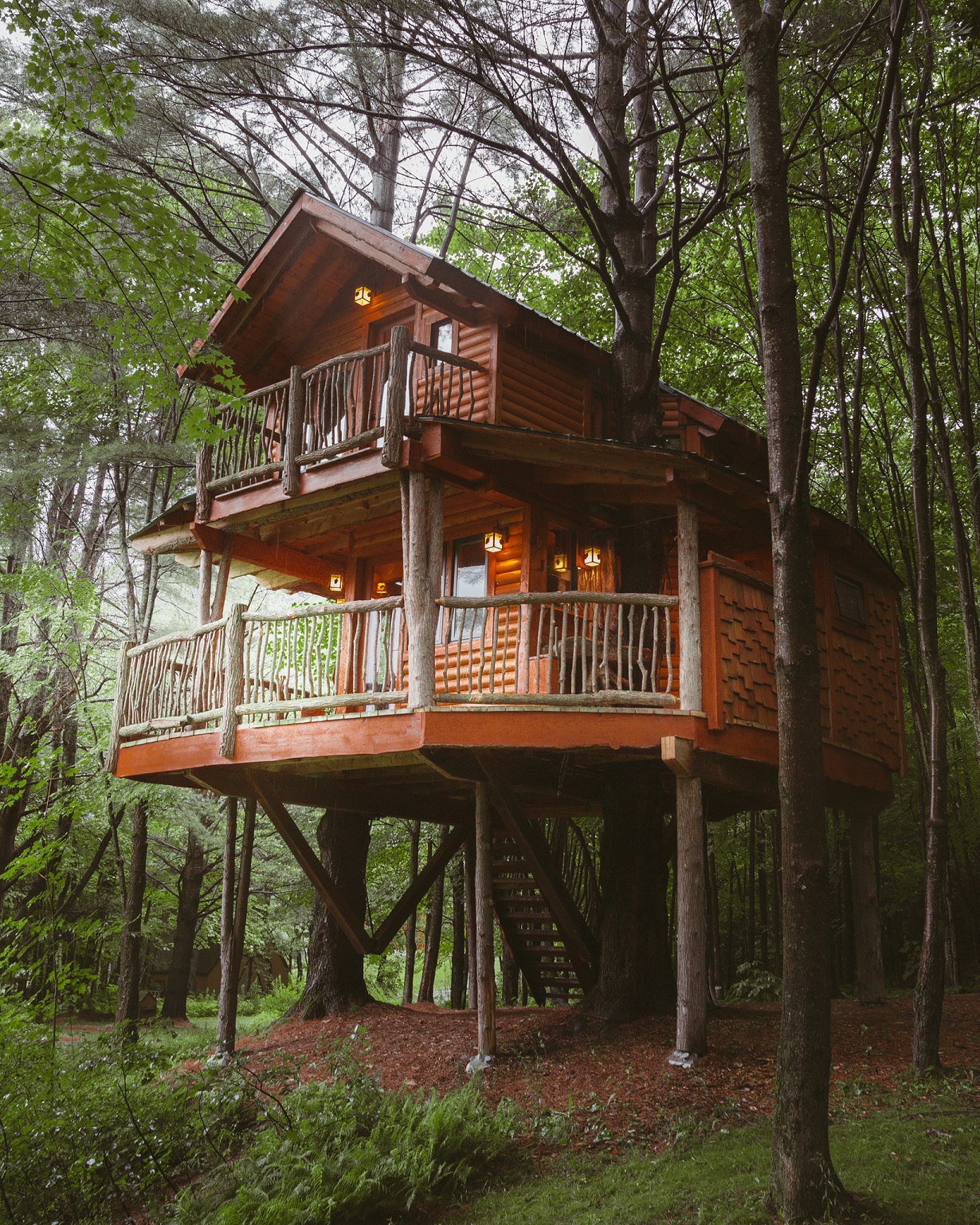 (Check Under Canvas for luxury safari-inspired camping options with plenty of social distancing starting at under $200 a night near national parks, including Glacier. Zion, the Grand Canyon and Great Smoky Mountain National Parks, where the staff serves up gourmet meals with locally sourced ingredients and can plan adventures (think private jeep tours or fly fishing in Zion National Park) Rigorous antibacterial cleaning in tents, common areas and bathrooms are being conducted multiple times daily, the company says.)
KOA, with more than 500 campgrounds in the country — many of which are more like resorts with pools, playgrounds, kids' activities and dog parks, as well as the option to stay in an RV, cabin or tent — has also initiated new cleaning and social distancing protocols, O'Rourke said, noting that there typically is 30 feet between campsites.
And just 30 miles from Dallas, there's The Range Vintage Trailer Resort, brand new featuring six restored Airstreams and vintage trailers to rent on 30 acres along the Ennis Bluebonnet Trail—just 22 sites (you can bring your own Airstream, too ) spread out more than 100 feet apart complete with ponds, walking trails, tree swing and more.
Nearly 40 percent of those surveyed said they would be interested in a "glamping" experience; 29 percent are interested in RVing and roughly a third, a road trip that would include camping. ( The California based travel company KimKim will help you plan and book a custom itinerary based on your family's interests for a road trip in California, Colorado, New England, Florida and the Southeast; The $250 fee can be applied to an international trip next year. )
With concerns over the safety of communal facilities spiking from COVID-19, the importance of having a private bathroom in a cabin or RV is now very important to campers, the survey noted.
There are other options too this summer to enjoy an affordable outdoor experience.
White Water Raft Trips certainly are a way to get to remote wilderness areas without backpacking all of your gear with companies like OARS and Western River Expeditions, who are initiating new health screenings and guidelines. Some trips are even appropriate for kindergartners, like Western River's trip through Desolation Canyon on the Green River in Utah or OARS Family Adventures, including a three-day trip on the Lower Klamath River in California.
Another place to social distance is Houseboating on Lake Powell with nearly 2,000 miles of shoreline and 96 major side canyons. can provide the ultimate social distancing for a family on a budget. Pricing (for peak seasons) starts at $2,019 (five days).
I've spent a good part of our shelter-in-place writing the Kid's Guide to Camping, the latest in my Kid's Guide series, hearing from kids about why they like camping so much. For one thing, they prefer not having to eat at restaurants, and they have a chance to see wildlife.
"It's like being on a safari but in the woods," said Bert, 11, who is from Maine.
For another, they always make new friends from around the world, suggested Stella, 10, and from Colorado.
"It's always fun to sit around a fire telling jokes and stories while making s'mores." Added Julia, 10, who lives in upstate New York.
And what could be better after months stuck inside? Just remember plenty of marshmallows, O'Rourke said.
See you around the fire pit — six feet away, of course.