By Eileen Ogintz
LONDON — Black tea, oriental tea or herbal tea?
More important, which sandwich should we start with? Coronation chicken roll (a kind of curry chicken salad), beef with horseradish cream, smoked fish, cucumber and cream cheese or egg and watercress.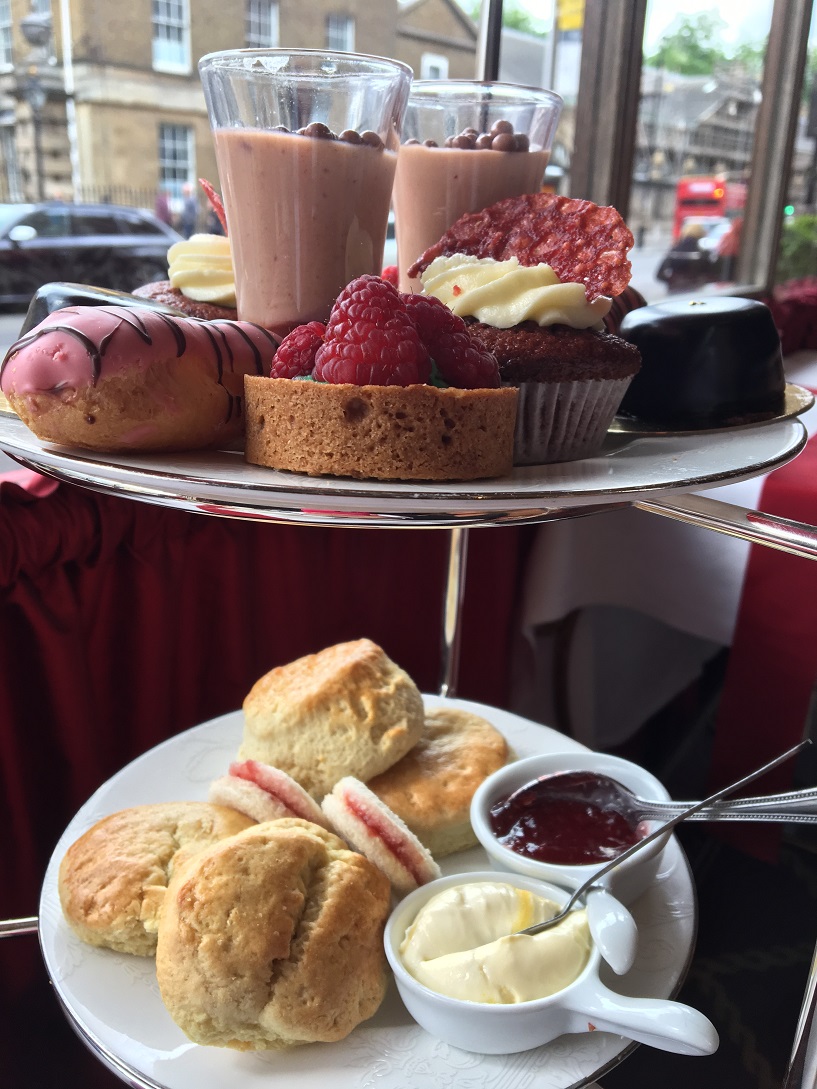 Of course these aren't big sandwiches; they are small pieces with the crusts cut off, likely similar to what Prince George, Princess Charlotte and the other young bridal attendants at Pippa Middleton's wedding ate at the wedding breakfast (according to the British tabloids, anyway.)
We were literally across the road from Buckingham Palace looking right at it while we had our own Royal Afternoon Tea at the newly renovated Rubens at the Palace, with its dedicated kids' guest services team. The newly renovated hotel with134 rooms and 12 suites features bedrooms and suites that might make you feel like a princess, some with red striped wallpaper and red glass chandeliers. Could it be more British?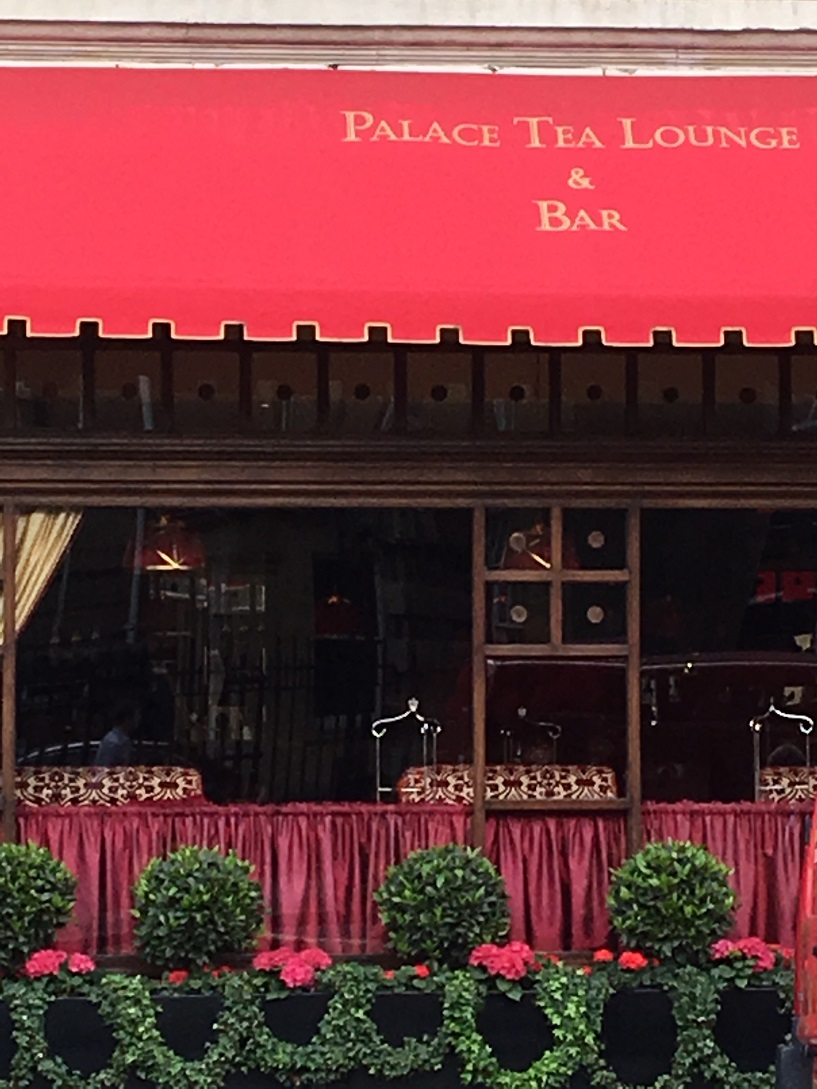 Not at Tea where the tea we choose is a special Rubens Blend that is a combination of Indian and Chinese black teas. Delicious! The sandwiches (and champagne cocktails along with the tea) of course is just the beginning.
A two-tiered tray arrives with freshly baked scones (orange and plain) fresh clotted cream and house made strawberry jam. And then there are the pastries—a Plum posset (kind of a tart mousse), Orange mascarpone, Coronation tart with pistachio and raspberry, cherry éclair, a chocolate cake with chocolate mousse filling and a red velvet cupcake. What would my Weight Watchers leader say?
At least I didn't eat each pastry—just a bite of each! And I didn't have dinner.
After tea we went to see Half a Six Pence, a rousing feel good musical written by Julian Fellowes of Downton Abbey fame, that is based on a novel by HG Wells that was semi autobiographical—in this case about a poor boy who has a soul crushing job working for a draper, suddenly inherits a lot of money, forgets his loyal girlfriend for a "lady" whose brother, a scoundrel, loses his money. He reconnects with his first love and gets rich again, though this time he knows what is important. His first girlfriend, who was working as a parlor maid, kept telling him he had forgotten who he was which of course is the most important thing of all.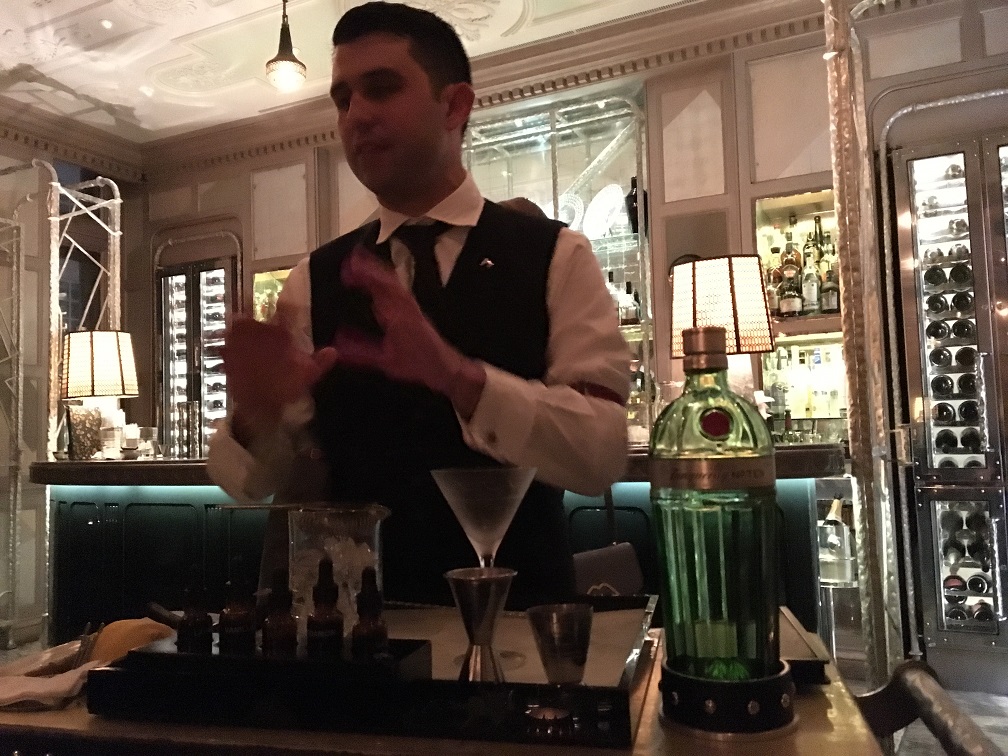 In London, I think, if you want to drink like a local, besides beer (and there are many to choose from) that would mean gin. We headed to the famous Connaught Bar (the hotel dates from 1815 and the art deco bar is definitely one to see) to sample their martinis served from a special trolley, tailored to taste with Tanqueray No 10 Gin and handmade bitters—lavender, pink grapefruit, cardamom or vanilla. Our affable martini maker Giorgio Bargani suggests Bergamot and ginseng and it is delicious!
So are the light bites that we substitute for dinner – tiny beet and goat cheese on shortbread; beef sliders, Dorset crab cakes and Scottish salmon tartar. Yum!