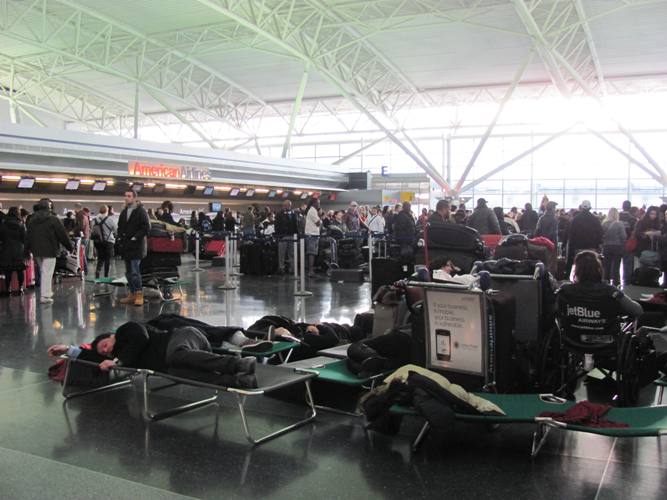 I thought we'd dodged the bullet.
Not only was our flight from JFK to the Caribbean two days after the blizzard that crippled the Northeast, but according to the American Airlines website at 6 a.m. this morning (Tuesday Dec. 28, 2010), it was on time and had been assigned a gate.
We were headed to the tiny island of Grand Turk and Bohio Resort www.bohioresort.com for some scuba diving. Turks and Caicos is known for their spectacular reefs and my daughter Mel had been diligently completing the required online course and hoped to join us as certified divers this trip.
But I was celebrating too soon. Just before we arrived at Kennedy, I got a message from American Airlines that our flight had been cancelled. (Why we didn't get the message four hours ahead, as we'd requested, I don't know).
JFK was a mess. Two days after the blizzard struck and a day after the snow ended, unplowed snow and slush piled up in the gutters of the departure lane. Inside, stranded travelers were were still dozing on cots. There were long lines everywhere but no one from either the airline or the airport directing the traffic. Without a lot of questions it was impossible to tell which line to enter. There were hundreds of people in line for "rescheduled flights" but only three agents at the counter.
That's because airline staff couldn't get through the snow to the airport, explained American Airlines spokesman Edward Martelle, when I reached him several hours later. At the same time, American had cancelled nearly 1300 flights in the past three days and getting passengers and planes moving again after a monster snow storm is no easy task—especially when so many senior people are on vacation, Martelle acknowledged.
Timing couldn't have been worse with heavily booked holiday flights, senior staff on vacation and a monster storm that derailed all travel- subway, bus, commuter railroad, especially in New York . "Everything that could go wrong did go wrong in a two day period," Martelle said.
Reservations reported that call volume was up 220 per cent. "We're sorry," Martelle said. "Passengers have to be patient" (which is almost word-for-word what a testy Mayor Michael Bloomberg said at a press conference today when reporters asked why so many streets were still unplowed).
It's not that easy to "be patient" when you feel powerless—and trapped by an ineffective system offering little to no information to deal with.
"We waited on one line for hours only to be told to go to another line," Meihua Chen, a graduate student trying to get home to Taiwan from the University of Pennsylvania, told me. "It's like being in a disaster movie." She and her two companions had been trying to get to the West Coast for two days to catch a flight home to Hong Kong.
I waited in a line that went nowhere for more than an hour while on hold with American Airlines only to be told we couldn't get out of New York until Saturday. Unless that changes, we'll have to cancel the trip.
Everyone around us had similar tales of woe. "This should be a happy holiday but it is our first trip to the U.S. and a really bad memory," sighed Livia Sui.
I met families who had been waiting overnight just for a flight to Orlando and others trying to get to the West Coast to connect to Australia and Asia. "No one seems to have very good information," said Brazilian Marcio Guth, trying to get to Los Angeles with his wife and 11-year-old daughter.
That's an understatement. I can understand the logistical nightmare this storm presented. I can understand the airlines' difficulty grappling with the situation. I can appreciate the quagmire of the monster storm hitting at a peak travel period when flights are booked or over-booked so that cancellations mean travelers get stranded for days rather than hours.
What I can't understand is why they weren't more prepared. After all, we were bombarded with constant news updates of the storm-to-come.
And I can't understand why there isn't more help and information for stranded travelers. Why can't the airlines — and the airports for that matter — get together and provide more real time information, particularly with modern technology and tools like the internet. Travelers should not have to wait and wait and wait just to be told to wait again. "We don't know anyone here and we don't know where to go," said Meihua Chen. "It seems unreasonable to have to wait for a week just to leave here!"
American Airlines' Martelle acknowledged that because the storm was an "act of God," the airlines aren't on the hook for hotels, meals, missed international flights or, as was the case with people I was chatting with in line, missed tours already paid for elsewhere in the country.
If you have travelers insurance, such expenses would be refunded, notes Dan McGinnity of AIG Travelguard. And had you booked a package through a site like Travelocity, they would have worked to get you a refund, notes Travelocity Senior Editor Genevieve Brown. But that's little consolation for someone—me included—whose long-planned trip simply won't happen.
"It's not a disaster," my daughter Mel said. "It's just a trip to the Caribbean."
She's right of course.
But I can't help but be disappointed. None of us get as much bonafide fun time with our kids as we'd like and it's a shame for anyone when that gets derailed by no fault of their own.
I can only hope the airlines are better prepared next time.