By EILEEN OGINTZ
It was before dawn on Alaska's Kenai Peninsula's only highway when an official flagged down our rental car.
"There is fire on both sides of the road," she said. "It's smoky. Be careful — and don't stop to take pictures."
We didn't. And it was scary.
We were in the middle of a two-week trip to Alaska, on our way to go fishing on the iconic Kenai River, having left all of our stuff at a lodge in the tiny river town of Cooper Landing.
Not only didn't we catch any salmon — "The worst day all season," our guide Sean Smart said. From our fishing boat we watched as what was a small cloud of smoke grow until it resembled the eruption of Mount St. Helens.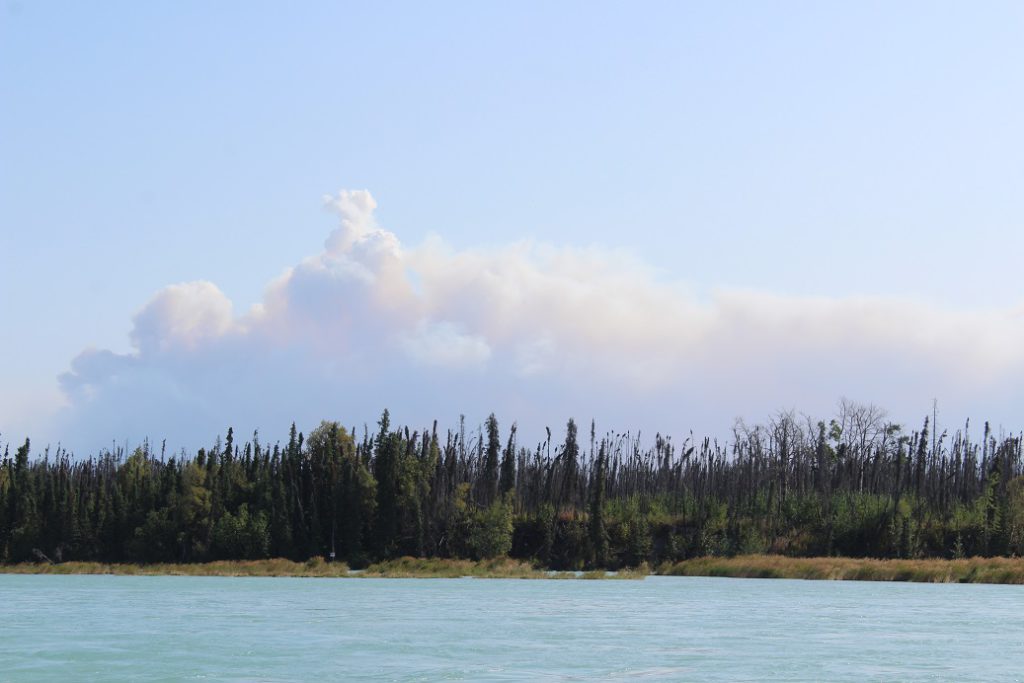 Before we got off the river, we learned that the Sterling Highway — the only road up and down the Kenai Peninsula — road was closed indefinitely because of the Swan Lake forest fire. We couldn't get back to the place we were staying nor could we get our stuff — for three days.
Had I not absent-mindedly let my annual Allianz travel insurance policy lapse, Allianz would have helped us find a place to stay and paid our expenses, as well as for the clothes and incidentals we needed, an Allianz spokesman said.
Of course, getting stuck without your clothes, laptop and phone charger pales compared to a medical emergency away from home. In either event, travel insurance certainly can alleviate the stress of the situation.
Since we had no idea how long the road would be closed, we decided to continue with our planned itinerary — sans gear. (The lodge where we had been staying was evacuating guests and packed up our stuff for us to get on our way back.)
We managed with minimal purchase-s – a sweatshirt for me; a quick dry shirt for my husband, some underwear, toothbrushes and a few cosmetics, though my husband insisted I could do without mascara. We were in Alaska, after all.
It could have been worse. I know flights had to be rebooked and days of a long-anticipated trip scratched. I've been stuck in enough snowstorms to know what a hassle it can be when you can't get where you are scheduled to go — and have paid for it in advance. People this summer got stuck because of Hong Kong strikes and Puerto Rico protests, not to mention tropical storms.
I also know — after an injury on a ski trip years ago — how fast out-of-pocket medical expenses can add up. Expenses travel insurance will generally cover what your primary health insurance does not.
Did you know many policies insure kids for free? The free Allianz TraveSmart App includes a hot line, international hospital search, emergency numbers around the world, a translation of first aid and medication into 18 languages and the ability to file a claim right from your phone.
Many people think of travel insurance as something for seniors going on a cruise. But the reality is, anyone or anything — like a forest fire — can derail a family vacation. What if a child gets an ear infection and can't fly? What if you get food poisoning and can't use those pricey theme park tickets you had bought? What about your college kid studying overseas? What if bad weather delays your flight so long that you miss your cruise? What if a grandparent gets sick and you have to return early? What if all your luggage gets lost? I know someone that happened to when they were heading off on a trip to Antarctica. It wasn't found in time either.
Travel insurance can help not only defray the costs, but help you navigate the process, from finding a place to stay to finding the best medical care where you are. Just be mindful to get the right kind of policy for your trip. If you are going somewhere exotic, for example, you will want to be covered in case someone in the family needs to be medically evacuated.
As for us, we were able to retrieve our stuff three days later. Luckily, we were in Alaska and didn't need any dress up clothes. We laughed when a couple from a cruise ship looked at our rumpled clothes and sandals and asked if we were locals.
Next time, though, I'll make sure we've got travel insurance.
Sponsored by Allianz Travel