Are you noticing that your child's wardrobe is in need of an update? If you're hoping to help them start 2021 off in style, there are several factors you should consider when shopping for them. From prioritizing comfortable materials to selecting the right size, here are a few key tips to remember before embarking on your next shopping trip.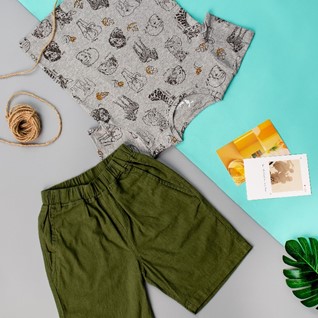 1. Prioritize Comfort
Every parent wants their child to feel their absolute best, and feeling comfortable is a key component in achieving this goal. When shopping for your kid, look for soft, breathable materials like organic cotton and linen. For colder seasons, try to find cozy materials that will keep your little one warm, like wool and fleece. This will not only guarantee their comfort, but it will help prevent any unpleasant tantrums.
2.  Don't Skip Out On Originality
Your style is a form of self-expression, and the same goes for your kid! Don't forget about the importance of integrating your child's personality into their wardrobe. If there is a particular television show they love, try to find a t-shirt with some of the characters on it. If your kid loves pink, grab them some pink clothes. They're sure to be overjoyed when you come home with articles of clothing tailored to their interests.
3. Look for Durable Materials
From rolling in the mud to splashing around in rain puddles, kids love to get messy. That's why you need clothes that are going to withstand every challenge your child throws at you. Companies like Baby Riddle feature clothing options for all young children, many of which are made from eco-friendly, durable materials like bamboo and organic cotton. Not only are these materials far more breathable and pesticide-free, but they wash incredibly well and actually become softer over time. You won't notice any obvious signs of wear and tear; instead, your kids' clothes will be looking as fresh as the day you bought them.
4. Wash Everything First
It's super important to wash all pieces of clothing before your child wears them, especially if the item is going to come in direct contact with bare skin. From manufacturing to packaging, the clothes you're buying have been handled by several people. As a result, it's impossible to know exactly what has touched the fabric. Additionally, certain articles of clothing have fabric dyes that could leave a residue on your child's skin or rub off on other pieces of clothing.
5. Opt for a Bigger Size
Kids grow fast. With that in mind, maybe go one size up when buying your kid's clothes. The last thing you want is to go to the effort of buying a nice piece of clothing for your child and only have them wear it once or twice before growing out of it. To ensure you get longer wear out of each item, be strategic in the sizes you select. This will help you ensure you're not wasting your money on countless articles of clothing.
Help your child start the new year on the right foot by giving their wardrobe a facelift. By following these tips, you'll ensure that your kid's clothes are as comfortable, original and durable as possible. Watching their faces light up and their confidence grow will be absolutely priceless.