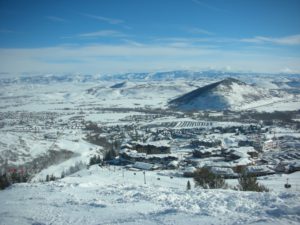 Let's hear it for a place that loves families. "We want to make it easier for them," says The Canyons Ski School Director Barry Stout. He notes that the "Cat's " program for 4-6 year olds not only is one stop shopping but guarantees a 3:1 ratio. There are three terrain parks and six natural half pipes as well as plenty of hike-to terrain for those craving the steeps and the deeps.
Meanwhile, this is a resort that loves families — 65 percent of the instructors are dedicated to kids. Consider that 45 percent of the resort's bottom line is from kids. "That's huge," says Stout. "We have a lot of mountain and we're the least busy of the three ski schools." And should you have a child with special needs, he notes, the National Special Ability Center down the road in Park City can send up an instructor and adaptive equipment. Also check out the deals — book with a Canyons lodging and you'll get free lifts.
I also like that the little kids ski school is one stop shopping- rentals, helmet, all right there. "All parents have to do in the morning is drop the kids off," says director Kathy Monniger. Hanging around here makes me realize questions to ask when you are booking ski school — what is the ratio of instructor to kids? How much will the kids ski? Monniger notes that the 4-6 year olds are out most of the day while two and three years olds have day care and an hour private lesson. What if the kids don't want to ski? Monniger says this rarely happens but they have an indoor option every day. Other questions to ask: Do the kids stay with the same instructor? Does the ski school take care of their gear?
What you don't want is large classes! And whatever you do, don't forget the gear — especially goggles, sunscreen and moisture-wicking ski socks, as well as water proof outer layers.
I also like that a ski vacation here doesn't necessarily have to cost a bundle. In fact, many hotel packages at The Canyons throw in the lift tickets (www.thecanyons.com). That's no small thing with lift tickets costing nearly $80 a day!
Another plus to a ski vacation in Park City — you really don't need a car. You can take a shuttle from the airport and then free shuttles around town and from resort to resort, restaurant to restaurant. There are more than 100 to choose from, including a Park City institution, The Grub Steak, known for steaks, prime rib, salad bar, and extensive kids menu. Not too pricey either.
Honestly, I think Park City is one place that can be all things to all snow loving families, no matter what your budget and your ability. The one caveat — especially this year — you've got to like snow! There's plenty of that.