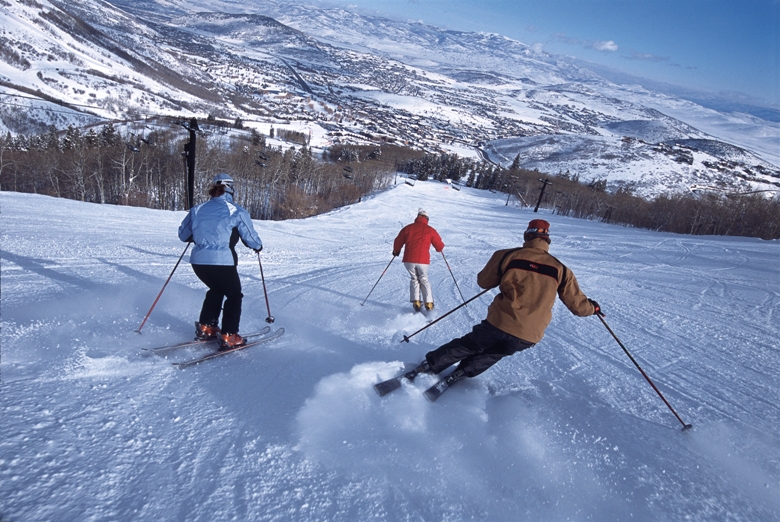 I'm nervous. The rest of the women in the room are excited and upbeat. We've gathered from around the country on this very snowy morning at The Canyons resort in Park City Utah to work on our skiing with former Olympian Holly Flanders and her hand-picked crew of women's coaches.
It doesn't help that I'm nursing a badly sprained ankle. I'm impressed by the diversity of the group — a 65 year-old grandmother from Tucson who hasn't skied in three years but now wants to return to the sport so she can ski with her grandkids; a 26 year-old grad student from the University of Utah; a 50-something graphic designer from Seattle who is tired of her teens out skiing her. There are ten of us and four instructors. "There's only one window of opportunity to ski with the grandchildren," says 65 year-old Sandy Maxfield. "That's my new goal."
Ann Conway, who is from Toronto, says she doesn't enjoy skiing with her husband because he is so much better than she is. "I want to feel more confident."
"I could buy a small car for the number of lessons I've had," sighed Ruth Warren, the graphic designer of from Seattle who just wants to ski expert terrain comfortably. I've been to several of these clinics over the years — they are popular at ski resorts from Stratton, VT to Breckenridge Co to Snowbird and Jackson Hole. Each one is different and has a different vibe. I remember one where it was all about conquering your fear factor. I remember another that was all about the steeps and the deeps. Another led by Kim Reichelm was like an camp for women — everyone staying in the same place, sharing all their meals. Some women like the atmosphere so much they return season after season.
I find I like Holly's laid-back style. "My interest is for you to enjoy yourselves on the slopes, build your skills and your confidence" she tells the group this morning as they go around the room talking about what they hope to accomplish. "Caution is okay but we want to push ourselves," says the mom of three who raced on skis around the world for 10 years.
And like multi tasking moms everywhere — she juggles her job today with setting up orthopedists' appointments for her son, who seriously injured his knee skiing.
I certainly strike a chord when I say I'm tired of everyone in my family out skiing me — our payoff, the other moms joke, for schlepping the kids to ski school when they were young.
This clinic isn't cheap — just under $450 for three days of coaching, plus lift tickets and lodging. Lunches are included. But everyone here — and the majority have not done a clinic like this before — feel it's money well spent.
"Women want to learn in an atmosphere where they don't feel threatened. It's a supportive atmosphere, "says veteran instructor MarMaree Tomczyk, herself the mom of two sons who has been teaching this clinic since Holly started it some 14 years ago. "It's very relaxed. Women listen and want to improve. Guys are much more competitive — it's all about who gets down first or who takes the biggest jump."
"The women take energy from each other," adds instructor Jan Vola, who began teaching skiing after a long career in New York's garment industry. "Everyone comes together and helps each other."
Indeed, with women, we're busy exchanging stories — what we do for work, how old our kids are, how we met our husbands, how we feel about taking a break from our families to do something for ourselves.
Tamara Roberts, the mom of two teens from Seattle and a divinity student is a fan of moms getting away. First, there's the chance for the kids to have a weekend with dad — special time. "Just as important, "it helps feed me and return to the important job of mothering with new energy," she says.
We break into groups based on our skills and comfort level. There is a lot of fresh powder and we're not all experienced in the deep stuff. It's fun to learn with coaches who are supportive every step rather than an impatient spouse or teen who can't understand why you simply "can't ski faster!"
I've invited my friend Elise Carlton to join me. She's skied all her life but never treated herself to a clinic like this. "It was fun but very challenging," she said at the end of the day.
The mountain is huge — one of the biggest in the country — but it seems crowded today. The coaches say that's because people aren't venturing far afield because of the conditions and the snow.
We all stop for lunch together — no small feat in the crowded mountain cafeteria. I'm tired but just as the coaches say; I seem to get more energy from the group. I ski the best I have in the afternoon, despite the less than ideal conditions. I'm actually proud of myself.
We look at video at the end of the day that Holly took of us all skiing. I can't wait for tomorrow.