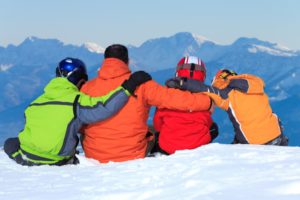 By Natalie Laurence (sponsored post)
As the ski season approaches families are packing up their hats and jackets, and preparing for a ski-bound vacation of adventure and fun. But if you're taking the little ones on the snowy slopes for the first time it is important you introduce them to the wonder of skiing in a way that will have them pleading to return the year after. And, of course, make sure you protect your investment in the trip in case your plans go awry.
These are our slope suggestions to help you introduce your kids to skiing.
The right gear: Make sure your little one is wrapped up in warm waterproof clothing because wet, chilly children will not take to the slopes so readily. Layers and/or thermals will keep kids toasty. Hats and mittens are a must to prevent against ice-bitten fingers and of course ski goggles keep the blaring sun out of your children's eyes.
Introduction to snow: A morning of snowy fun is the perfect way to get your kids use to the weather and terrain. Making snowmen and playing in the snow will familiarise kids with the surroundings and get them excited to start skiing.
Breaks: Short sessions and plenty of hot chocolate breaks are important in order to relax and refresh, as hours on the slopes will be tiring and frustrating for first time skiers.
Familiarize them with equipment and slopes: Kids can try out plastic skis in the garden before going away or alternatively you may consider letting your tots loose on a dry ski slope; they can learn the basic techniques and will feel more comfortable when they start on the snow.
More than just skiing: Skiing resorts are jam-packed with exciting activities apart from hitting the slopes. A vacation with some skiing but plenty of fun will be one the kids will beg to do again. Check out what your resort offers, activities can range from ice skating and tubing parks to gondolas and tram rides
Ski school: Researching the right ski resort and therefore ski school is essential if you want your child's introduction to the slopes to be a safe and fun experience they are keen to repeat. There are many different offers; from whole days to mornings and half weeks, plus some young children can often ski for free. Skiing lessons can really pay off. Ski instructors know how to handle young and nervous skiers and a few mornings spent with an instructor will mean your child is more confident and knowledgeable when you go skiing as a family.
Safety on the slopes: Staying safe on the slopes is the most important factor when skiing. Introduce your child to ski lifts, the slopes and the dangers of other skiers.
Hit the mountain: Once your child is ready don't hesitate to hit the mountains. Establish a positive skiing routine, which includes early bed-times and plenty of healthy food, and make sure the weather is clear and bright. Skiing on a sun-kissed, cool day, will make heaps of difference than on a blustery overcast one, which could put kids right off.

Bio:
Natalie Laurence, writer for Insure and Away, a freelance journalist and writer based in Brighton in the U.K. with a love for traveling.
Want something different from the groomed ski sloped, try backcountry skiing!