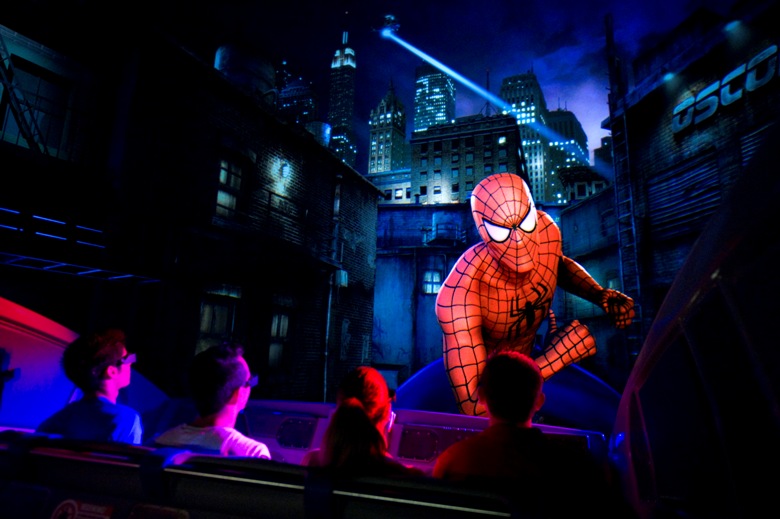 By Eileen Ogintz
Tribune Media Services
Move over, Harry Potter. Spider-Man has arrived.
"I'm just not that into Harry Potter," explains 16-year-old Jordan Madow who preferred the newly reanimated Amazing Adventures of Spider-Man with hundreds of new details all the more noticeable through the special 3-D glasses and incredibly high-definition resolution.
"Spider-Man is more fun, especially the drop!" declares Danielle Hardwick, 13, who was here from England with her family.
"Go to Spider-Man first and then Harry Potter," suggests 12-year-old Alex Marquez, visiting from Denver.
Of course, The Wizarding World of Harry Potter is still packed at Universal's Islands of Adventure, as it has been since it opened nearly two years ago, and many visitors say it is the impetus for their entire trip here, a contributing reason, some say, why Orlando now welcomes some 53 million visitors a year, more than any other American city.
Come in May and June before it gets too hot and crowded but with new attractions debuting at all of the parks, including Universal Orlando. You may score a better hotel deal, too. Check out "Beyond Disney: The Unofficial Guide to Universal Orlando, SeaWorld and the Best of Central Florida" by Bob Sehlinger to help you navigate.
Just be prepared for crowds. "You need to have a lot of patience," sighed Michelle Panney, here with her family from Newfoundland.
The morning I visited recently, there was a 45-minute wait to buy Butterbeer, which tastes like shortbread and butterscotch, and a 35-minute wait just to get into a shop — Ollivander's Wand Shop where wands are sold, following a presentation in which one person is chosen to demonstrate just how the wand chooses the wizard. (Does the wand water the flowers when you point it? Move the ladder?)
"If you are chosen it's worth it," said Jack Burrill-Bown, who clutched his wand later in the day. He was picked, he thought, because it was his 13th birthday. "Otherwise it is a real downer."
His family was on line to get in an hour before the park even opened; by mid-morning, the wait for the chance to join Harry Potter on his journey soaring over Hogwarts was 90 minutes.
But the wait for the Amazing Adventures of Spider-Man was over an hour, too. It is, after all, a technological marvel of an attraction, which makes you feel you are right inside the movie — so close that you see the character's muscles, flames coming out of pumpkins and rats scurrying through the streets. I like this attraction because those who are roller-coaster averse, like me, and young kids can enjoy the thrill.
"You need to have a lot of patience," sighed Michelle Panney, here with her family from Newfoundland.
A tip: If you stay at one of the three Universal Orlando Loews Resorts, you can bypass the lines at all but three rides at the park, including Spider-Man. You can also gain entrance to Islands of Adventure an hour before opening to experience the Wizarding World of Harry Potter before the crowds arrive. "It's definitely the way to go," said Jordan's mom, Kathy. "We went on the Forbidden Journey twice!" Some families opt to book just a night for that privilege.
(Come before June 7 and save up to 30 percent when you stay three nights or longer . Visit ttk-old.o2dev.net by April 13 and see how you might win a stay at Universal Orlando. Look for other deals offsite nearby at Universal partner hotels too that offer some, but not all the perks,
If you are line averse and budget isn't a concern, you can also bypass the lines with an Express Plus pass (prices start at $19.99 but go up based on season ) or by hiring a VIP guide ($2,500 per group for the two parks up to 12 people.) (More about VIP Orlando experiences in an upcoming column.)
Certainly besides getting up close and personal with Spider-Man and Harry Potter, there's plenty else to see and do at Universal Orlando this spring and summer whether you've got preschoolers or teens. New this spring at Universal Studios is the Superstar Parade where you can sing and dance along with characters like Nickelodeon's Dora and Diego and SpongeBob Square Pants. A new nighttime show, complete with colored fountains and fireworks, will take you through 100 years of movie history and Despicable Me: Minion Mayhem, a 3-D adventure where you undergo "minion training," is scheduled to open this summer.
There's a newly-enhanced Blue Man Group Show on CityWalk. The audience loved the signature moments like paint drumming and roared as the Blue Men explored our obsession with technology, especially as they interacted with GiPads (gigantic iPads).
Universal CityWalk, with its shops, movie theaters and restaurants, sits between the Islands of Adventure and Universal Studios Florida, making it possible to easily walk from one park to another. Now CityWalk boasts the new Hollywood Drive-in Golf, a 36-hole mini-golf course inspired by drive-in movies.
If you think your kids are too young for Universal Orlando, think again. Sure, the parks are known for their coasters. Hollywood Rip Ride Rockit, for example, boasts the world's largest non-inverted loop — it scared me just to look at it! The Incredible Hulk Coaster shoots you 40 mph in seconds followed by six rollovers. But there are family coasters too, including the Flight of the Hippogriff in the Wizarding World of Harry Potter and standout areas like Seuss Landing where, among other things, you can eat Green Eggs and Ham and ride a couch through the pages of Dr Seuss' 'The Cat in the Hat."
What I like best are the wonderful interactive play areas like Fievel's Playland and Curious George goes to Town at Universal Studios. Kids love all the pipes and spray guns, as well as the foam ball playground. At Universal's Islands of Adventure, Popeye's ship, the Olive, is transformed into an interactive playground. Dino lovers can head to Camp Jurassic where they can explore lava pits, mines and caves and even step in dino footprints.
The day I was at Camp Jurassic, kids were laughing and running, as parents snapped photos and sat down for welcome respites.
The best part: No lines. No wonder everyone was smiling.
© 2012 EILEEN OGINTZ, DISTRIBUTED BY TRIBUNE MEDIA SERVICES, INC.