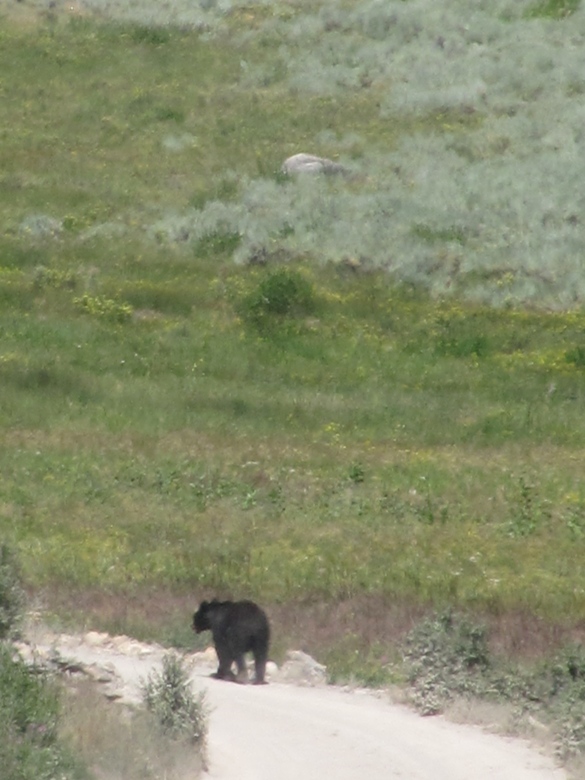 DAY 5 — A Bald Eagle..Osprey chicks… bison and more bison… deer , AND BEAR!
Welcome to perhaps America's greatest natural zoo—Yellowstone National Park with 67 species of mammals, 322 species of birds, 6 species of reptiles, 4 species of amphibians where the kids—my nine-year-old cousin Ethan Sitzman and his six- year-old sister Hannah have been naming the wild life as we go…Betty and Bobby Eagle…Oscar Osprey…Brett Bison.
But sometimes a visit to a national park is more than the chance to see spectacular scenery–like the two enormous Waterfalls we see at the Grand Canyon of the Yellowstone—or to learn some history, like the fact that Yellowstone was originally named for the yellow tint in the rock that comes from the sulfur.
Sometimes a visit to a national park is about facing fears and overcoming challenges, whether on a long kayak paddle before 7 a.m.—yes that was us this morning on Yellowstone Lake leaving our wilderness camp where we'd spent the last two nights roughing it as far away from the crowds of tourists as we could get—or in Ethan's case, realizing he didn't need to be petrified of bears.
We spied one from our Austin Lehman Adventures van—we've been on a private guided trip, seeing the park with the help of experienced guides Matty Kirkland and Katie Gugliotta who not only get us away from the crowds but tell us what to look for and interpret what we are seeing so one of us doesn't have to keep reading a guidebook. Such adventures don't come cheap but we are seeing much more than we would otherwise and don't have to sweat the details either like where to park or where to eat. The kids aren't bickering either because they are having so much fun with the guides.
Matty turns the van around, parks and races up a hillside with his scope so we could watch the bear—several hundred yards away– snack on greens amid the wildflowers, oblivious to our presence. Rangers think about 150 grizzly bears and more than 500 black nears live in the park. We are cautioned to stay at least the length of a football field away, which we do.
Though we are a safe distance from the bear, we had to coax Ethan to come close enough to take a look through the scope. But once he came up the hill, he was so proud of himself. I told him he could think of this day the next time he was afraid of something.
We saw a grizzly from the car and then picnicked by a creek. No PB&J for us. Our guides even brought down a table and chairs so we could eat in comfort– cold cuts, salads, chips, dried fruit and the piece de resistance—Smores made on a camp stove for desert while the kids waded in the clear, cold water.
If only family vacations were always this easy—or this wonderful. Ethan ranked our trip to Yellowstone better than his visit to Disneyworld and Hawaii.
Not bad for a place that has been welcoming families since the turn of the 20th century and where there are no technological marvels, no roller coasters to wow the kids. I realize—with our guides' help—nature has more than enough wow factor. It doesn't take a lot to get the kids engaged–a creek where they can get their feet wet, an Osprey nest with baby chicks, the chance to become Junior Rangers.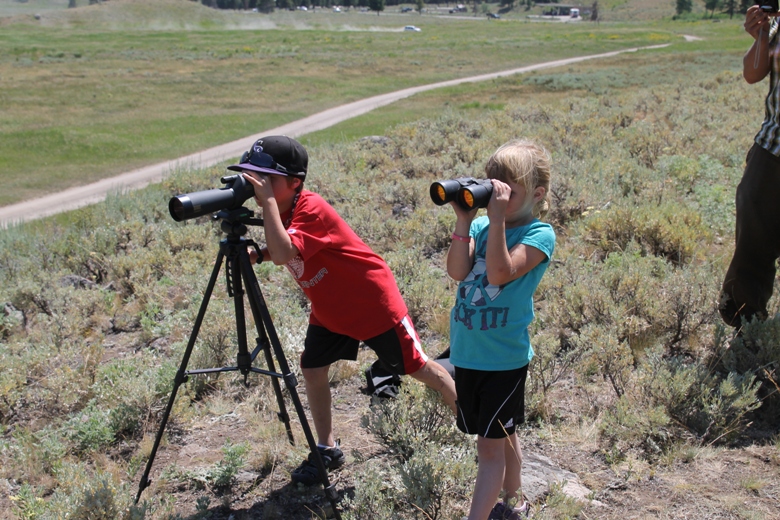 After three days and two nights camping in the park, Ethan and Hannah had completed the activities required. They'd traced the route we'd taken through the park from our entrance in West Yellowstone to Old Faithful to Yellowstone Lake to Mammoth Hot Springs. They drew things they'd seen along the way (geysers, trees, mountains.)
They checked off all the animals we saw. The Greater Yellowstone Ecosystem covers 18 million acres—larger than the state of West Virginia and extends into Wyoming, Montana and Idaho.
The two stood proudly at the Mammoth Hot Springs Visitor Center where a small crowd gathered as a ranger swears them in. They grin ear to ear and pin their badges on their shirts.
We're all exhausted and filthy after camping and a long day in the park but watching them be this excited about being one of our country's greatest treasures is worth every mosquito bite, I think.
"As a Yellowstone Junior Ranger, I promise to do all I can to help preserve and protect Yellowstone's wildlife and natural features…I will continue to learn about the natural world even after I leave Yellowstone."
I hope they will. I know they won't forget the days they've spent here. And that's a good first step.
Next: "Funness on a Yellowstone River raft trip"