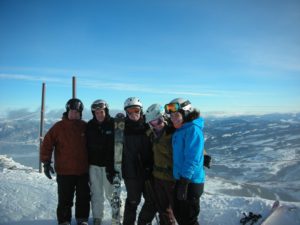 DAY 2 Local musician Mike Haring is singing in the Carabineer Bar at the Summit Hotel in Big Sky's base village. A mixture of locals and resort guests are enjoying the music and an après ski beer. One dad is dancing to the music with his 18 month old daughter. Everyone smiles.
That's the thing about Big Sky — it's at the same time a mountain known for its steeps and deeps with the most with moonlight Basin next door — the most terrain in the country – 5,512 skiable acres and a 4,350 foot vertical drop. There's enough extreme terrain at the top of the tram to satisfy my kids but also plenty of wide open blue terrain for those like me nursing a bad knee.
I love this place. For one thing, it's spectacularly beautiful. For another, everyone is genuinely friendly and clearly wants you to have a good time. So what sets this place apart from other ski areas? I ask Christine Baker, who oversees the kids' ski school.
She smiles a secret smile and first acknowledges that she grew up skiing here — as did several of her instructors. Clearly people love this place — and the Lone Peak that is the mountain's icon. (Look for a new Dakota Lift to open in the coming weeks to make easier access to the Bavarian Forest, with all of its natural glades and gullies.)
Christine tells me that what sets this place apart is that it is such a big mountain, an hour from Yellowstone, but with a small, friendly ski school. "The kids come back and are taught by the same instructors every year," she says. There are only 150 instructors here — 64 teaching kids skiing. That's ten times less than at some of the major resorts. "We keep our classes small," she explains — just six younger kids up to six and seven in the older groups. No worries about your kids getting lost here. Another plus; the mountain's day care center (which takes kids as young as six months) works with the kids ski school so you don't have to worry about preschoolers who aren't ready to ski — they've got a preschool equipped area to play all day.
I like the informality. There are mommy and me lessons and "short 45-minute small fry try lessons and regular private lessons too — which are growing in popularity, Baker says. But most important, I like the attitude. "It's a family feeling," Baker says. "We build relationships with the families. I've had kids I've taught every year." There's a free après ski activity for young kids so parents can have a guilt free break; there are demonstrations of a rescue dog — all fun for families. Everywhere are families walking around with kids of all ages.
And if the kids aren't ready to hit the slopes, the instructors tell the parents that too — gently. The last thing you want to do is force them, she says. Let them be challenged by the task, not the terrain.
I think that would be good advice for anyone raising kids these days. I meet up with my gang at Whisky Jacks, a burger place in the village, which incidentally is also undergoing lots of growth and changes this year. They're cold but happy and declare the mountain "fantastic." But everything isn't perfect, My husband has twisted his knee. Matt says he's too cold to ski this afternoon. I let go of the responsibility for everyone's happiness — at least I try to. We reconnoiter later at our log cabin in front of a fire. Everyone is happy again!
We check out the music scene in the village before an excellent dinner at The Peaks in the Summit Hotel. Nearby, we peek in on two Austrians-former ski instructors — who pack the house at the Huntley Lodge with their accordions and kitsch. The key is everyone is having a good time.