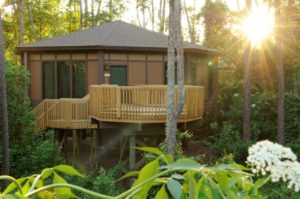 ORLANDO (Day Two) — So how would a princess ask for a piece of cake? The half dozen or so princesses in training, their tiaras on their heads are listening attentively.
"Ahem, Madame Chef, May I have a piece of cake," Rose Petal (who apparently was a rose in the palace garden and then magically became a princess so she could be Aurora's friend) instructs them.
They practice curtsies too. "Great Job," Rose Petal says. "You may return to your thrones now."
We are all at the Grand Floridian—Disney's flagship hotel famous for its Victorian splendor—I think the lobby looks like a wedding cake and in fact, weddings take place here daily. (www.disneyworld.com ; also check out www.disboards.com to hear from those who have "been there and done that"; www.disneymoms.com to ask a question of the Disney Moms' Panel; and for saving bucks: www.mousesavers.com).
So we're at the "Princess Tea" that for roughly $250 includes tea, heart shaped PB&J sandwiches for the girls, a plate of cheese and grapes for the moms and a scripted hour and a half show complete with music, princess lessons and a doll for each girl dressed as Princess Aurora, who makes a surprise appearance at the end.
Kaye Ivnick is so entranced with the program that she's made it a practice to bring each granddaughter for their third birthday from St. Louis, Mo. Alexa Ivnick is number four and there are two more to come. "People say three is too young but I wouldn't miss this for the world," said Ivnick, who has her own Disney memories of being at Fantasyland when it opened in 1955. "This trip we're doing the whole princess thing."
And there's no better place than the Grand Floridian-not only can little princesses see brides, but the atmosphere is so conducive to a magical time. And there's the convenience, said Tabitha Gennaro, traveling with a toddler as well as her three year old daughter and a teen. "You just get right on the monorail." Disney's famous monorail, of course, stops at the hotel and the Magic Kingdom is the first stop.
There's the sand beach with a zero entry pool, water slide and even a yacht you can rent for $500-plus an hour to get a first-rate view of the fireworks. The hotel is the priciest at Disney World but it also offers the most children's activities—there is a tea just for little girls (no parents allowed!) as well as a pirate cruise just for kids and evening kids club so parents can enjoy an adult dinner perhaps at the hotel's signature Victoria and Albert restaurant–five diamonds with 10 course tasting menus.
"I'm looking forward to our night out," said Kerrie Herron, who adds that the hotel is worth the extra bucks for the convenience and because it offers a quiet, classy respite from the parks. Kids are playing in the pool and on the beach during the day; in the evening they gather at pint-sized chairs in the lobby and watch cartoons where parents collapse on over stuffed couches listening to music. Did I mention the concierge level where kids can again sit on pint-sized chairs watching cartoons while they eat their Froot Loops in the morning and have afternoon snacks. "A lot of people are willing to pay extra for the concierge level," says spokesman David Brady. Personally, I think it's worth it simply not to have to deal with a restaurant with fidgety kids three times a day.
There are plenty of other options of course—including Disney's new Vacation Club (www.disneyvacationclub.com) offerings that anyone can rent. Take your pick: a modern luxe condo adjacent to the Contemporary Resort called Bay Lake Tower with spectacular views; a tree house—really—at the Saratoga Springs Resort(there are 60 of them in a natural forest near Downtown Disney 10 feet off the ground on pedestals, and one overlooking the Savanah where you can watch zebras and giraffes from your balcony at Kidani next to Animal Kingdom Lodge. Some of these units sleep nine comfortably and have three bathrooms, and, while not cheap, they are certainly a better deal than two or three hotel rooms.
You can cook (if you want) and even throw in a laundry. And you can choose whether to be in the middle of the action at the Contemporary—a good bet for those with young kids who will be spending a lot of time at the Magic Kingdom–making believe you've been transported to Africa near Animal Kingdom Lodge or completely secluded in the woods in a tree house where you can barbeque right out doors. For those traveling with extended family or friends, it is a great option.
But then there's the Grand, as they call it here. I'm looking out of my window at the white wedding pavilion that is so popular. I feel like a princess in my room with its round windows and white lace curtains and in true Disney style, a staff that treats me like a queen. "How are you today," one bellman asks.
"Having a good day?" asks another. A towel is fashioned into Mouse Ears on my oh-so-comfortable bed.
We have a formal "tea" in the Garden View Lounge—where the little princesses will be entertained the next morning. Of course there is a custom Garden View Blend tea, sandwiches, fresh scones, jam tarts and an English trifle for desert. Yum! There are plenty of little tea-drinkers too (Their Mrs. Potts Tea is $10.50 as compared to $25.50 for us and instead of shrimp and chicken salad, they get ham and cheese and PB&J sandwiches).
But I forgot my tiara and wand! The princesses didn't at their tea, of course, as they all sit in a row, daintily sipping their tea and eating heart-shaped PB&J sandwiches, their new Princess dolls propped beside them. Moms and grandmas, of course, are busy taking pictures—and taking in the moment. Some dads and grandpas are watching from the lobby as Rose Petal sings to the girls a medley of Disney songs, teaches them to sing a lullaby to their babies and how to greet a queen. "To see her so excited brings tears to my eyes," said Joan Gorham who is from suburban New York and was with her daughter Isabella, whose favorite princess is Aurora from Sleeping Beauty. "Definitely worth the money."
Besides, adds Tabathi Gennaro, who said she was celebrating both her daughter's fifth birthday and her own at the tea, where Princess Aurora makes a "surprise" visit "It's good to start off believing that everything has a happily ever after."
"More tea, please," her daughter asks.