FAIRPLAY, CO — Talk about a cure for boredom.
When Dorothy Russell's eight kids were grown and gone and she found herself with too much time on her hands, she didn't take up golf or quilting.
She started a tamale business in the tiny town of Hartsel, CO.   First, she sold them from her house, then from a reconfigured truck.  Word spread and soon, Dorothy's Tamales were a must-stop for anyone driving to ski country (Breckenridge is about 23 miles up the road.)
In fact we heard about Dorothy's from our daughter Mel, an avid skier and Colorado College student who would stop often on her forays to the mountains.
So when we had checked in to our condo at Blue Sky Breckenridge and were casting about for somewhere to go for lunch—not that there aren't many choices in Breckenridge!—we thought of Dorothy's.
Besides, it was a beautiful blue-sky day and the mountain views on the drive over were fantastic.
These days, Dorothy's Homemade Tamales is in South Park Bowl (as in bowling alley, not a bowl to ski on a mountain) in Fairplay , CO.  The 73-year-old Russell, now the grandmother of 18, explains that she learned to make tamales as a child from her grandmother Phylliscita Montoya in Denver.
"It's all by feel," she explains, after we compliment her on her tamales.  My husband Andy and his brother Mark grew up in Texas and have been eating tamales since they were kids and pronounced these—smothered in red or green chile sauce—among the best they've ever had.
Dorothy Russell now runs the restaurant and bowling alley with her husband Stan who is amazed that tamale lovers from all over the country call and despite the cost, have the tamales shipped.
Dorothy Russell says she makes 300 tamales a day—"The traditional pork with red chile is the most popular but the buffalo tamales are extremely popular too," she says.
Her recipe is secret  but clearly she's doing something right.  She wins awards locally and has even been featured on a Food Network show. The host, it turns out, is a skier who has made the trek to Fairplay many times.
Her secret? "When I was young, my grandmother would mix tamales by hand," she explained. "She made me feel it over and over."
Now, even though she uses a big mixer to make her tamales, "I still feel it to make sure it is right."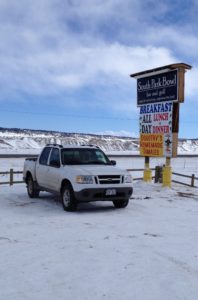 Did I mention Dorothy's tamales are a bargain—just $2.75, for pork or chicken, $4 for bison.
She used to make up a big batch of tamales and chile sauce for Christmas eve , she said, and all her family and friends would gather. Now, she's too busy at the restaurant—open 365 days a year.
The grandkids, she says, all stop in for a tamale fix when they are in the neighborhood.
Lucky kids. We left with frozen tamales to bring home.