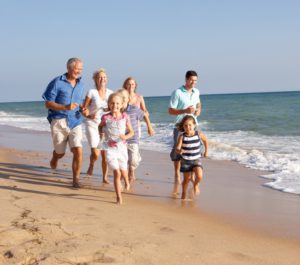 By: Travel Guard (sponsored post)
The weather is getting warmer, the days are getting longer, and the kids are out of school. Summer is upon us, and that means the time has come to start planning the summer family vacation. Regardless if your final destination is a beach getaway, a Caribbean cruise or a European tour, it's important to be prepared for the unexpected.
As any parent knows, when kids are involved, unforeseen circumstances can materialize at the drop of a hat. Illness can sideline the entire family, resulting in financial losses such as costs for airfare, tickets to attractions and other non-refundable deposits. Accidents resulting in injury during a trip, in addition to being scary, can cause serious travel disruptions, not to mention the headache of dealing with doctors away from home. This can be especially challenging and costly in foreign countries where U.S. health insurance may not always be accepted.
Medical emergencies are just one of the situations that can derail even the best-laid travel plans. Weather delays (which can crop up in the summer during hurricane season,) flight cancellations and lost luggage are other reasons families should consider insurance to cover their vacation costs.
Among travel insurance plans especially beneficial for families, Travel Guard offers the popular Gold Plan, which covers children aged 17 and under at no additional cost when traveling with an adult. The plan provides coverage for emergency medical expense and evacuation; trip cancellation/interruption coverage due to covered reasons such as work or involuntary job loss, baggage loss or delay, and 24/7 travel assistance services.
Travel assistance services can help moms who are trying to juggle the family vacation itinerary. The Gold Plan also includes personal concierge services, providing restaurant referrals and local activity recommendations, handling reservations, securing event tickets and more.
Assistance services can also come in handy in surprising ways, as Travel Guard customer Jill W. of Minneapolis recently learned. Jill and her family were headed to Curaçao for a Caribbean vacation and had made it to Miami before they realized that daughter Lindsey had left her passport back at school in Denver. Travel Guard was able to assist in flying the passport to Miami where it arrived just in time for the family to make their connecting flight.
If you're interested in learning more about travel insurance for your next family vacation, talk to your travel agent, visit www.TravelGuard.com or call Travel Guard's World Service Center at 1.800.826.1300 and a knowledgeable representative will help walk you through the options. This blog sponsored by Travel Guard.
This is only a brief description of the coverage(s) available. The Policy will contain reductions, limitations, exclusions and termination provisions. Insurance underwritten by National Union Fire Insurance Company of Pittsburgh, Pa., a Pennsylvania insurance company, with its principal place of business at 175 Water Street, New York, NY 10038. It is currently authorized to transact business in all states and the District of Columbia. NAIC No. 19445. Coverage may not be available in all states.