By Eileen Ogintz
Barb Engbretson wasn't the type to go off on Great Adventures.
She and her husband were farmers, after all, and they couldn't leave their Wisconsin farm for too long at a stretch.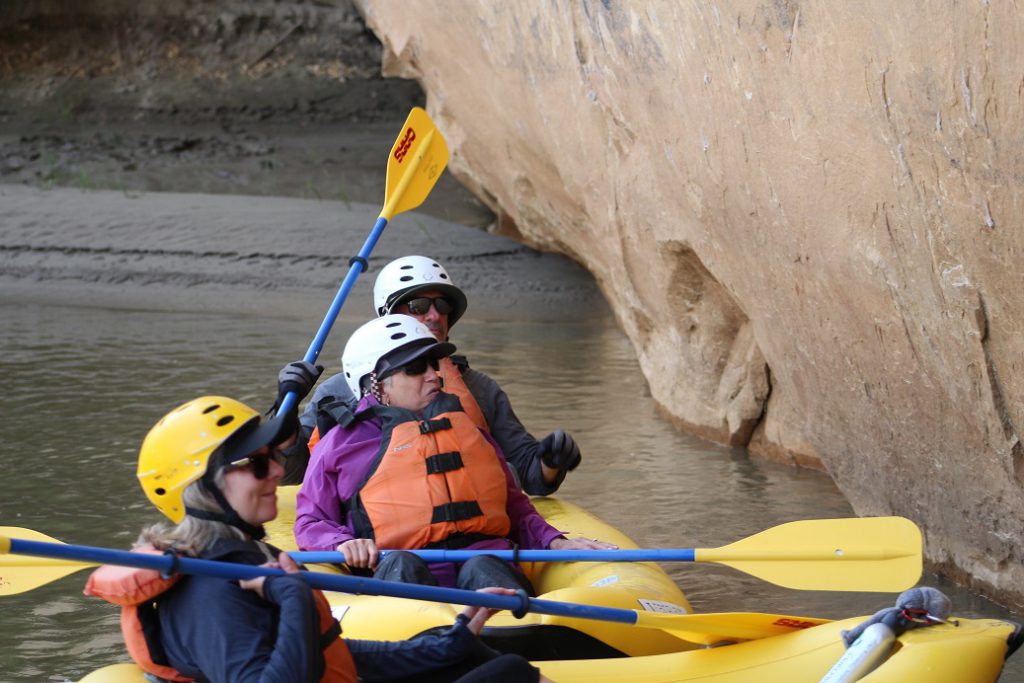 That all changed in her mid-50s after her husband died of cancer. The two had been together more than 40 years, since they were kids. He had been sick less than a year.
Six months later, in 2016 she found herself on a two-week Grand Canyon raft trip. She knew no one and had never rafted, only that a good friend had raved about her experience.
That trip, she said, "gave me a reason to keep going. When you are in such a beautiful big place, your problems seem so small."
Last year, Engbretson returned to the Canyon, this time contemplating a new relationship. "I thought that would be my last solo trip," she said. "But I realized I don't want to quit — or settle down."
And she hasn't stopped since, grateful that her son-in-law is taking over the farm. She rafted with OARS on our trip down the Yampa River through Dinosaur National Park, joining another trip the day after we got off the river through the Gates of Lodore on the Green River. She is rafting an Alaska river this summer and has plans to trek part of the Pacific Coast Trail — no easy feat.
Every one of the passengers on our 73-mile trip on the Yampa River had a different reason for being there, including French honeymooners Marie and Marc Berthoud, together 10 years with five kids between them. Marie Bertaud, 44, was the third youngest on the trip — the majority were in their 60s and 70s, not the least deterred by sleeping on the ground, putting up and taking down tents every day, using an outdoor portable latrine called a "groover" and not fully bathing for five days.
The experienced campers in the group thought this trip was the height of luxury — no provisioning and cooking meals (the guides did that). No carrying packs (the boats did that). No reserving campsites or worrying about gear (that was part of the guides' jobs as well).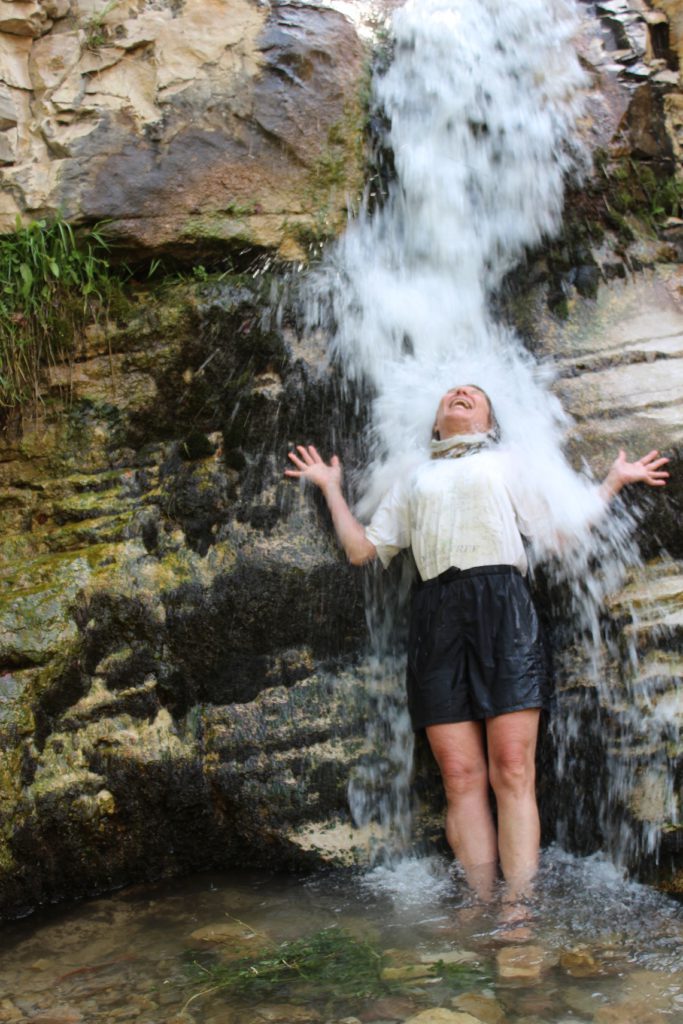 "You shouldn't be afraid," said Susan Shaler, a lawyer in her early 60s from San Diego who camps often with her husband Barton. "This is so accessible and really deluxe," she said. "We're given everything we need—and then some."
And such trips, while more expensive than camping, can be affordable. The Yampa River trips, for example, start at $999 and offer a good opportunity to experience what rafting can offer in a trip that's less than a week on a river without any dams.
Doreen Catena, a New Jersey artist, was celebrating her 60th birthday with her husband Mark. They hadn't rafted since their honeymoon in the Grand Canyon 26 years before. "The scenery is so spectacular, and it is so gorgeous I couldn't ask for a better birthday—much better than a big party," she said.
Dianne Anderson, from Midland TX, had never rafted and was happily celebrating her 65th birthday, especially loving the challenge of paddling in a raft through the rapids and the night sky lit up by stars and constellations. Her friends Jim and Linda Hicks, also in their 70s, were celebrating his successful recovery from surgery last winter.
Seasoned rafter Ed Quimby, 79, from Connecticut, was the trip's senior spokesman, explaining that rafting enables him to enjoy the wilderness when he could no longer backpack. Pam Jones, 63, a long time backpacker, was now looking for an alternative that would still enable her to enjoy the back country without that heavy pack.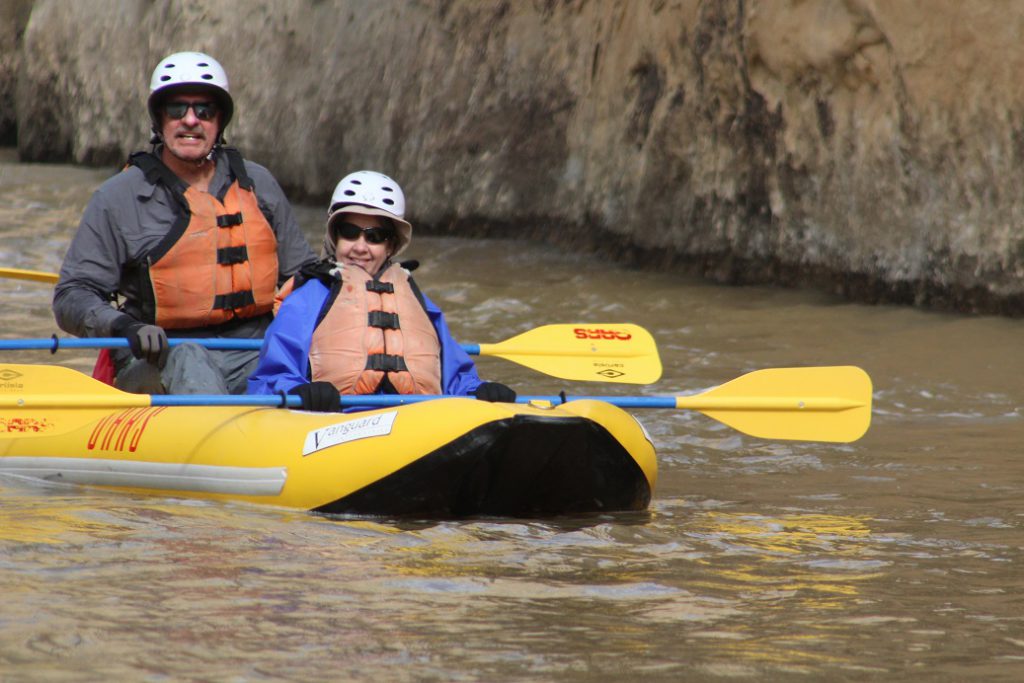 "Been there, done that, doing it again… I'm not done yet," joked Layne Lisenbee, an engineer in his 60s from San Diego who spent as much of the trip as he could flying over the rapids in an inflatable kayak. He also encouraged the group to duck under a freezing waterfall one day. "It's what I do," he said.
The youngest in the group, Coloradans Annie and Nate Swanberg, both in their late 30s, didn't mind the older crowd; they were having too much fun enjoying a new sport and chatting up the other rafters who came from around the country. "Definitely I want to do this again," said Annie, an audiologist.
As for Barb Engbretson, she's not stopping anytime soon.
"I am lucky to have a new start," she said over a lunch of tuna wraps at the river's edge. "It is bittersweet because I am only doing this because my husband died. I helped him with his dream of running a farm…Now I can live my dream."