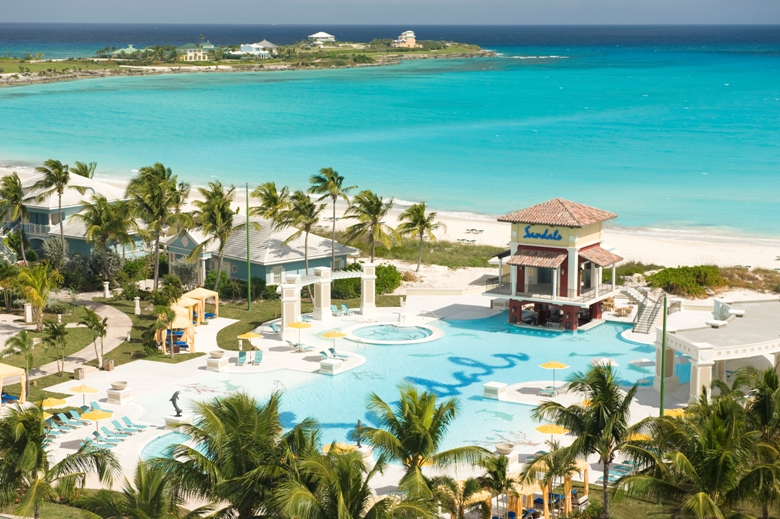 No kids. Not building sand castles on the beach. Not doing cannon balls in the pool. Not crayoning on their children's menus at breakfast.
And that's just fine. Because when you are after an adult's getaway, you don't want a lot of kids around to either spoil your tranquility or make you feel guilty. If you wanted to be with kids, you would have brought your own.
And you wouldn't have picked a decidedly adult getaway like Sandals Emerald Bay on the outer Bahamian island of Great Exuma (about an hour's flight from Miami on a 50-passenger jet). This is a grownups' getaway – no one under 18 admitted.
We even have butler service! It is kind of unnerving to have someone—especially a nice young man named Logesh Ambikapathy who is from India—to cater to my every wish. Lemon for my water? Coming right up. Martini glasses and cocktail onions for my husband (the room is stocked with liquor)? No problem. He even stops by the pool to see if we need anything. A pizza would be nice, we suggest. He brings it piping hot 15 minutes later.
Did I mention when we arrived there were a pair of swans fashioned of towels on our bed with flower petals scattered around them.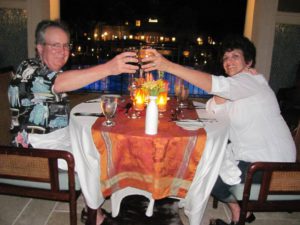 This Sandals is on a spectacular mile-long beach. We can take our pick of beach side chaise lounges under thatched roof coverings or cabanas pool side complete with curtains we can close. There also is a "quiet" pool on the immaculately groomed grounds planted with some flowers we can't even name.
The hardest thing to decide is how should we spend all of our well-earned idleness? We thought we'd go scuba diving but the waters were too rough. After a breakfast on the terrace, we go for a long walk along the beach dotted with palms and grasses. We could play beach volleyball or join in the "name that tune" games around the pool bar but we are content to adjourn to our yellow-striped cabana and read.
Everyone here seems to have the same agenda—relax and get warm.
We could play tennis or golf, go kayaking or take out a sail boat but we only move from our beach chairs for lunch at the Barefoot Restaurant—yes our toes are really in the sand while we eat conch salad and conch chowder. Truth be told, lunch isn't terrific—not terrible but not terrific—but I don't even care I'm so relaxed. I'm not worried about anyone else's happiness—are my kids grumpy because they are missing a significant other?? Do I need to get groceries? Where will we eat dinner? What will we do afterward?
Sound familiar? That's a family vacation for you and they are as wonderful as they are aggravating. But it is nice to have a few days for my husband and myself.
Time for couples massage.