Check out Snow King Mountain, the local ski area offering affordable winter and summer deals
By Eileen Ogintz
Jackson Wyoming is the southern gateway to Grand Teton and Yellowstone National Parks. But there is so much to do here, it might be tough to get the kids out of the pool and off the alpine coaster—even with a prospect of seeing bears, moose and elk, nearby.
How about free S'mores? We're staying at the newly renovated Virginian Lodge, a short walk from Jackson's iconic town square with 165 all new guest rooms and suites, a big courtyard with pool, one of the largest in downtown Jackson Hole, two hot tubs and complimentary s'mores by the fire every night at 7 pm. (Pick up your S'mores kit in the lobby!)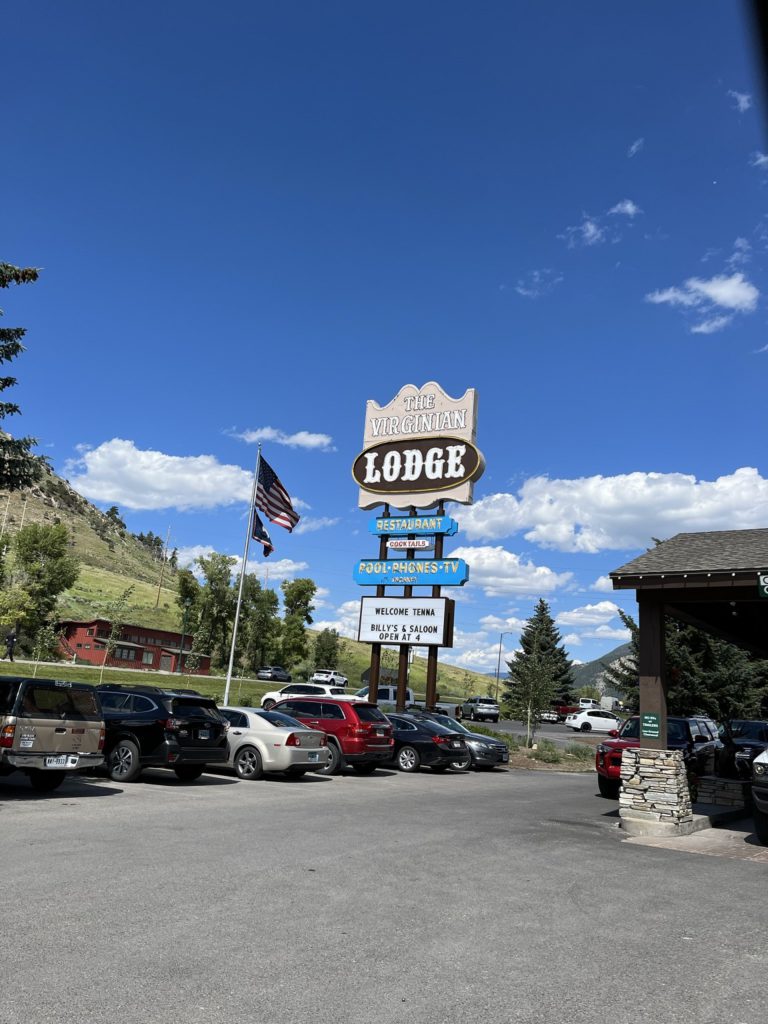 A little history: The Lodge first opened in 1965 with The Virginian Saloon featuring everything from family-friendly Karaoke to up-and-coming singers and song writers.
The Lodge has four Bunk Adventure Camp rooms ideal for families. They sleep eight and offer double bathrooms as well as bright blue metal bunk beds; one- and two-bedroom suites feature living areas and small kitchenettes. The best part: Rooms start at $169 a night.
Locals are happy that the iconic Billy's Burgers is reborn this summer at The Virginian famous for their Giant Hamburgers, Crispy Fried Chicken Sandwich and Loaded Waffle fries, as well as soft served ice cream. Maybe you want to try a shaved bison steak and cowboy cheesecake; for vegetarians, a falafel sandwich. Try the fries rodeo style with house made chili, pickled jalapenos, green onions and queso.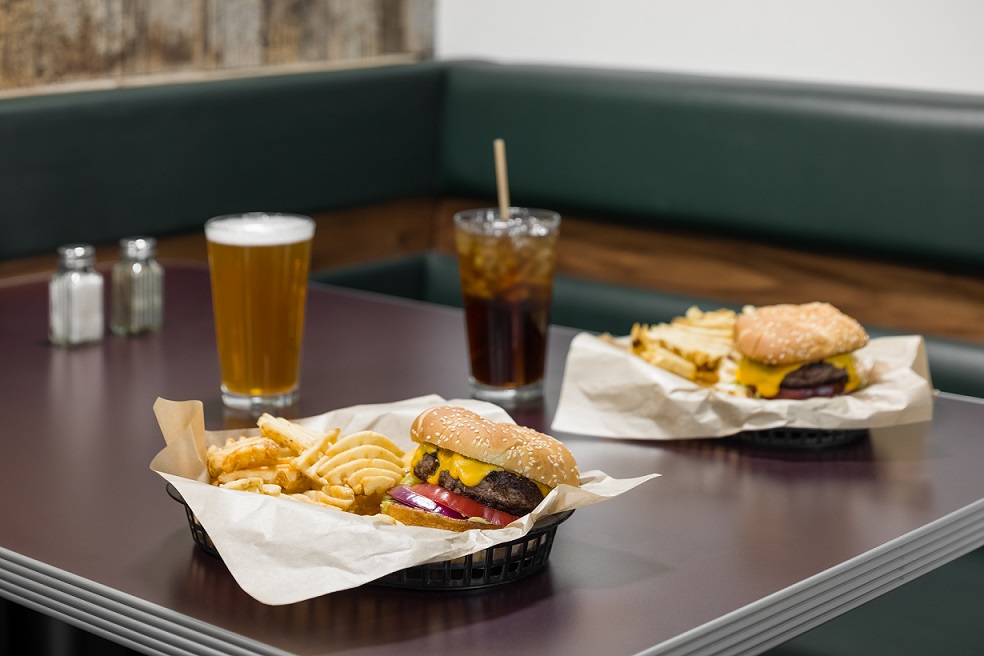 You will feel like you have traveled back to a 1950s diner with its checkerboard floors and booths. You can eat here, outdoors or at the Virginian Saloon. The burgers are awesome–waffle fries too.
Jackson Hole is souvenir central, with everything from tee shirts and hoodies to cowboy hats and boots to fine Western Art, and all that you forgot for your outdoor adventures–rain jackets, hiking socks, and that extra layer for when the sun goes down.
There are many great spots for a mountain breakfast in Jackson. But if you're in the mood for some of the best French pastries west of France, check out Persephone Bakery near the town square. The croissants and breakfast sandwiches were to die for. Great coffee too! There was a long line outside before it opened at 7 a.m.!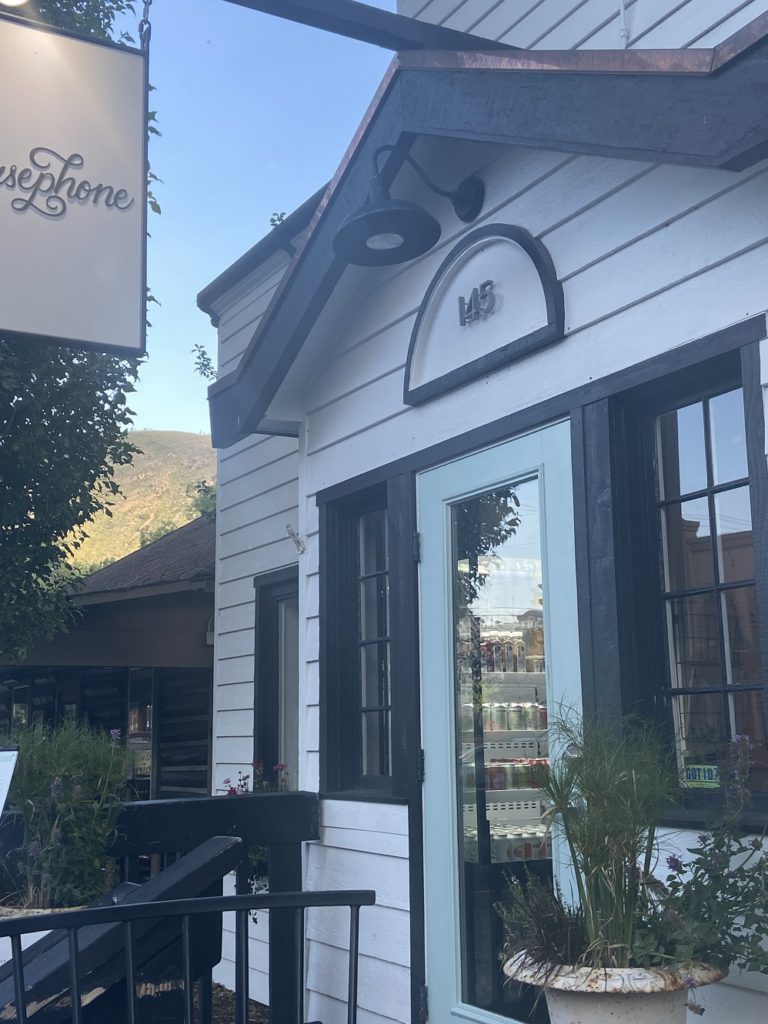 The upscale travelers without kids or perhaps with grown kids will be happy that The Rusty Parrot—an institution here since 1990 until it was destroyed by fire nearly 4 years ago—will be back late fall. "We've improved everything," promises Brandon Harrison, son of the original owner Ron Harrison. He worked on the construction crew while the first hotel was built, and his family lived there. The luxe 40-room hotel will be "classic Western without being kitschy," he says.
There will be an open kitchen at the restaurant so guests can chat up the chefs, rooftop decks overlooking a creek and the mountain where they might spy an occasional moose or eagle and a spa, overseen by Harrison's sister Heidi, where the emphasis will be on therapeutic treatments. There won't be a fitness center. The idea is the concierge will help guests make the most of their time here- guided flyfishing, rock climbing in Grand Teton National Park in summer, white water rafting; a snowmobile tour to Yellowstone in Winter or maybe dog sledding to Granite Hot Springs south of town—that's besides skiing and riding, of course. Rates will look like they are in the $600 range in winter and $1000 in summer. "We aren't for those whose kids need a game room or who want a ski in ski out experience," hoping their past guests as well as new ones will appreciate what they do offer.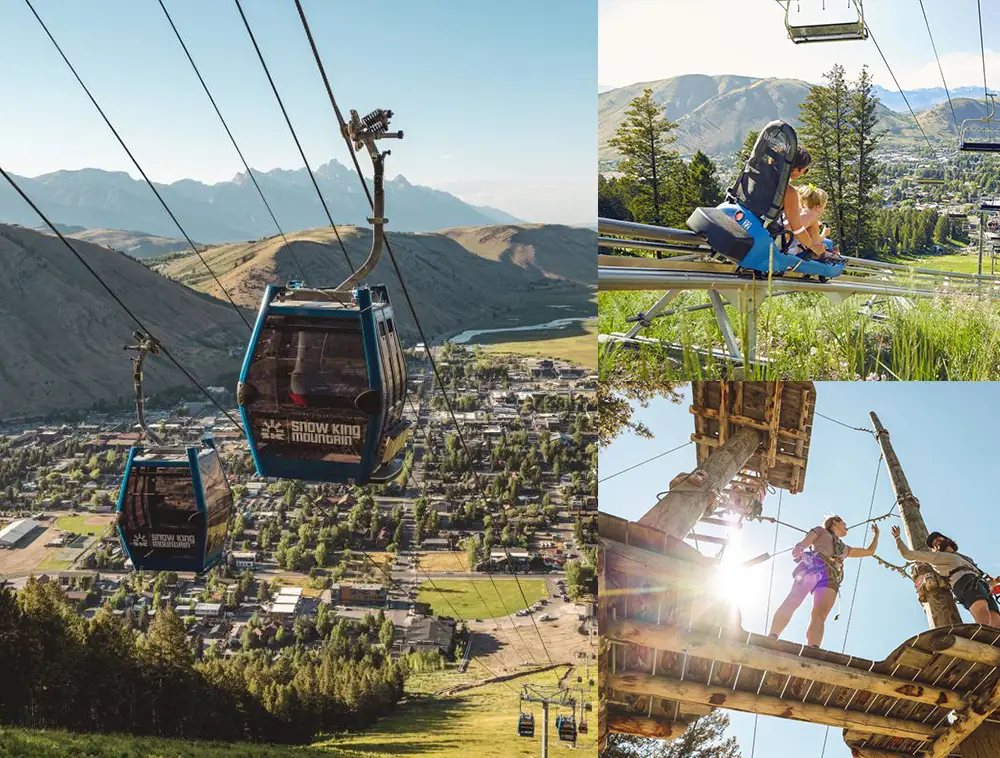 A short walk from all the shopping –and the iconic square with its arch made of Elk horns (they shed them every year) is Snow King Mountain, the oldest ski area in Wyoming, dating to the 1920s. The mountain has been investing in new features, facilities, and activities in recent years.
While smaller than the nearby Teton Mountain Ski Resort, Snow King offers more affordable and accessible skiing in winter and activities in summer — take the gondola up (just $30) and access 60 miles of hiking trails. Go mountain biking; play mini golf, ride Jackson's only alpine slide or the cowboy coaster or the bungee trampoline There is a Treetop Adventure with 100 arial challenges through the forest ,a Kid's Course and an Amaze 'N Maze.
Looking for an adventure to get your heart pumping? Try the Zipline Course (you have to be 12 to ride. The zipline is the steepest in North America!
Check out the Big King passes that allow you to sample many of the activities. Come next year, there will be a mountain top planetarium and observatory.
Everyone comes to Jackson in winter to ski the famous slopes. But Snow King, while smaller, is a much easier-and less expensive—mountain for families to navigate right in town.
Something to think about for the next ski season!