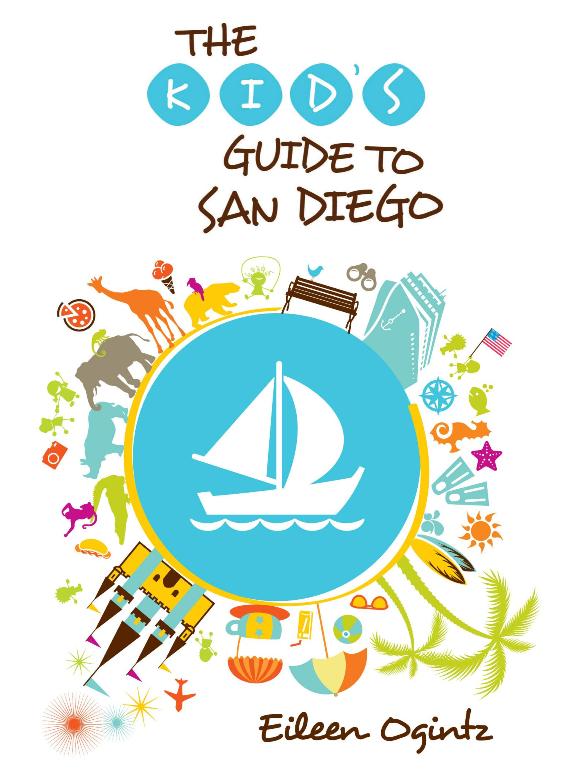 By Eileen Ogintz
I am delighted to announce the publication of The Kids Guide to San Diego. This is the seventh in my Kids' Guides Series and will soon be followed with the release of my guides to San Francisco and Denver.
San Diego famously is known for its sunny weather—the average temperature is 70 degrees– and beaches (27 miles of waterfront!) and the kids I interviewed for my just Kids Guide said the weather and the beaches—not to mention world class attractions like the San Diego Zoo and Safari Park and SeaWorld (see what I wrote about their famous pandas ) —make "the birthplace of California" an ideal getaway choice for families.
"Only bring shorts to San Diego because the weather is the best," said Adam,13, who is from New York City.
"You'll need a few trips in order to see everything in San Diego because it is so big," said Ladha, who is 13 and from Los Angeles.
And there's no better time to visit than October when kids are free all over town—from the zoo to harbor cruises, LEGOLAND California in nearby Carlsbad, nearly 40 museums, restaurants and activities from surf lessons to speed boat rides to golf and even fishing. I wish every city had a program like San Diego's Kids Free October with more than 100 kids-free deals for the 12 and under set.
Just as important, San Diego has that magic mix of educational attractions — Balboa Park in downtown San Diego is home to fantastic gardens, the Marie Hitchcock Puppet Theater and no fewer than 15 museums as well as the San Diego Zoo—sports teams (The San Diego Chargers and Padres!) umpteen places to bike, skateboard at skate parks, learn to surf, fly a kite or just play on the beach , especially around the 3-mile boardwalk along Mission and Pacific beaches.
"You are never too old to make sand castles," said Gabrielle,13, who is from Tucson.
"Surfing is really fun but it is a lot harder than it looks," said Ellie,15, who lives in San Diego.
"Play Beach Volleyball!" suggests Mary, 11, from Austin, who said that was her favorite thing to do on San Diego's many beaches.
Freddy, 12, who lives here said, a bonfire on the beach is the best: Victoria, 13, added that visitors shouldn't miss the sunset , especially from Sunset Cliffs at Point Loma.
All kinds of recent travel research suggests that kids are playing an ever-important role in planning vacations. In fact, the majority of those multigenerational travelers (66 per cent) polled for the MMGY Global 2014 Portrait of American Travelers say kids help decide where to travel and half where to stay.
I found in researching my series of nine Kids City Guides—the Kids Guide to San Francisco and to Denver also will be out next month—that local kids are just as eager to offer their opinions on everything from souvenirs (something to remind you of San Diego every day, like a keychain for your backpack or a seashell from the beach) to good eats ("real Mexican food", since you are just 15 or so miles from the border) to what to see besides the obvious attractions( the USS Midway Museum, one of the country' longest serving aircraft carriers) —and what not to do (whale watching if you get sea sick.)
The next time you're away from your home turf, suggest your kids chat up locals in a museum (especially a family workshop!) , a playground or on the beach. Those conversations may lead you in directions you never otherwise would have taken. Also encourage your kids, especially if they are 10 or older, to help plan the itinerary; Some families suggest each child take a day, a morning or an afternoon.
Ask younger kids for their input—would they like to create toys from recycled materials, for example , at the Tinkering Studio at the Reuben H. Fleet Science Center , ride on the Balboa Park Carousel or Miniature Railroad, time travel back to ancient Egypt at the San Diego Natural History Museum to the brand new The Discovery King Tut exhibit where the October price for kids will be just $10, a $7 discount; Maybe they want to see all the cars at the San Diego Automotive Museum. Because so many San Diego museums are free in October—and in close proximity in Balboa Bark, hit most of their top picks—maybe in one day! "The Space Museum has a lot of sweet exhibits that show things from the past up until today," offered Claire, 13, who is from Los Angeles.
Encourage the kids to practice their Spanish, or learn a few words. Old Town San Diego Historic Park not only was San Diego's first downtown but the first Spanish settlement on the West Coast. It's also a great place to get "yummy Mexican food," said Katerina,8.
There's plenty to do that won't cost a penny. Watch all of the military planes flying overhead—San Diego has many military complexes here, suggested Aiden, 10 and from San Francisco. Go explore a tidepool—you have plenty to choose from or go boogie boarding, "It's really fun, especially when the waves are crashing,' said William, 10, from Phoenix. Go on a hike. "My favorite thing to do outside is to hike to Potato Chip Rock on Mount Woodson," said Chase, 14.
"Kids who are visiting San Diego," said Edward, 10, "Should get ready to have a lot of fun!"
You can find Eileen's series of Kid's Guides to NYC, Orlando, Boston, Washington, DC, Chicago, Los Angeles and now San Diego, San Francisco and Denver at major booksellers and on line.