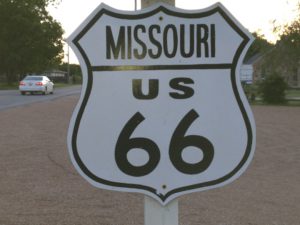 Imagine road trips without navigation systems—without iPads and other electronic entertainment for the kids, without cell phones and WiFi.
Imagine dusty, bumpy roads and vehicles without AC.
"It was miserable," said Gary Parita, who traveled the famous Route 66 with his family from Missouri to California to pick cherries in the early 1950s. Route 66, of course, is the famous highway that stretched from Chicago to LA—through three time zones and 8 states. It wasn't even completely paved until the late 1930s, more than a decade after its official government designation, according to Images of 66, by David Wickline.
During the Great Depression, and the Dustbowl, over 250,000 people packed everything they could and set out from Arkansas and Oklahoma along Route 66, heading–they hoped—for a better life in California. John Steinbeck called it "The Mother Road," and the name stuck.
After World War II, Route 66 became the major way tourist traveled to visit the West and because famous for the neon signs and mom and pop businesses along the way.
When Ford offered me a chance to drive a new plug-in hybrid Fusion Energi from St. Louis to Tulsa, I couldn't wait. This new vehicle gets fantastic mileage (100 mpg combined highway and city) and has a smooth, quite ride. It's a little tight on luggage space, although Ford has larger hybrids. The car is EPA-rated for a total range of up to 620 miles – with one tank of gas and a fully charged battery. A vast majority of the drivers on this approximately 400 mile trip still had a quarter tank of gas or more at the end of our journey!
Like others around the world, I'd imagined the fantasy—the neon, the friendly people, the tiny motels and good eats—all Disneyfied now in the new Carsland at Disney's Islands of Adventure in Anaheim.
A group of us started in St. Louis in new Fusions with satellite radio, navigation systems and AC, first visiting the famous Gateway Arch and the Jefferson National Expansion Memorial that commemorates western expansion, starting with the Lewis and Clark Expedition in 1804 through the pioneers who from the 1840s bought their supplies for their Conestoga wagons here. Over 300,000 settlers traveled overland until the completion of the cross continental railroad. We took a tram to the top—up 160 feet!
We stopped at the famous Ted Drewes' Frozen Custard in St Louis that has been delighting generations of locals with its "concretes" — a kind of a very thick shake with frozen custard and fillings mixed in like Johnny Rabbit (chocolate and cherry) and Cow-Moo Float (marshmallow and Oreo).
We spent the night in tiny Cuba (population just over 3,000), about 85 miles and a world away from St. Louis at the Wagon Wheel Motel, which we learn is listed on the National Register of Historic Places and is the oldest continuously operating tourist court on Route 66.
Today it's not easy to follow the original Route 66—it weaves in and out of the shadow of the major Interstate Highway 44 and our 21st Century navigation system, of course wants to take us the fastest way.
A trip on Route 66 is about the journey more than the destination. "Route 66 is an adventure through time and history," says Gary Parita who operates a "Sinclair Station—kind of a free museum and homage to Route 66 with vintage signs advertising gas for 15 cents a gallon and vintage cars and trucks in the yard—all in the tiny town of Ash Grove, MO. "You will meet some of the nicest people and leave the world behind on Route 66," he promises as he hands us a black cherry soda that he said is meant to be poured over Vanilla Ice cream.
Parita's romance with Route 66 started as a boy in the early 1950s when he drove with his family from Missouri to California to pick cherries and back again. "It was miserable," he said cheerfully. "Bumpy road, hot, dusty… and wonderful." Now, his goal is to help travelers recall that time when people welcomed strangers and life was slower.
As tourism flourished on the highway, Route 66 was famous for its neon signs, motels, diners and gas stations and off beat road side attractions—Indian trading posts, shops, snakes. But in 1956, with the passage of the Federal Aid Highway Act, funds were allocated for the interstate system that eventually replaced over 2000 miles of Route 66. Many small towns and businesses that catered to the tourists simply died.
Today, you have to work to find these places but its worth the effort—the largest rocking chair in the world in Cuba, MO; the World's Largest Totem Pole in Totem Pole Park in Chelsea Oklahoma: the Blue Whale Swimming Rock in Catoosa, OK. Every place has a story. Every place makes you slowdown and realize that the journey is as important as the destination.
That's an important lesson for the kids. And there's plenty of good ice cream along the way.