The little river boats helped stop two dams planned for the Grand Canyon and others all over the West
By Eileen Ogintz
Sit Pretty! We are sitting in the back of an aluminum dory boat on the second day of our OARS trip, traveling about 90 miles over 6 days down the Main Salmon River in Idaho.
Sit Pretty, our engaging guide Ethan Nelson tells us, is a dory term that means we should stay where we are rather than leaning right or left.
Dories, as opposed to rubber rafts, seem to ride on top of the waves. "It is a very interactive ride… we get the most out of the waves," he says.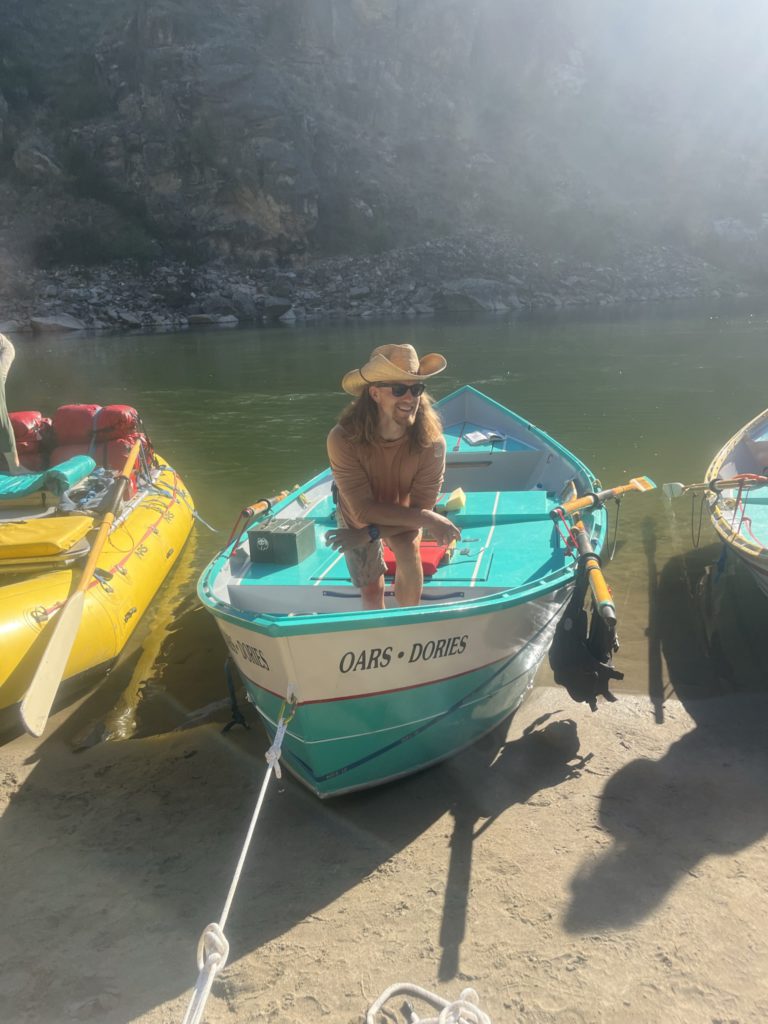 We are lucky on this trip to have two dories—the traditional wooden dory is captained by our trip leader Kale Cimperman. We also have a paddle boat in which six guests and a guide provide propulsion; four rafts rowed by our guides, and two inflatable kayaks.
This morning we had breakfast of omelets made with our choice of fillings, croissants and melon (we are eating well on this trip!) plus yogurt and granola. Those who want to paddle through the rapids on a kayak have to pass a test—paddling, dumping out, righting the kayak, and getting back in as one of our guides, Caden Clark, watches.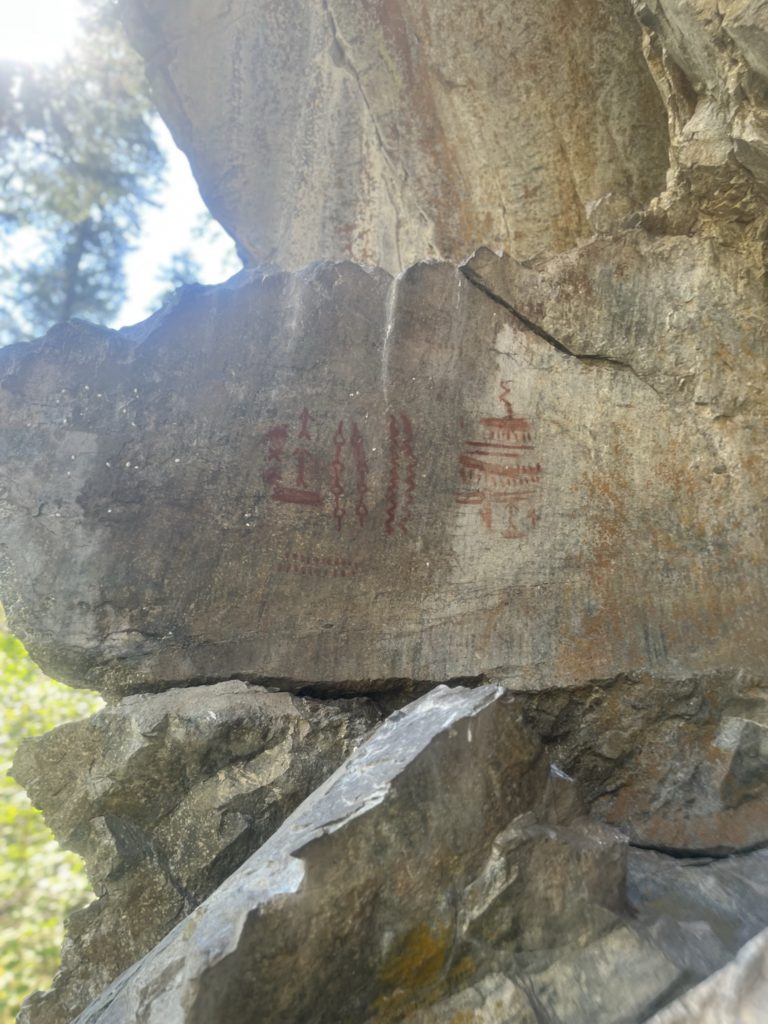 "The kayaks are my favorite," said Dorothy Pernu from Florida, a veteran of six raft trips. "It's about adventure, control and power," she said. "You have to learn to read the river. And when it is quiet, you can go closer to the shore and see the canyons from a different perspective. You see so much detail. And it is just you and your own thoughts. That's priceless."
Over the course of the day, we will travel roughly 20 miles through nine named rapids and a few unnamed ones. There is a stop to see an ancient pictograph and another at Barth Hot Springs that required a short, steep hike. We see bighorn sheep- babies and mamas–and several Bald Eagles.
"It's amazing that in a few short days everyone forms deep connections. When we are all part of the same experience… it's about working together," said Ethan Nelson, who is a chef in the winter.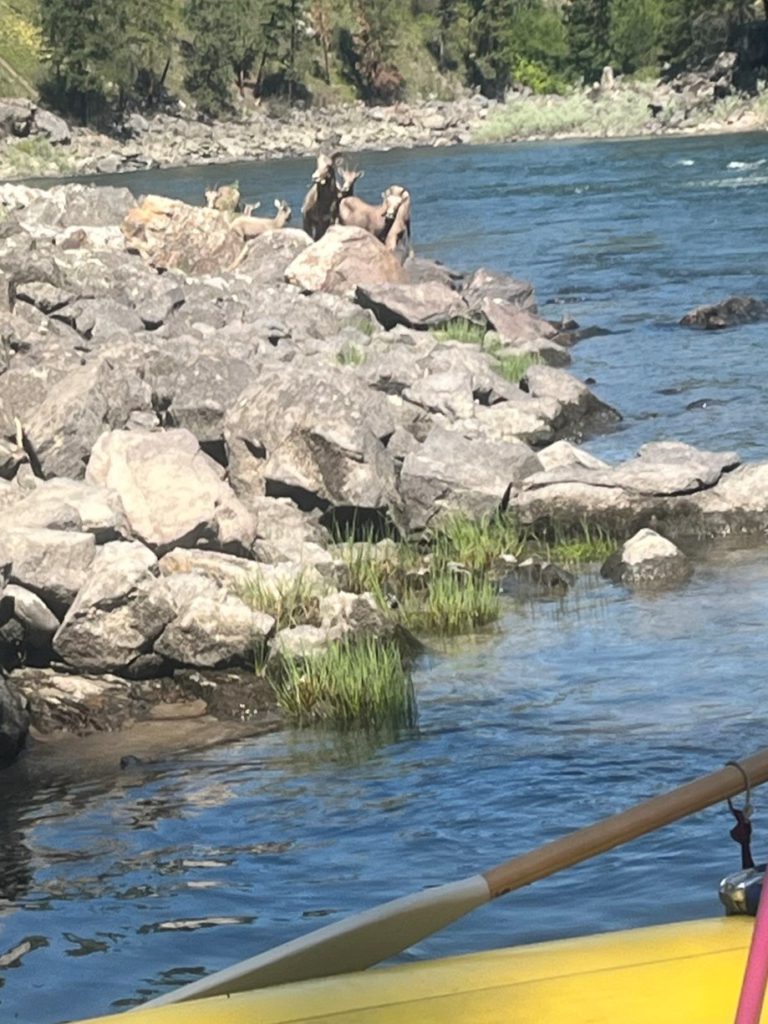 We form "fire lines" to move our waterproof gear bags on and off the boats. We pack and unpack our sleeping bags (we have pillows!), sleeping pads, and tents (super easy to put up!). We help to load and unload all of that gear as well as campfire chairs.
"Being out here, working together, setting up camp—some people have never been camping—there is a very visible transformation in a lot of folks," Nelson said.
He gave us a short Ted Talk about the history and tradition of dories and white-water rafting. It begins with a journalist and conservationist named Martin Litton, an early leader of the Sierra Club from the 1950s and 60s, who fought government officials who wanted to dam rivers across the West which would have flooded millions of square miles of wilderness.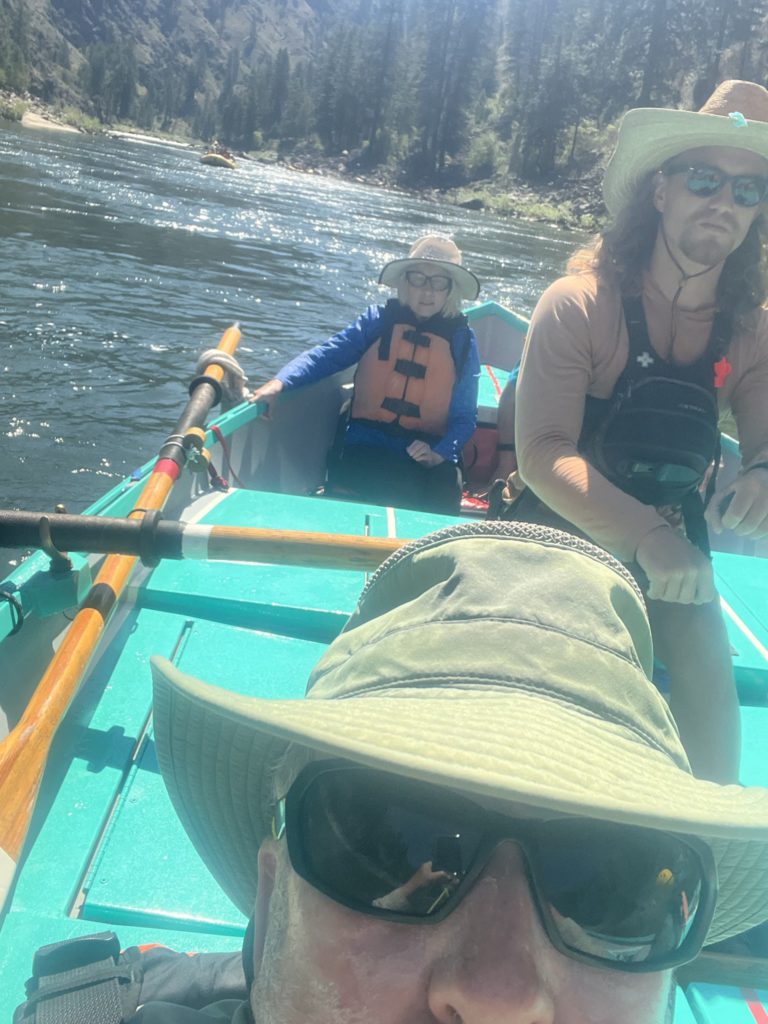 Litton thought that if more influential people–politicians, journalists, celebrities—saw these spectacular areas, they would also fight the dams. He helped design wooden and introduce dory boats–which had first been used in the Pacific Northwest–to the Colorado River in the Grand Canyon. Litton was successful in preventing the building of two dams within the Grand Canyon. Today dories remain a beloved tradition at OARS.
We also learn that the US Forest Service successfully reintroduced a Beaver population to the Salmon River after it had been decimated by fur trapping by parachuting the Beavers down in boxes that were tested many times by a Beaver named Geronimo. Who knew?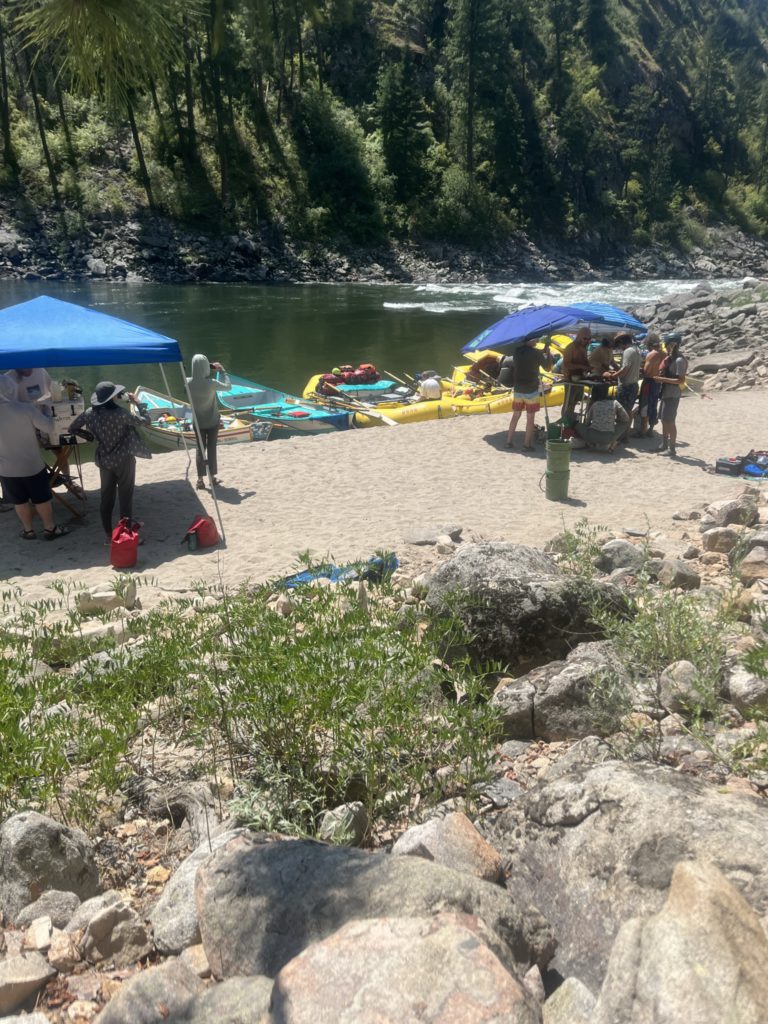 Oh, the things you learn on a trip like this.
At the Pictograph (in case you are wondering, a pictograph is ancient art painted on a rock wall; a petroglyph is carved into the rock), we learn that this art could be as old as 4000 years. Native Americans were living here thousands of years ago but were chased out after the fur trappers in the 19th century had the government chase them out.
Ironically, we saw some bighorn sheep just as our leader, Kale Cimperman, a graduate student in history, explains this bit of Western American history.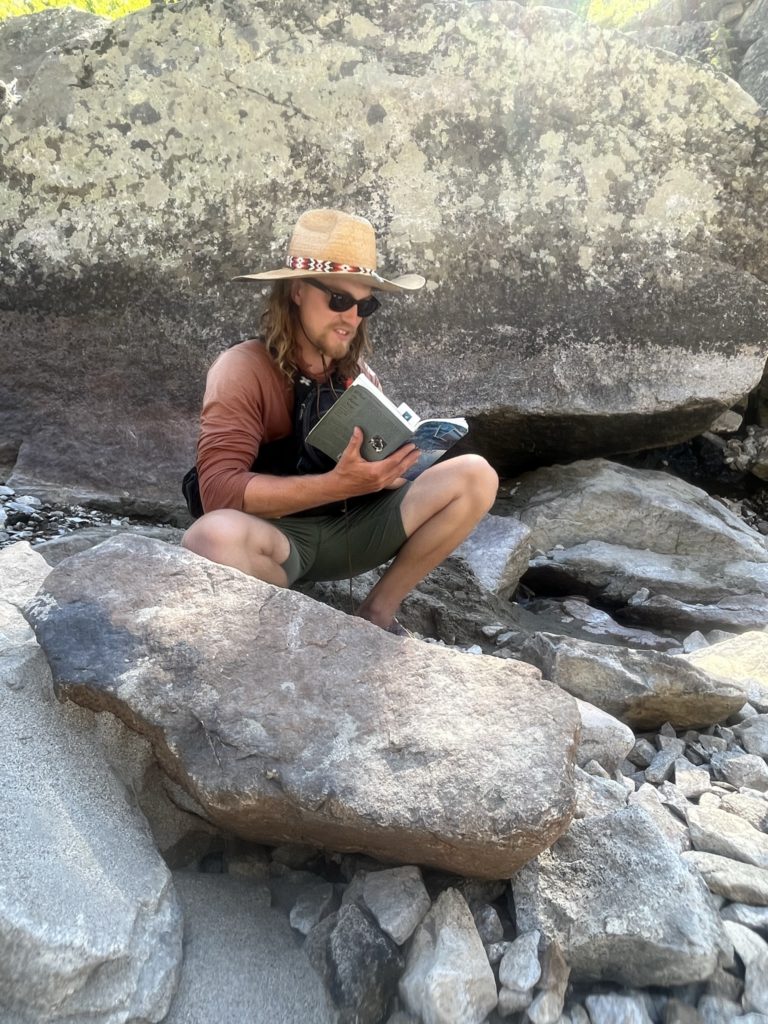 We end our day at a sandy beach campsite called Magpie and make quick work of unloading the gear, setting up the tents and gathering in a circle for appetizers (cheese and crackers) and drinks before a dinner of bison burgers, chicken brats, kale salad and s'mores for dessert.
Lunch today was a terrific–Thai chicken salad. Strangers two days ago, some are now playing cards, some are chatting; some are just watching the river. Everyone is feeling good about their day.
"It's challenge by choice," Ethan Nelson said. "I've seen men cry at the end so thankful for the experience they had. "Those are the moments that make my job worth doing."