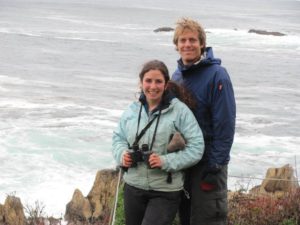 DAY 5 — I am sitting in the back of the car driving down the Coast from San Francisco to Carmel. 
I can't remember the last time I rode in back. I can't remember the last time I wasn't leading the way. 
But in this case, this weekend, I'm following—following the passions of my 25 year old daughter Reggie Yemma and her boyfriend Dan Foldes, who live in San Francisco. 
All I did was book the hotel—the wonderful and newly renovated Carmel Valley Ranch (www.carmelvalleyranch.com) on nearly 500 acres in the foothills of the Santa Lucia Mountains (and backing up to 4,400 acres of Garland Ranch Regional Park). This is a great locale for a getaway with adult kids (or younger ones) with its oversized suites, complimentary activities (yoga or a morning hike and later this season, kids' programming). 
There is much to see and do all around Monterey (www.seemonterey.com), about 120 miles south of San Francisco—hiking, kayaking, golf and diving, whale watching (we go out with www.chriswhalewatching.com), shopping (Carmel-by-the-Sea has more than 100 art galleries (www.carmelcalifornia.com) and even wine tasting. Monterey Wine Country (www.montereywines.org) is home to some 40 wineries and 40,000 acres of vineyards. 
If not for the rain, we would have hiked. But I didn't have to worry about arranging a Plan B.  Reg and Dan have set the itinerary and the pace. 
That means on our way down we stopped at Harley Farms Goat Dairy (www.harleyfarms.com) in Pescadero to ogle the baby goats and buy some delicious cheese. 
That's also why on a damp, rainy afternoon we found ourselves at Point Lobos State Reserve (www.ptlobos.org), binoculars in hand, looking for sea otters and their pups floating in the kelp. (We found some too). 
Mounds of shell fragments indicate Native Americans prepared food here, we learn, and after the arrival of Europeans in 1769, Point Lobos became at times a livestock pasture, a whaling station, an abalone cannery and a shipping point for coal. It became part of the state park system in 1933 which today includes over five miles adjacent to and south of the onshore reserve.  
 If it hadn't started to pour, Reggie said, we could have explored the tide pools too. 
I smile watching Reg and Dan lead the way. I don't have to drum up any enthusiasm for what we are doing or seeing. I don't have to check guide books. They are able guides and eminently knowledgeable. 
We relax at the ranch for the evening, eating dinner at the restaurant where we learn the salad greens and herbs and other produce comes from the huge organic gardens here (loved the beet salad!) There is lavender growing to—hence the sweet-smelling soap and shampoo in our room. 
The next morning, after a first-rate breakfast at the small Wagon Wheel Restaurant—a local institution we learn — we head to the Monterey Bay Aquarium (www.mbayaq.org) where Reg and Dan again lead the way—first to see the sea otters that have been rescued. (The aquarium has a large otter conservation program.)  
Their enthusiasm about what we are seeing is infectious. The pink flamingoes (so pink because the shrimp they eat), the Magellan Penguins rescued from South America, the sea horses (the males are the ones who become pregnant! The touch tank with its anemones, sea stars, sea cucumber…the Kelp forest (they grow to be 200 feet tall!) where we watch a demonstration with an Albatross (they can sleep while they fly! Their wing span can be 12 feet!) The Jellyfish! 
This aquarium is considered one of the best in the country. What I especially love about it is its focus on the sea life right outside its back door in the Monterey Bay National Marine Sanctuary,   where we see a pod of dolphins swimming by as well as harbor seals and sea otters.  
I also love that in each exhibit, the message of conservation is underscored. In the sea horse exhibit, for example, we learn that we should only eat U.S. farmed shrimp because other shrimp farmers destroy the habitat where creatures like sea horses live. 
We learn that every year,  thousands of sea turtles get tangled in fisherman's nets and  drown  and that tuna is being overfished.  We pick up Seawatch cards (www.seawatch.org) that explain how each of us can help protect our oceans by purchasing ocean-friendly seafood. I won't eat farm-raised salmon again!   
We stop for lunch at the Aquarium's new restaurant whose menu was designed by Napa chef Cindy Pawlcyn of Mustard's Grill in compliance with Seafood Watch. The food is delicious—fresh oysters from Washington state, grilled albacore tuna (troll-caught in California) served on Udon noodles with sesame seeds and mIso glaze,  wild Pacific Dungeness crab salad and perhaps the best carrot cake I've ever tasted with cinnamon-caramel sauce. 
I can't think of a better place than this aquarium to get a good sense of the creatures that live in the ocean right outside and the small things we can do to make our planet healthier (40 per cent of the Aquarium staff carpool, bike, take the bus or other alternative transpiration to work, we learn). There is a cork board that asks what we can do to make the oceans safer for sea life (don't use plastic or straws, for example). 
Come this summer and see the new Open Sea galleries which will have tufted puffins and sandbar sharks, a new Plankton Lab, and a million-gallon exhibit with sea turtles, giant ocean sunfish, hammerhead sharks and more. We took time to see an auditorium program—just 15 minutes long—that talked about Whales to Windmills—a look at how inventors have been inspired by animals to create new energy efficient devices—everything from windmill blades inspired by whale fins to aerodynamic cars from box fish and bullet trains inspired by a bird's beak. 
But even after we leave the aquarium, our guides have more to show us.  It's 4:30 p.m. — low tide — and the rain has stopped so we head  nearby to Asilomar State Beach in Pacific Grove to check out the tide pools where we see anemones and hermit crabs, among other creatures. Lots of families are out playing on the beach. 
 I can't think of another aquarium where we so seamlessly have gone from their exhibits to the natural world in 10 minutes. Our intrepid guides have yet another treat in store, they tell us — a ride on the famous 17-mile drive in Pebble Beach (www.pebblebeach.com) and the Del Monte Forest (for which we pay roughly $10 for the privilege — but worth every penny when we stand at Bird Rock home to countless shorebirds, harbor seals and what seems like a convention of sea lions honking at us from a huge rock off shore). We watch the crashing waves, the sea birds, the sea otters in the waves and a bit farther along, the famous Lone Cypress that has lived on this rocky ledge for over 250 years.  Incredible. 
Of course so is the golf course—that was home to the 2010 U.S. Open and where the first national golf tournament was held in 1929. 
We discuss our amazing day at dinner at Wickets, a casual Euro bistro at the luxe Bernardus Lodge not far from where we are staying  (www.bernardus.com), where we sample some of the  Bernardus wines that come from its vineyards and winery here in the Carmel Valley. We eat local grilled artichokes, homemade brick oven pizza and ravioli made with Black Trumpet mushrooms. 
We get back in the car to head back to the hotel. I'm still smiling—in the back seat.