By Eileen Ogintz
NEW York (DAY 1) — No muss, no fuss. It's almost like sailing from our backyard. We drive from Connecticut into Port NYC, park, check our bags and board the Norwegian Gem.
Couldn't be easier. We are among 8,000 passengers on three ships that are arriving and departing from the port on the West Side of New York but it's not terribly crowded. And the cost to park for a week—roughly $280—for the four of us is certainly less than one plane ticket, not to mention the hassle factor of flying. Nor do we have to worry about overweight bags should we do some shopping on the way back.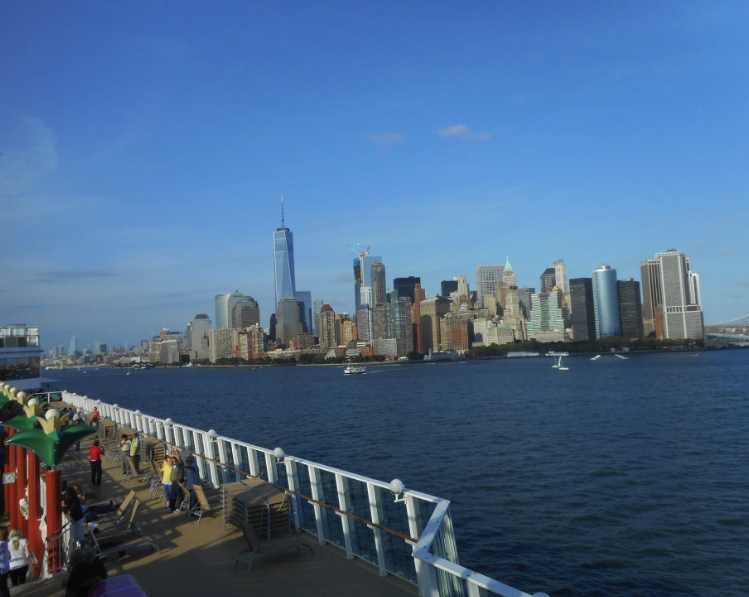 We are sailing from New York up to Halifax in Nova Scotia, the Bay of Fundy in Canada, back to Bar Harbor, ME, where we can visit Acadia National Park which like the National Park Service is celebrating its centennial this year, and then Newport, RI.
These days, a million passengers a year cruise out of New York City, generating hundreds of millions of dollars for the NYC economy. Cruisers can board a ship from more than two dozen ports around the country—everywhere from San Diego to San Francisco, Galveston to Boston.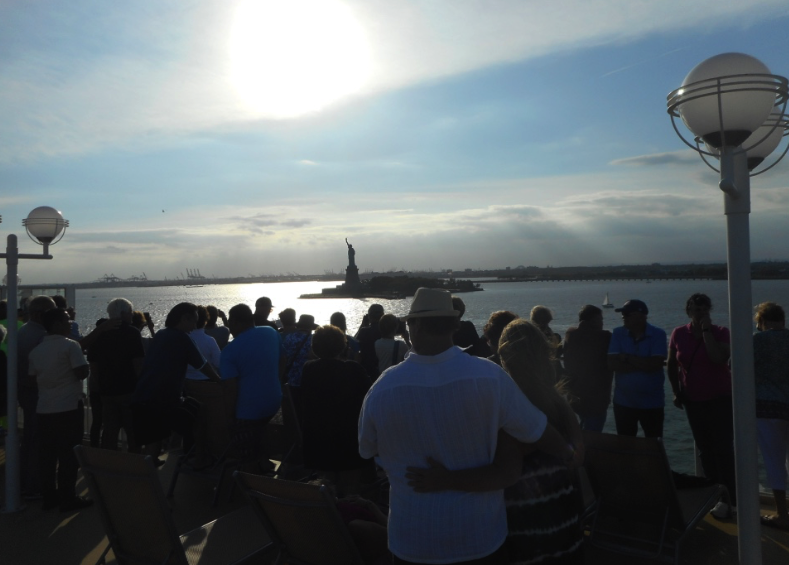 The Gem is only half the size of some of the newest mega ships—carrying at most just under 2400 passengers. There certainly is plenty to do—kids club Splash Academy for young cruisers 3-12 and Entourage for teens from 13-17, though there aren't many children on board now that school is back in session. That's a good thing for those cruising without kids.
I see lots of middle-aged guests lining up for the water slide, in fact. For our first "at sea" day, they are booking up spa appointments, soaking up the sun at the pool, shopping duty free, playing cards in the library and heading to activities—everything from a culinary demonstration to one on how to avoid wrinkles, a 30-minute talk on 30,000 years of art history, a family circus workshop, even a "Knitters and "Quilters social." There is also at lot of action in the casino even though the weather on deck and poolside is perfect.
"Even in seven days you can't do all the activities," said Ann Hutnick, a Long Island, NY native cruising with four lifelong friends to celebrate their 70th birthdays. "It's so easy and so much fun."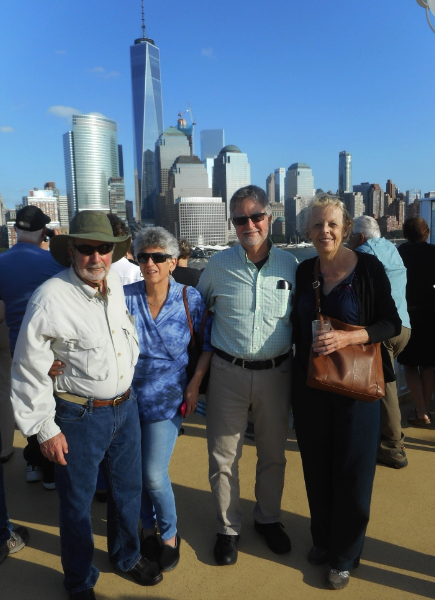 And when cruising in a group, like with my husband, his brother and wife, or like mother and daughter Diana and Aubrey Keefe, "We can go off and do what we like during the day and then meet up at dinner," said Aubrey Keefe.
"Cruising takes the stress out of figuring out where you are going and what you ware going to do," agreed Chip Neff, cruising with his wife, two young children and parents who flew from California for this trip.
"It's easy with the babies, agreed his wife Alex—"Always something to do and somewhere to get food."
His parents have booked the family into the Haven—a section of the ship cruise with villa-like accommodations, private hot tubs and a special place for breakfast and lunch. "Definitely worth it with the kids," said Karen Neff.
Norwegian is known for "Freestyle Cruising," which means there are no set dining times even in the two main dining rooms – you just arrive when you like. There is of course also the Garden Café Buffet that seems to serve food almost all day from early in the morning till 9:30 p.m. with specialties each night (tonight is Seafood Night). There is also the Orchid Garden Asian restaurant where we enjoyed dinner last night and the Bali Hai Bar and Grill resembling a beach shack bar on Deck 13—no wonder the fitness center was so busy at 7:30 this morning!
There are also five specialty restaurants, where an extra charge is required, from a la carte pricing at Cagney's Steakhouse, Le Bistro French Restaurant, La Cucina Italian Restaurant, Sushi and set pricing at Teppanyaki ($29.95)
Cruisers love the choice and not having to come to dinner at a set time but seem divided on the upcharges. "I'm having to adjust to that," said Aubrey Keefe, traveling with her mom from Minneapolis and noting on other cruises, there weren't so many upcharges—even in the main dining room if you wanted to order lobster, she said.
But no one has to go to the specialty restaurants, noted Elaine Kurka, one of the group cruising to celebrate their birthdays. "There is so much available at the other restaurants that we're overeating as it is."