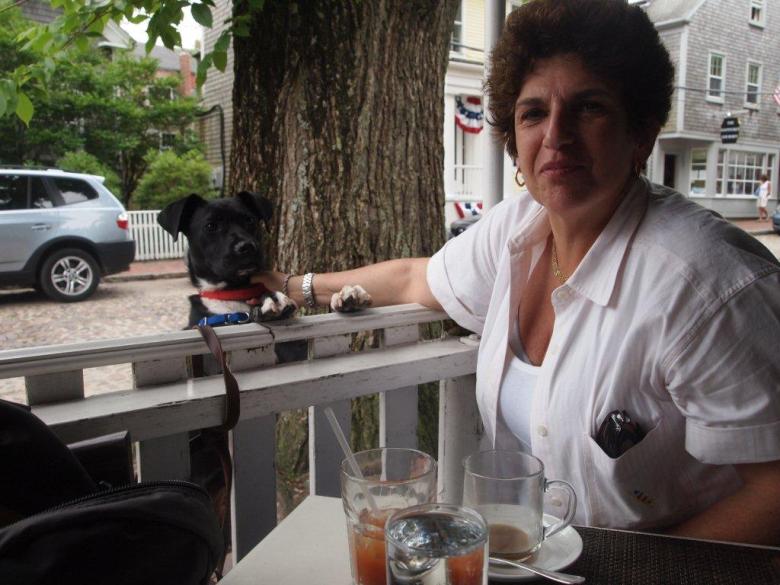 Yum! We're at American Seasons (www.americanseasons.com) run by husband and wife team Michael LaScola and Orela Murphy-LaScola, who juggle the restaurant with being parents to their toddler. The paintings on the bar and on the patio showcase local artists; the table tops are painted. It is quaint, intimate and relaxed–everything you'd want in a special restaurant.
Nantucket offers every variety of food, of course. Local Lynda Cutone says her kids like A.K Diamonds for eating out with pizza, burgers and lobster rolls; yours might like the Crosswinds restaurant at the airport where they can watch small planes land and take off. (http://www.nantucketairport.com/crosswinds.htm ). There's Thai and sushi and sea food everywhere.
You can go for burgers at LoLa burgers or Sunday brunch at the Boarding House. We ate a two-pound lobster at the Brant Point Grill along with steaks and savored Cinnamon Pull-a-parts topped with caramel sauce and coffee ice cream for dessert. There's Mexican at Corazon del Mar (www.corazonnantucket.com) or take your lobsters to go at Cy's Lobster Pot, or sandwiches and baked goods from Bartlett's Farm (www.bartlettsfarm.com).
But our favorite was American Seasons. In the heart of the historic district where Chef Michael LaScola is known for using seasonal produce from small local growers and producers. It's got a fantastic wine list too.
I'm getting hungry just thinking of that meal–soft shell crab aAnd salad with local tomatoes, watermelon and baby beats with Pine nut Puree—cornmeal crusted Carolina Trout and striped bass and some delectable chocolate concoction for desert.
We practically rolled back to our cottage. "The best meal we've had in months," my husband declared.
I had to agree, high on the ambience as much as the food.
The thing about Nantucket, though, is you can have fun sitting outside eating chowder as we did for lunch or along the wharf munching a bagel for breakfast as savoring a stupendous dinner. You won't run out of choices.
After a long walk to Jetties Beach—past one-rose-covered gray shingled house after another—we ended up at The Boarding House for Father's Day brunch. We sat on the patio eating a spectacular baked pancake and egg concoctions so we could tether Trooper to the fence outside where everyone who passing by stopped to pet her.
Owners Angela and Seth Raynor—parents of two teens—also own two other restaurants on Nantucket and are active in the community. Angela Raynor's advice for bringing teens here: local teens hang out on lower broad street.
More important, sign the kids up for lessons whether surfing (Island Surf School or SurfariZ) or tweens with Strong Wings adventure camp. There's even theater camp and programs for kids with special needs at Dreamland. "There is really something for everyone here," she says.
Another tip if you are coming for the first time: read the local blog http://mahonabouttown.com/html/homepage.htm .
Skip the car and just rent a jeep for the day to tour the island. "Come in September," she suggests. "There's a great sense of well being then. And the weather is amazing."
We'll be back for sure.