By Eileen Ogintz
Carly Copley does her job supremely well. She allows the pats on the head, the selfies and even walks-and-talks with equanimity. Of course her team updates her adventures on Facebook and Instagram.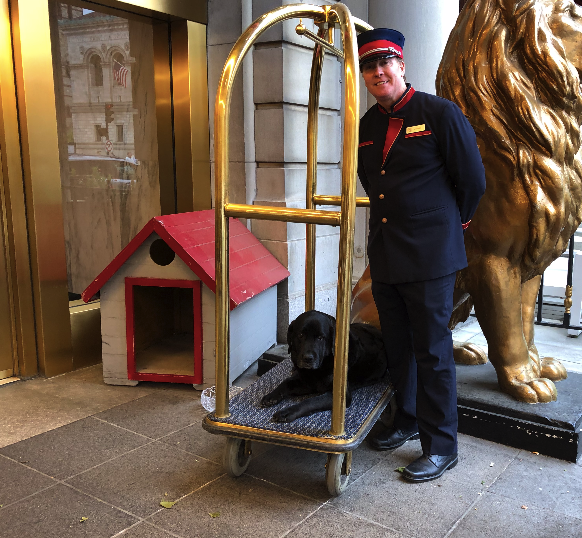 For the past several years, Carly, an eight year-old Labrador Retriever from the Animal Rescue League of Boston, has been the canine ambassador for the historic Fairmont Copley Plaza, stationed at the front door of the hotel.
"People come by for a little pet therapy every day at lunch time," jokes Mike Eades, the long time Fairmont Doorman who has made Carly a part of his own family along with his wife, kids and three other dogs.
"I love dogs and I love kids so this is perfect," says Eades. "People come by all the time with their kids to pet Carly."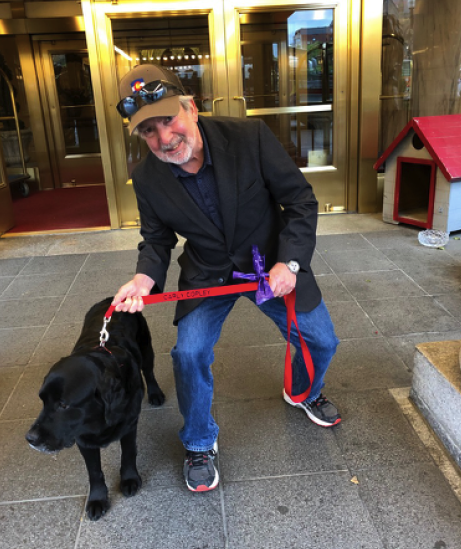 Guests like us can also take Carly for a walk. But as she is suffering from arthritis and recovering from a leg injury, she can't go too far these days. We took her to the park across the street where she sniffed all of the trees and greeted passersby.
Carly is the hotel's second canine ambassador, stationed at the front door 11-7 p.m., typically Wednesdays thru Saturdays. Catie, the first, retired after many years of service and is memorialized in a plaque outside the hotel's entrance.
There are even two Catie Copley children's books about her adventures at the Fairmont along with a soft plush Catie toy that any child would enjoy. The book tells the tale about how Catie helps a young guest find her much-loved teddy bear that had ended up in the hotel laundry.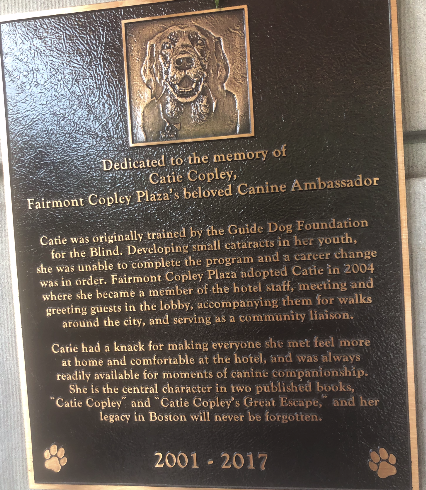 Certainly growing numbers of hotels like the Fairmont Copley Plaza are dog friendly (and here it costs just $25 to bring your pooch, no matter how large). Carly is well known in Bean Town with local dogs invited every December for her birthday party complete with separate cakes for the humans and for the dogs. "We try not to get them mixed up," joked Eades.
She's also considered a good luck charm for the elite runners who compete in the Boston Marathon, Eades noted. They typically stay in the hotel and come and rub her noggin before the race.
Carly, suggests Eades, helps those missing their pets at home—or too busy, they think, to care for a dog. "They come and get their doggie fix with Carly," he said.
The Fairmont Copley Plaza is as family friendly as it is pet friendly with special Family Moments packages (half off for a second room and half off for kids under 12 to eat –from the regular menu, not limited to the kids' menu. (Rates start at $449 a night.)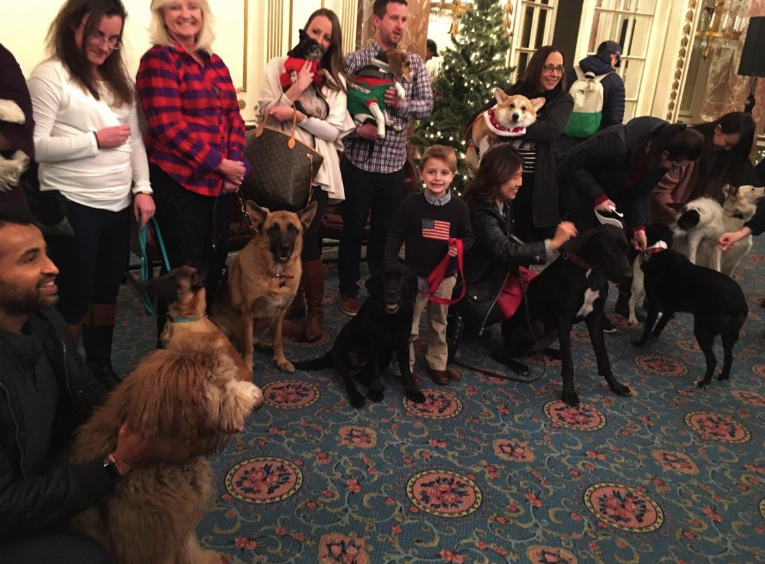 There is also The Canine Adventure Package complete with a "pawtographed" copy of Catie Copley's Great Escape, a walk with Carly and a Carly Copley plush toy.
One of the best amenities, the families I met suggested, was the Gold Lounge, where families could have breakfast, snacks, hors doerves — enough for dinner (we had lobster salad sliders, cheese and crackers, potstickers, charcuterie, for example, followed by cookies and brownies.
"They can have a snack every few hours and eat and play," said one dad, here with extended family including seven kids from Florida. The cost — $125 a room — is less than what it would cost to feed a family breakfast, much less two meals a day. Parents get discounted drinks as well.
And the kids, of course, were greeted by Carly when they arrived.