By Eileen Ogintz
Tribune Content Agency
"More sweet potato pudding?" Doris Morgan asks.
We're having lunch at her Montego Bay home — local specialties like Bammy, made from ground cassava that's fried, roasted breadfruit, pumpkin bread, star apple fruit and my favorite, the sweet potato pudding.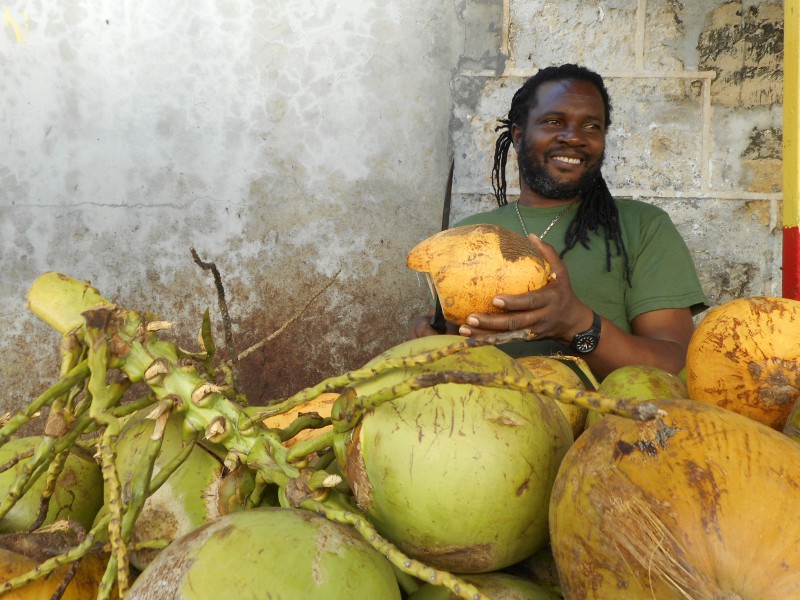 But before lunch, we'd never met Mrs. Morgan, her husband Clayton, daughter Nneka, who was visiting from Florida, or her nephew Michel Hemmings.
We were brought together by a volunteer program called Meet the People, which has been bringing tourists and locals together for more than 50 years over a shared interest — in our case, cooking and food. meeting the locals in Jamaica Did I mention the program is free? The volunteers will even come and pick you up.
"You have beaches and sunshine many places," says Granville Morgan, 29, who has been put in charge of growing this program. "What makes Jamaica unique is the people. This gives visitors the opportunity to see Jamaica a different way."
On a recent trip, I realized there were many ways to accomplish that goal — learning about the lives of the staff that took care of us at the villa where we stayed, one of 100 managed by Villas by Linda Smith. (More about that in another column.)
We took a walking tour in the historic port of Falmouth, stopping in to meet a local baker and fruit vendor, sipping coconut water from big coconuts and trying Jamaica's most popular fast food — pattys (spiced meat inside a fried pastry served on soft bread).
Later in the week, we floated down a river at River Bumpkin Farm, located just 20 miles from Montego Bay. It's owned by the same family that owns Sandals. Once one of Jamaica's richest sugar plantations, today it is a 59-acre farm where everything from pumpkin to coconut to carrots are grown, supplying Sandals resorts.
"When I was younger we used to come to this same location, swim, eat, drink and just enjoy the outdoors, so it's been a long time dream to have somewhere in Jamaica that guests can come to experience this unique way of life," said Adam Stewart, CEO of Sandals and Island Routes Caribbean Adventure, which runs the farm. "Personally, I love the beach and fishing, but there's something very special to be said for the relaxed country lifestyle that exists here."
As we float down the river on tubes and inflatable kayaks, we see all kinds of trees — 85-foot high bamboo, banana, breadfruit — a great place to help kids appreciate where the food on their plates in Jamaica comes from , as well as the history of Jamaica back when the economy depended on slavery. (Read more about my Jamaica adventures in my trip diaries at ttk-old.o2dev.net At the end of our hour on the river, we're treated to a foot massage with soft limestone on the river and then served coconut water with a straw fashioned from bamboo, jerk chicken and pumpkin soup from pumpkins picked that morning. Fun!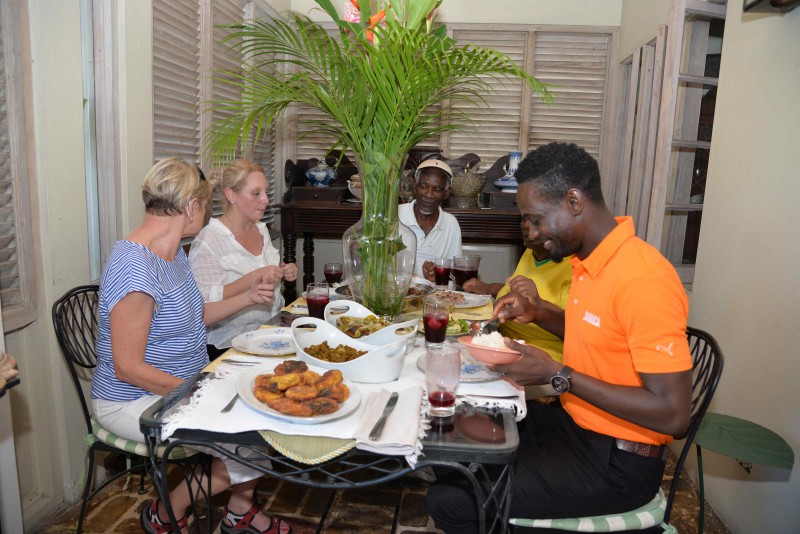 You might learn to make jerk chicken or pumpkin soup with Meet the People, Granville Morgan said. Or you might go to a recording studio, meet a Reggae musician or visit a school or church.
In fact, the program started when one Montego Bay matron started to invite visitors to come to church and then return to her home for tea. When the Jamaican Tourist Board was formed more than 50 years ago, the program was formalized. "Now we have volunteers all over Jamaica," Morgan said. "We choose people with particular skills, and there is a long waiting list."
Doris Morgan, for one, figures she has welcomed more than 1,000 visitors over the past 30 years. "I get a lot of satisfaction from this," she says, urging us to eat more.
We learn how to make Bammys; we sample Jamaican ackee and salt fish, a traditional dish. Mrs. Morgan encourages us to eat and eat some more. "I want to share my Jamaica," she says.
Last year, there were some 500 matches. The Tourist Board hopes to double that number in 2016. But most tourists, especially those arriving on cruise ships, aren't aware of the opportunity. That's why the Tourist Board has enlisted volunteer ambassadors who work on the ships to help spread the word.
All of the volunteer ambassadors are carefully vetted in advance so you don't need to worry about your safety.
It seems millennials, traveling with friends or with their families, are most interested in the opportunity. They are seeking an authentic, immersive experience and Morgan will do his best to make that happen within 48 hours. All you have to do is fill out the form on the Visit Jamaica website and indicate your preference for activity, whether you want to go on a hike, on a fishing boat, meet local craftspeople or visit a farmer or a family with kids the same ages as yours.
Increasingly, there are programs around the world that help you meet locals at no cost. You can join the Bahamas People-to-People experience, for example, or tour a Paris neighborhood, as we did with Paris Greeters, part of the international Global Greeter Network. Sign up for a tour with Greeters in the city you're going to be visiting this spring. We had a great time in Lower Manhattan walking across the Brooklyn Bridge with Big Apple Greeter, the first welcome visitor program in the United States. It now shows some 7,000 visitors a year 114 of New York's neighborhoods. The volunteers will speak your language! Take a free tour everywhere from Toronto to Tel-Aviv, Munich to Moscow, London, Zurich, Berlin and Shanghai. In the United States, you'll also find Chicago Greeter and Houston Greeters.
There are many opportunities in Japan with their Goodwill Guides.
Websites like Mealsharing.com enable you to enjoy home-cooked meals in more than 450 cities around the world. You might even be able to eat at a chef's home with Eatwith.com, or make new friends where you are traveling at Cookening.
But be prepared. These experiences are about as different from a traditional excursion or tour as you can get. Some require a contribution or small gratuity. And if you have younger kids, it's wise to make sure their presence will be welcomed.
"The volunteers are doing this because it is their passion," Granville Morgan says. "Whatever you want to see or do, we will try to make it happen."
© 2016 EILEEN OGINTZ
DISTRIBUTED BY TRIBUNE CONTENT AGENCY, LLC.