By Eileen Ogintz
Kim and Dave Archbold opted for room service the last night of the "Treasures of the Greek Isles" Windstar Cruise. But they weren't in their cabin, nor were they alone.
Aboard the Wind Star sailing yacht, room service is available everywhere. The Archbolds and the two couples they were traveling with from Atlanta opted for burgers on the deck just as the sun was setting.
"It was perfect," said Archbold.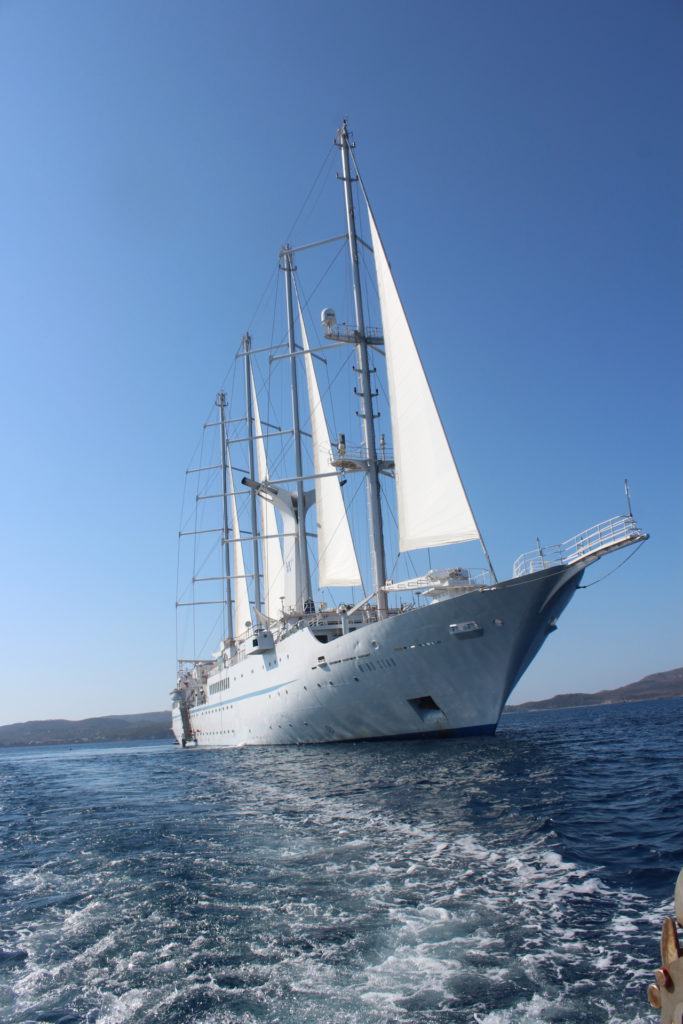 There were a lot of perfect moments aboard the Wind Star despite all the changes the pandemic had wrought. For one thing, there were just 58 of us aboard a boat that could hold 148 passengers and half were part of a Tauck Tours Group that had their own guides and tours. The crew, who got top marks from everyone, outnumbered us two to one. The popular buffets were served by crew. Some excursions were cancelled because guests preferred to go off on their own. Everyone was vaccinated but we were still tested before being allowed to board, and we wore masks on board.
It all seemed a small price to pay for a glorious week exploring popular islands like Mykonos and Santorini and smaller ones including Patmos, Monemvasia and Nafplio. That the Wind Star had a water platform where we could swim, kayak or paddleboard right off the ship was a bonus.
We ranged in age from Kate McPherson, 16, traveling with her grandmother from Canada, to Shirley Pinneo, 85, traveling solo from Olympia WA, who opined she would have spent a second week on board if she hadn't had commitments at home. "An excellent trip," Pinneo declared.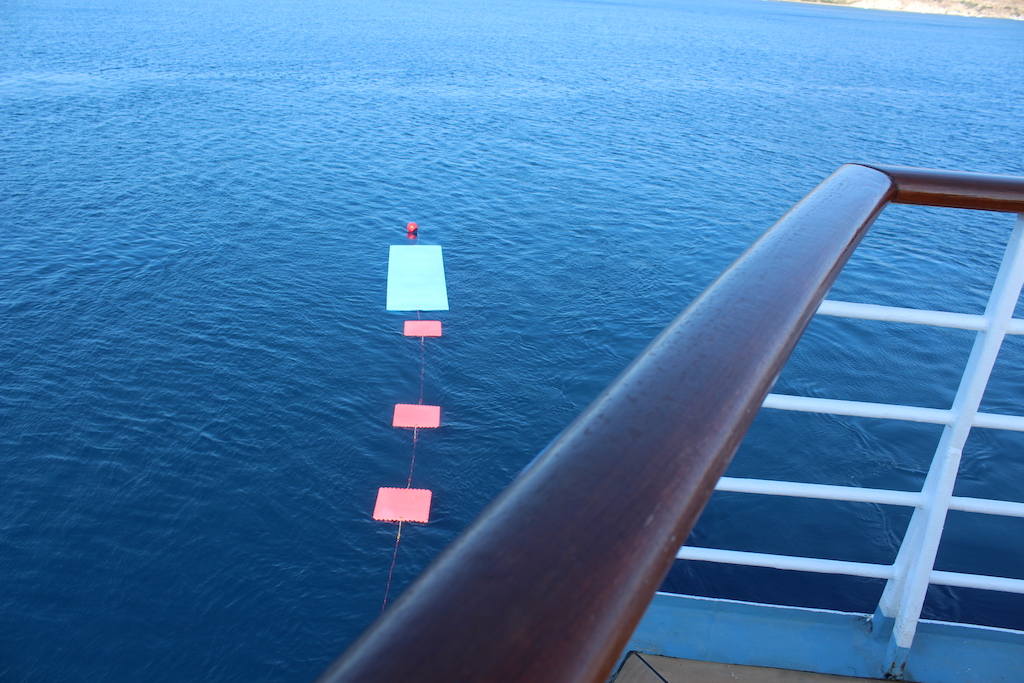 "Everyone was so nice, and the beaches were beautiful," added McPherson. "I loved all the food too!"
Here are some of the highlights of our week-long cruise in late August 2021:
Santorini without the crowds and smelly donkeys is always a good thing. We joined the three Atlanta couples for a unique Windstar Cruises excursion aboard the catamaran Odyssey, sailing through the famous volcanic Caldera. From the catamaran, we saw huge yachts and some traditional wooden boats but no crowds. That's the point. We sailed to the island of Thirassia across the bay from the main tourist spots. Only 350 people live there, and the only tourists come by boat, usually for lunch or dinner at one of the tiny shorefront restaurants. We stopped to swim in the turquoise water. Our knowledgeable guide, Margarita Sigala filled us in on Santorini, actually the eastern rim of a volcano. It is gorgeous seeing it from the water—like seeing the walls of the Grand Canyon from the Colorado River. Lunch prepared on board was also gorgeous–Greek Salad, Chicken Skewers, Pasta.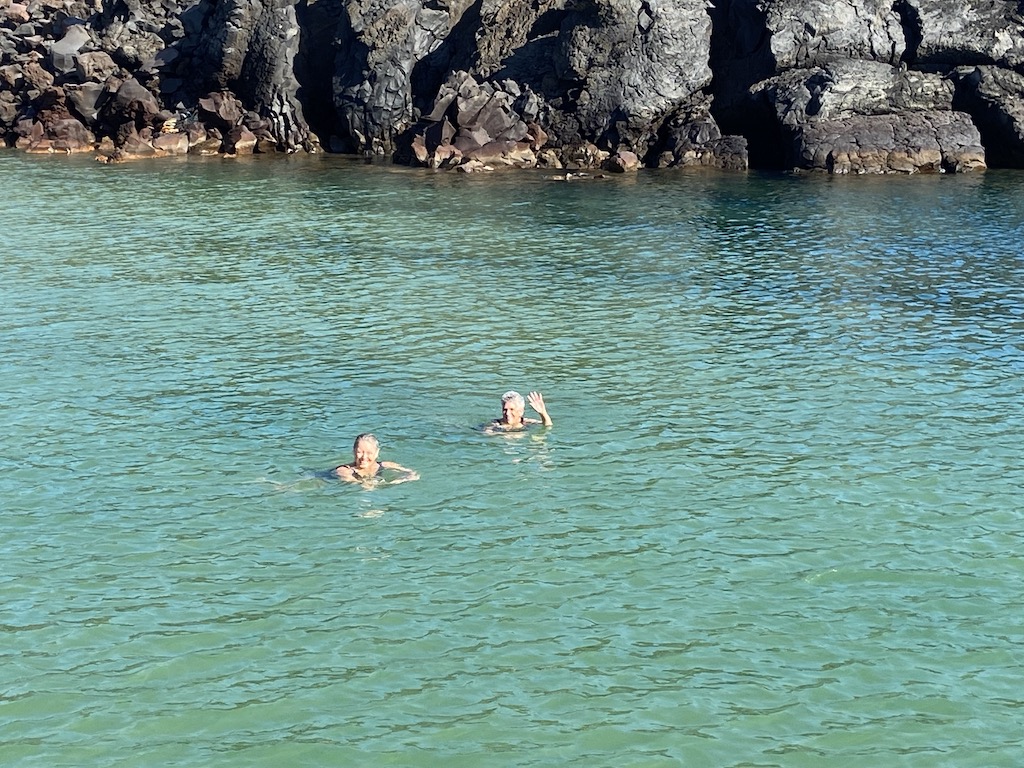 You can walk six miles along the rim of the Santorini Caldera, from Fira to the famous town of Ia, known for its white buildings and deep blue domed roofs, as Californians Liz and Jim Kennedy did. "It was hot but it was a lot of fun," they reported.
The fun didn't stop when we got back to the boat as the sun was setting over Santorini. We were treated to a deck BBQ with everything from paella to brisket, ribs and a roasted pig, along with shrimp, salads, corn, potatoes and all varieties of sweets. "The paella was amazing," said Kim Archbold. I'm only sorry I couldn't stay awake for the crew's line dancing performance.
On our own in Patmos. Originally, we planned to skip the famous sites on the island of Patmos but found ourselves sharing a cab with another couple to the Monastery of St. John the Evangelist that dates from 1098 and is surrounded by the medieval village of Chora. We walked down the hill to The Grotto of St. John built around the cave where St. John lived while he wrote the Book of the Revelation.
We continued walking into the port town of Scala just in time to catch the local bus to the popular beach at Katmos, situated on a protected inlet. Our chatty English-speaking bus driver suggested the toes-in-the-sand Kaboypakia for lunch, chatting with other travelers and taking dips in the water while we waited for our food. Eating Moussaka (the Greek casserole with eggplant and meat with a bechamel top) at a local taverna had been on my to-do list.
"How was lunch?" our bus driver asked when we caught his bus back to the port where we could take a tender back to the Wind Star."Terrific," I said. He smiled.
Tomahawk Steak for Dinner on the Wind Star at the Candles Grill–the open-air steak house on deck was certainly memorable. Hotel General Manager James Deering noted that the menu changes daily for dinner in the ship dining room with dishes created with James Beard Foundation affiliated chefs. Tonight, that included a Vietnamese Beef Wrap as well as Panko-Crusted crab cake from Annie Pettry of Louisville, Ky. There's also Viennese-style Pork Schnitzel, Veal Osso Bucco, as well as grilled salmon, chicken and steak and curry-rubbed cauliflower for the vegetarians.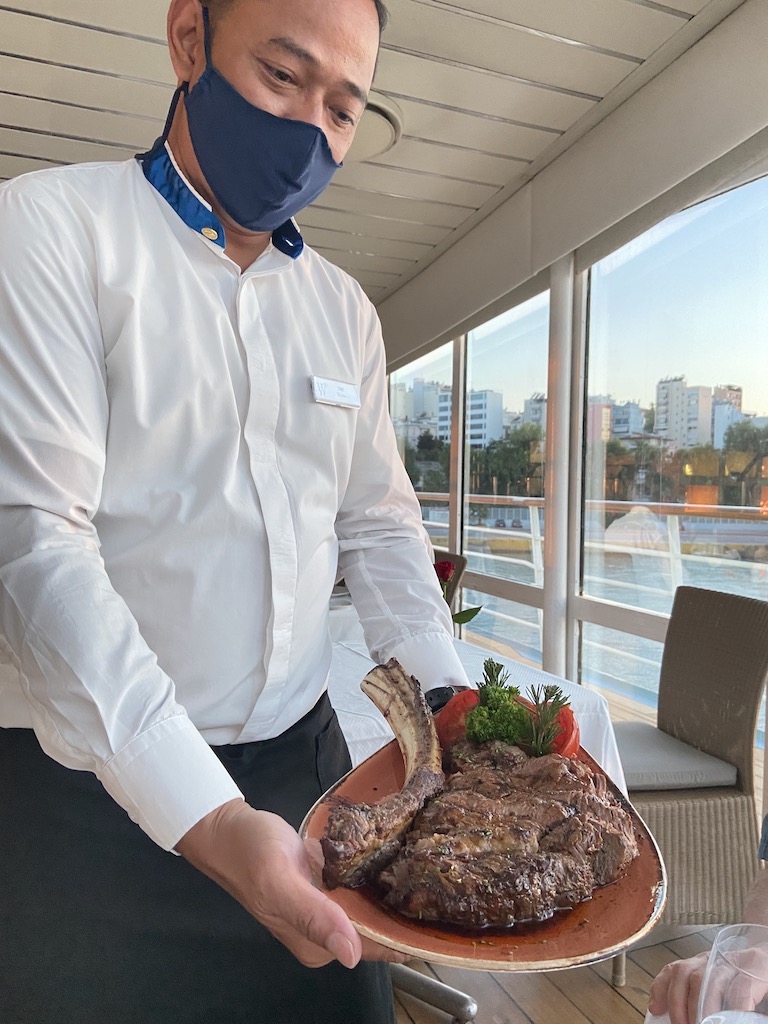 One night, featured dishes included curried coconut shrimp and chicken tikka as well as hot-seared cured salmon from Minneapolis, Chef Paul Berglund.
Deering said if guests want the open-air experience but don't want the grilled steaks or seafood, they can opt for the dining room menu.
That's what we did on my birthday, the last night of the cruise. Grilled lobster tail and steak under the Grecian sky. We toasted our luck enjoying such a safe, wonderful trip, despite the pandemic.
Meeting the locals in Monemvasia. I was charmed by the island, joined to the mainland by a narrow strip of land, part of the Peloponnese peninsula and a favorite for weekend trips from Athens. We climbed up a narrow ancient street to the Byzantine castle called "stone boat." The small shops were selling everything from local wine and gin to hand-painted tiles and jewelry.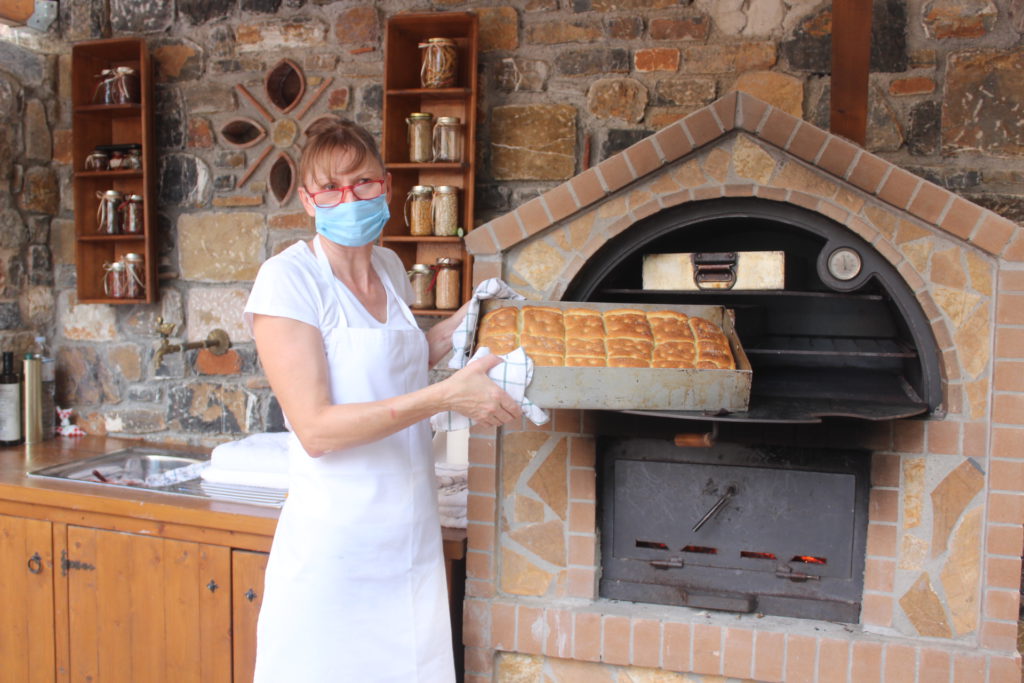 For dinner, all of the passengers on board were whisked 15 minutes from the port to Liotrivi Mansion—a nearly century-old family-owned organic olive farm for a Windstar Destination Discovery Event.We were greeted with a glass of local wine and Ouzo and invited to watch how Propyra Bread, a local sourdough specialty, is made in a wood-fired oven.
There are 33 different varieties of olives grown in Greece we learned, and some trees are thousands of years old. We were treated to a traditional Greek meal with everything from the farm—tomatoes and creamy feta cheese, dolmades (grape leaves stuffed with seasoned rice) pork sausage and olives—lots of olives! The wine continued to be poured as we are treated to a performance of local music and dancing (limited due to Covid restrictions).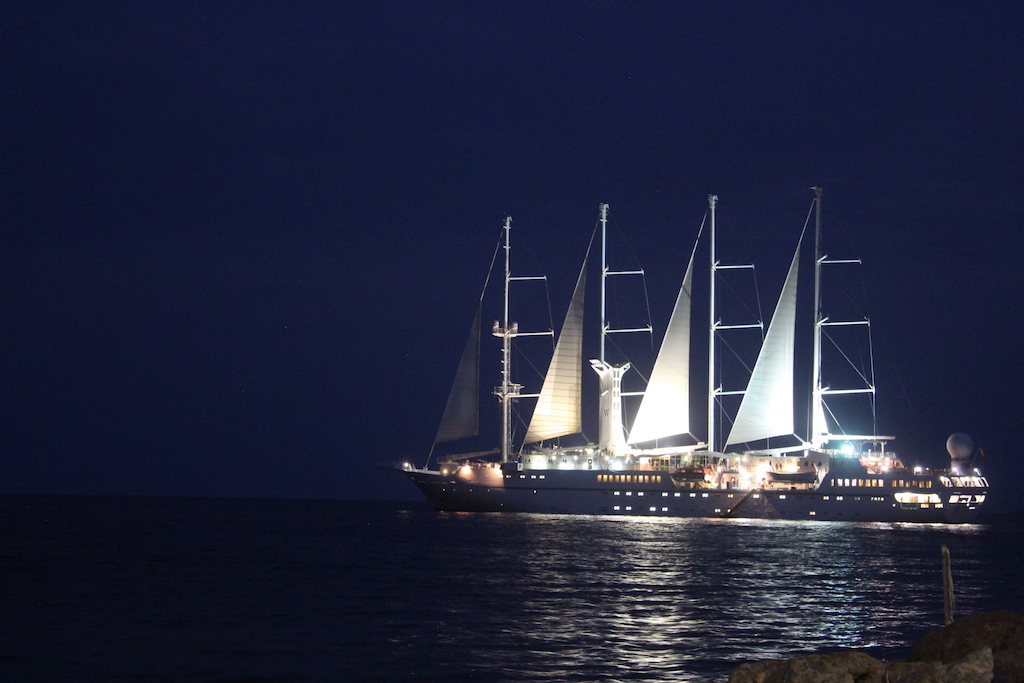 We returned to the ship–brilliantly lit up with the crew calling our names as we boarded.
"You can't live in fear," said Nancy Kneisel, a grandmother from Oregon who opted to make the trip though recovering from cancer treatments and despite Covid. "Being in a good environment is so good for me," she said.
For all of us, Nancy. Thanks Windstar.