Whenever my birthday rolls around—it's this week—I think of Rome.
That's because one year we were in Rome for my birthday—we were staying just one night at the end of a cruise before flying home.
I have friends who opt for the cheapest hotels possible and others the most luxurious they can find. I'm more apt to seek out interesting places that have a story to tell in their walls.
Particularly this trip, I didn't want a hotel that was just a place to sleep. I didn't want a hotel that was just convenient to the train station. I wanted a hotel that would be part of the experience—a big part of the experience.
That's why I chose the Grand Hotel de la Minerve that was a few steps from the Pantheon and a short walk to the Forum and Coliseum. Just outside is Bernini's elephant sculpture supporting an obelisk. Could it get any better?
I knew I'd chosen well—relying on advice of Amie O'Shaughnessy of Ciao Bambino who plans trips for families traveling to Italy and elsewhere abroad.
The hotel was first built in 1620 for the Fonseca family and it has been a hotel since the end of the 18th Century when many wealthy Americans embarking on the Grand Tour stayed here. In 1891, a winter garden was built in the hotel's inner courtyard and today, it has a crystal ceiling reflecting sunlight along with a statue of Minerva, the Roman goddess of wisdom and war.
I try to imagine all of the young Americans with their chaperones and all of the intellectuals, high ranking prelates and artists who would gather here. Were the teens bored with all of the Great Sites? They were probably just as glad to meet fellow Americans (or English speakers) as we are today.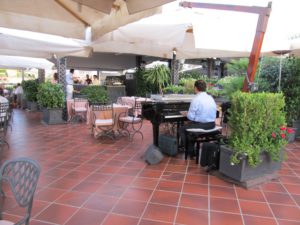 Tourists relax in the "garden" with tea or coffee. I love our room with its soaking tub and view of the square. But the best part is the terrace. We not only can see the dome of the Pantheon but the cupola of St. Ivo built in 1642. We look out at the rooftops, then head up to our own rooftop bar and restaurant. A pianist is playing. There are pots of flowering plants. We're served drinks and elaborate snacks (olives, fried vegetables, dainty chips).
It's a perfect setting for a birthday—especially after a day walking Rome's neighborhoods from the Campo de Fiori where we perused the outdoor markets and bought balsamic vinegar we tasted, anchovies stuffed with capers, and sundried tomatoes. We walked through the Piazza Navona, with the artists showcasing their wares and arrived at the majestic Great Synagogue of Rome in the Jewish Ghetto just as Shabbat services were ending so we couldn't enter but instead crossed the Tiber and navigated the narrow streets of the Trastevere neighborhood known for its small streets full of cafes, bars and restaurants as well as churches and galleries. We stop for lunch at Ristorante la Canonica just past the square with the rare medieval church of Santa Maria in Trastevere and feast on seafood salad and homemade gnocchi.
After spending nearly four hours in the afternoon touring the Ancient City with a guide (www.nancyaiellotours.com) we eat dinner on the terrace of the Hotel de la Minerve with its white tablecloths, flowers and sumptuous menu. I wish I'm hungrier but instead opt for risotto, salad and of course, a selection of Gelato for desert.
That's better than birthday cake any day.
Breakfast is just as delicious—fresh ricotta and mozzarella, fresh fruits, croissants filled with cream and chocolate, cheeses, salami, ham, eggs and of course cappuccino. The food is so irresistible I make sandwiches for the plane trip home.
One of the best birthdays ever, I think, biting into a sandwich as we cross the Atlantic.