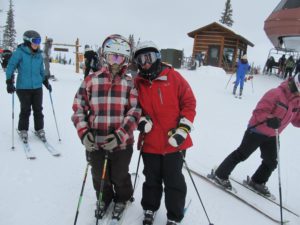 Fresh baked cookie anyone?
It's the beginning of the ski day and the chef is fielding a silver platter heaped with fresh baked chocolate chunk cookies. Beaver Creek's motto is "not roughing it," and the cookies are just the beginning.
In case you are wondering, Beaver Creek hands out nearly 400,000 cookies each season to appreciative skiers and riders.
We'd met up with my daughter Mel, who had just turned 21, and some of her friends from Colorado College for a belated birthday celebration,staying in a spacious condo in the village at the St James Club, eating dinner at the nearby Park Hyatt.
Now we were ready to ski together. That was Mistake #1. Our first run, Mel leads me to a double black diamond. I'm not thrilled. We lead her over to the Arrowhead area and Bachelor Gulch. She's not thrilled. The terrain isn't challenging enough.
When we suggest stopping for some soup, Mel sees her opening to escape. "I have a PB&J in my pocket," she says, "I want to keep skiing!"
So much for family time.
We've been taking the kids on ski trips since they were toddlers—including to Beaver Creek. "This is the living life," my then six year old daughter Reggie declared when she looked around the condo we'd been assigned here.
But even in the most terrific locales, nothing goes as planned. Someone gets sick (we've had lots of ear infections). Someone ends up in the ER (me, here three years ago after a bad fall). Someone has a meltdown. And someone just doesn't want to spend that much time with mom and dad.
I'm just glad Mel and her brother and sister love being outdoors and out on the mountain. All those years of schlepping them to ski school have paid off royally—all can ski anything and love all kinds of fun in the snow.
Recently, I met up with Mel and her sister at the C Lazy U Ranch in Colorado so they could back country ski. Over the holidays, we went hiking in the snow at the Appalachian Mountain Club In New Hampshire and even took a canopy tour high over the snowy mountains at nearby Bretton Woods.
That day in Beaver Creek, my husband and I left Mel, skied down to the Broken Arrow restaurant at the Arrowhead area and enjoyed some excellent tortilla soup. We skied our way around the mountain and down to the bottom and guess who is waiting for the chairlift? Mel and her friends.
One last run together, Mel suggests.. Sometimes, you can't ask for more than that.