By Regina Foldes, Taking the Kids Correspondent
When I entered the "Tentacles" exhibit of the Monterey Bay Aquarium in Monterey, CA, all I could think to myself was "I am amazed!" I had so many questions. "Why is the Wonderpus (a small and striped type of octopus) smaller than the other octopuses?" "How do cuttlefish change colors?" or "How do octopuses breath?" This sense of wonder that I was feeling reminded me of professional development in my own teaching career that I have been pursuing for the last few years.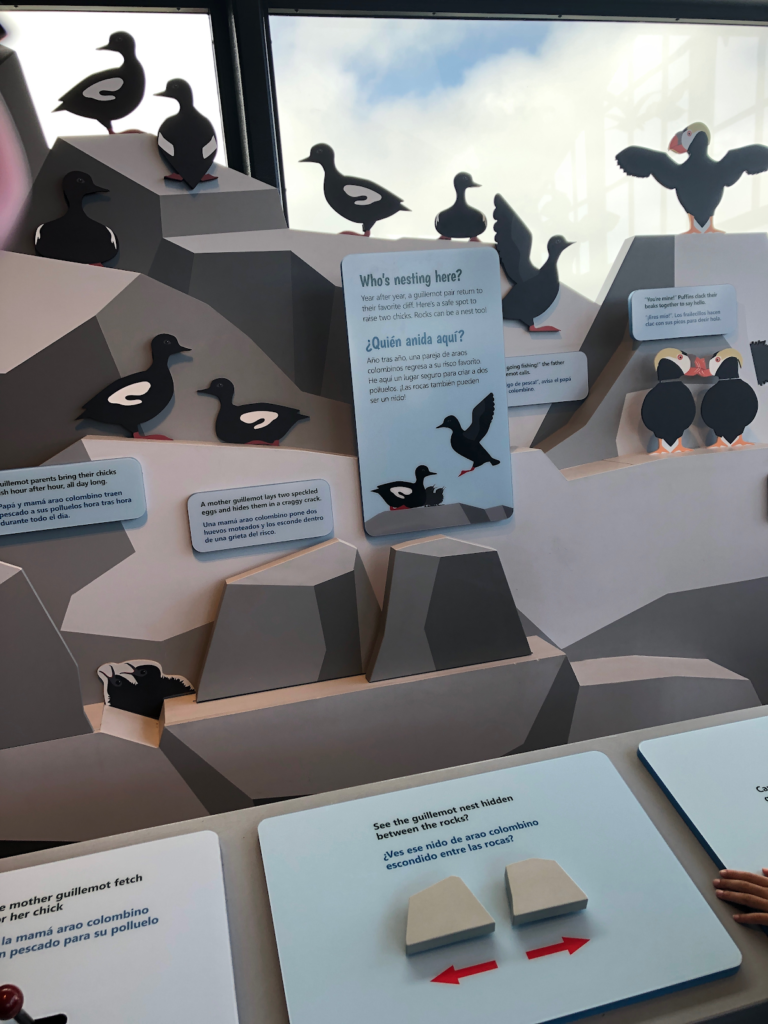 I am a first grade teacher at an independent school in San Francisco. One of my biggest passions in teaching is science education and connecting children to the natural world. Over the last few years, I have been learning a lot about a shift in science education away from teaching facts and toward inspiring inquiry from students by exposing them to "phenomenon." The word "phenomenon" can sound intimidating, but it is basically anything that you notice that you have a question about, and then can research or do some experiments to figure out. Clouds in the sky, cats whiskers, or moldy bread are all examples of "phenomenon." Once the "phenomenon" has students captivated and asking questions, they can use scientific practices to "figure the questions out!"
Now that I have been learning more about phenomenon based science education and how to incorporate it into my teaching, I am constantly on the look out for phenomenon around me in the natural world. Enter the Monterey Bay Aquarium. Every step I took I encountered another phenomenon that could have launched me and my students into a whole scientific study. I saw sea otters playing with ice. I saw hammerhead sharks swimming in the deep sea exhibit, as well as schools of fish swimming in tight synchronization. I saw shorebirds in the aviary with long, skinny, vibrant red legs. Each "wondering" I encountered, led me to a feeling of excitement in wanting to find out more information. And, the Monterey Bay Aquarium offers many formats in which to learn.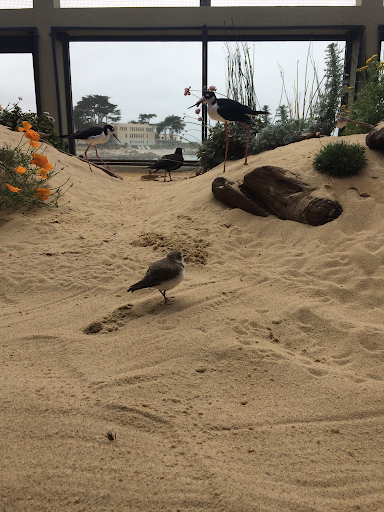 The different exhibits offer child friendly descriptions of the animals and their habitats, with just the right amount of text and helpful visuals. There are also opportunities for tactile discovery at 2 different touch pool areas in which you can even touch a bat ray as it swims by, or get an "urchin hug" by sticking your finger gently between the spines of an urchin and feeling them move. There are helpful staff and volunteers who are eager to answer questions and share in wonder in every exhibit. The passion that they feel for the animals and the ocean environment is contagious.
If you need a break from so much curiosity and excitement inside of the aquarium, there is an observation deck that you can step out onto and have a snack or take a rest on benches overlooking the beautiful Monterey Bay. It is even possible that you will see some dolphins, sea otters, or whales swimming by! There were staff members set up on the deck with a high powered scope and binoculars who spotted whale spray off in the distance, and encouraged visitors passing by to take a look. Again, amazement!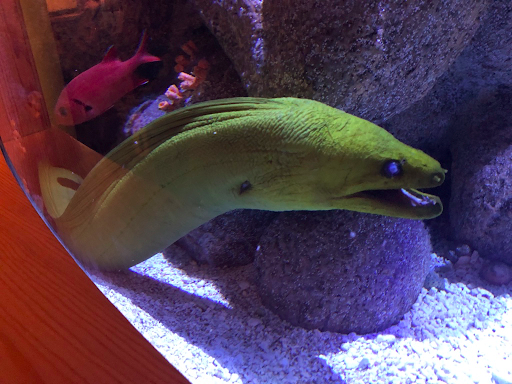 Along with the education on marine wildlife, the aquarium also has a strong focus on ocean conservation. There was an art exhibit on display consisting of large, colorful sculptures made completely out of plastic that has been collected from the ocean. The emotions that the education on marine trash as well as the beautiful animals was inspiring in a proactive, rather than depressive way. The availability of "seafood watch" cards at the end of the Deep Sea Exhibit was also a helpful reminder to be mindful about my seafood consumption. The whole experience reaffirmed my commitment to sustainability.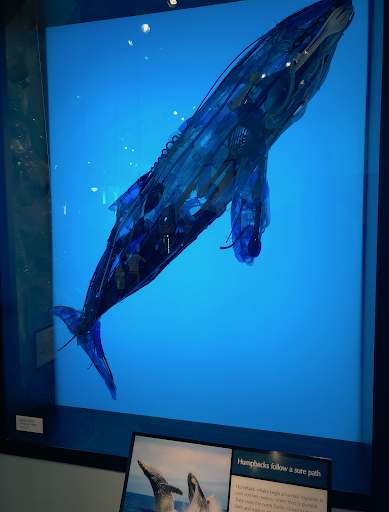 What a great place to continue to foster a love of learning and curiosity in not only children, but people of all ages. The Monterey Bay Aquarium has a mission to inspire ocean conservation and shape a new generation of ocean conservation leaders. I experienced first hand how experiencing such unique and beautiful exhibits can inspire and promote activism on environmental issues. The aquarium is also experiencing exciting growth this fall. They have been in the midst of building the new Bechtel Education Center for the last 3 years, which will expand the capacity for the aquarium's education and youth development programs. This expansion will double the capacity for teen and teacher programs! As I left the aquarium, I felt grateful for the opportunity to expand my sense of wonder and discovery around marine life. I also felt inspired to share things that I saw at the aquarium with my own students. To learn more about the Monterey Bay Aquarium and how to visit, you can visit their website: https://www.montereybayaquarium.org/.