By Meghan McCloskey, Taking the Kids Correspondent
As a new mom of a 12-week-old baby boy, I try to create a non-toxic environment in my home by using safe and natural products. From nursery furniture to toiletries, I have frequently found "greenwashing" in baby products.
Greenwashing is where companies will tout their product as 96% natural, for example, but then parents are left to wonder how harmful the other 4% of ingredients are. I was intrigued by Hand Over Heart's Pure Baby Shampoo and Body Wash and Pure Baby Lotion and Moisturizer because the products only contain ingredients that are natural, non-toxic, biodegradable, vegan, gluten-free and hypoallergenic. The ingredients labels are very legible with any derivatives from plants or other materials clearly defined. There are no hidden or suspect ingredients seen in some baby products.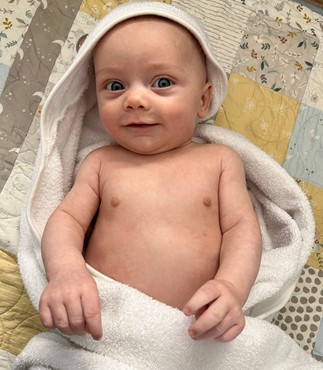 We tried the shampoo & body wash on one of Dominic's biweekly baths. The soap's consistency is thick and moisturizing without being greasy and creates bubbly suds for a perfect lather. The soap's scent is subtle with tropical notes. Dominic seemed to approve; he typically gets a little fussy during baths, but was surprisingly content. It was almost as if the soap had a calming, aromatherapeutic effect. After Dominic dried off, we applied the lotion & moisturizer during an infant massage. The thick and creamy texture was easy to spread and was quickly absorbed into his delicate newborn skin. It left his skin hydrated and smooth. The lotion's fragrance is similar to the soap and left Dominic smelling clean without overpowering his sweet baby scent.
Overall, Hand Over Heart's products deliver, with worry-free ingredients that can be used for a gentle and relaxing bath experience for our baby. As a plus, we felt good about supporting the company as they donate some proceeds to cancer patients and their families.