By Eileen Ogintz
With my kids spread across the country, I get excited when I find a place that will please all of them and extended family – a place like the well-appointed 6,000-square-foot Cedar Bend cabin at the Whispering Oaks Ranch that has six bedrooms, six baths, two half baths, a pool table, poker table, outdoor decks and spectacular views in all directions of eastern Utah's La Sal Mountains.
"We originally thought this would be a Bed and Breakfast," said Kelly Shumway, who with her late husband and their combined eight kids built the 7-cabin Whispering Oaks on 50 acres, 25 miles southeast of Moab, Utah.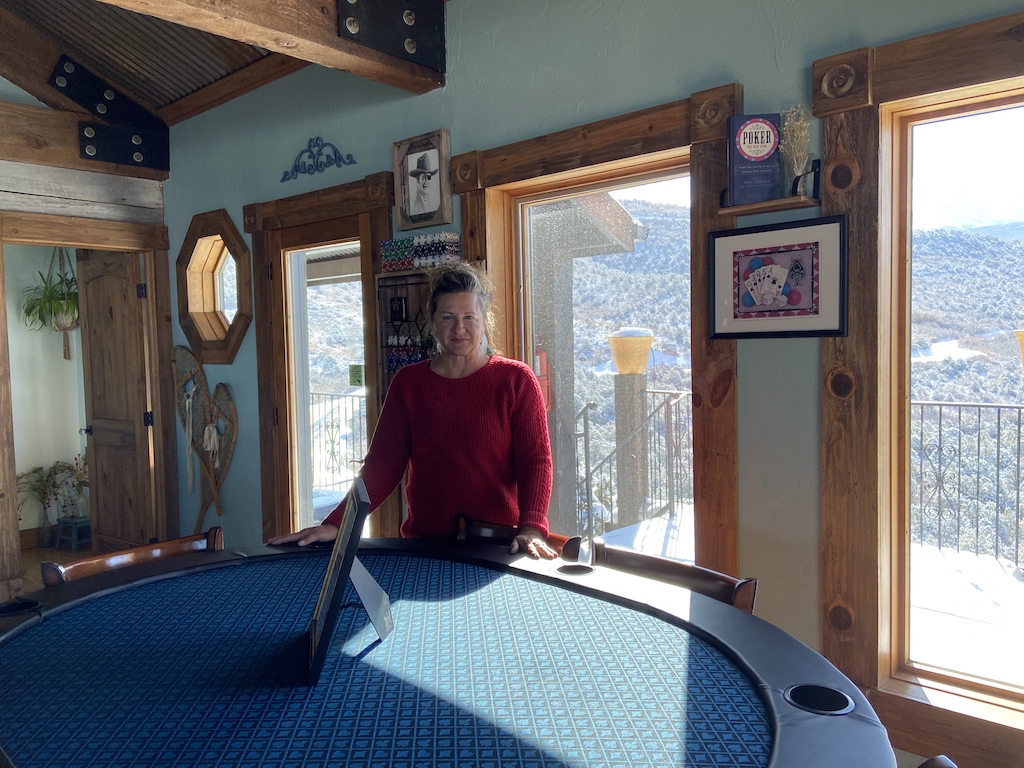 But, she said, people want to come and enjoy the property so now it is rented for family reunions, corporate retreats, small (30-person) weddings and even an upcoming Bar Mitzvah.
Most every weekend from June into October, Shumway said, the resort is rented out for larger weddings.
We're staying in the four-bedroom Lonebranch cabin with our two daughters, son in law and longtime boyfriend—a "vaxication" and the first time we've been together in nearly a year.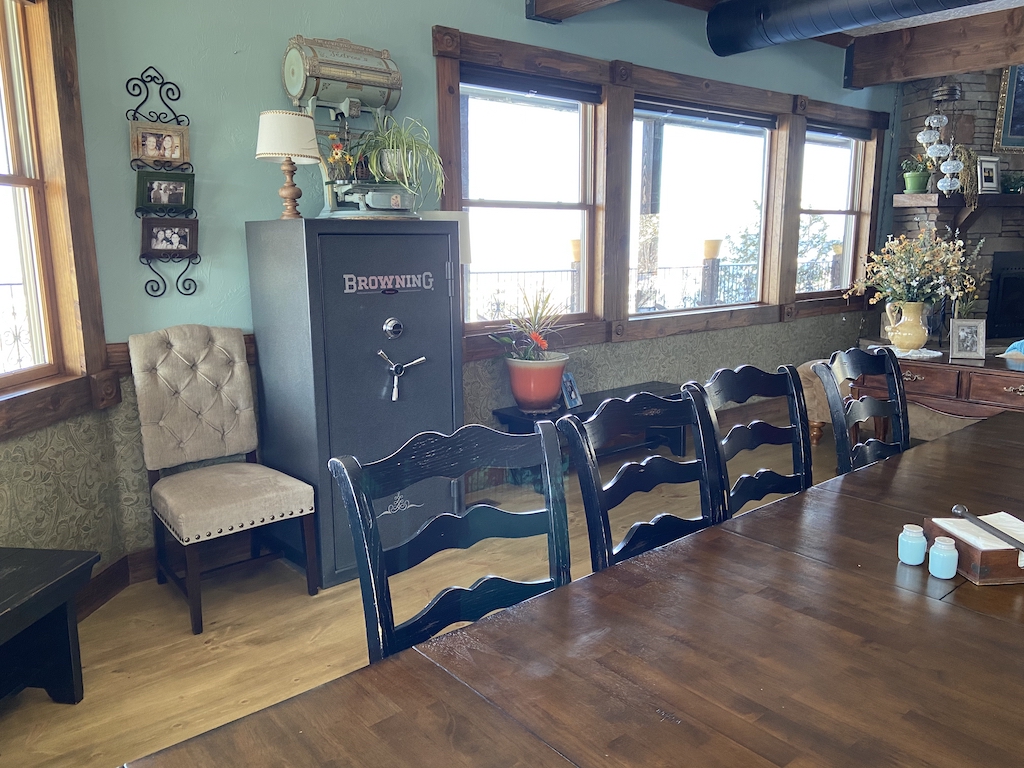 I can't really call this a cabin, nor is Cedar Bend. Both are a mixture of rustic "with all the amenities of home," Shumway said. "It's a place I would want to stay."
There are appliances that look vintage but are completely modern and upscale, with rustic-chic décor that would make anyone feel at home—from the quilts in the bedroom, the claw-footed tub next to the walk-in shower to extra-comfy rollaway beds for extra kids—plenty of room in the bedrooms—two grills and a big hot tub outside and furniture Shumway has refinished and found herself antiquing.
Did I mention that Whispering Oaks is pet-friendly? That they don't charge guests a cleaning fee like many vacation rentals?
Shumway, whose husband Mike died two years ago, explained that they met in Arizona when both were divorced—she with three young kids and he with five. The kids ranged from four to 17. (They are now 32 to 44 and there are 12 grandchildren, with two more expected very soon, scattered across the country and abroad.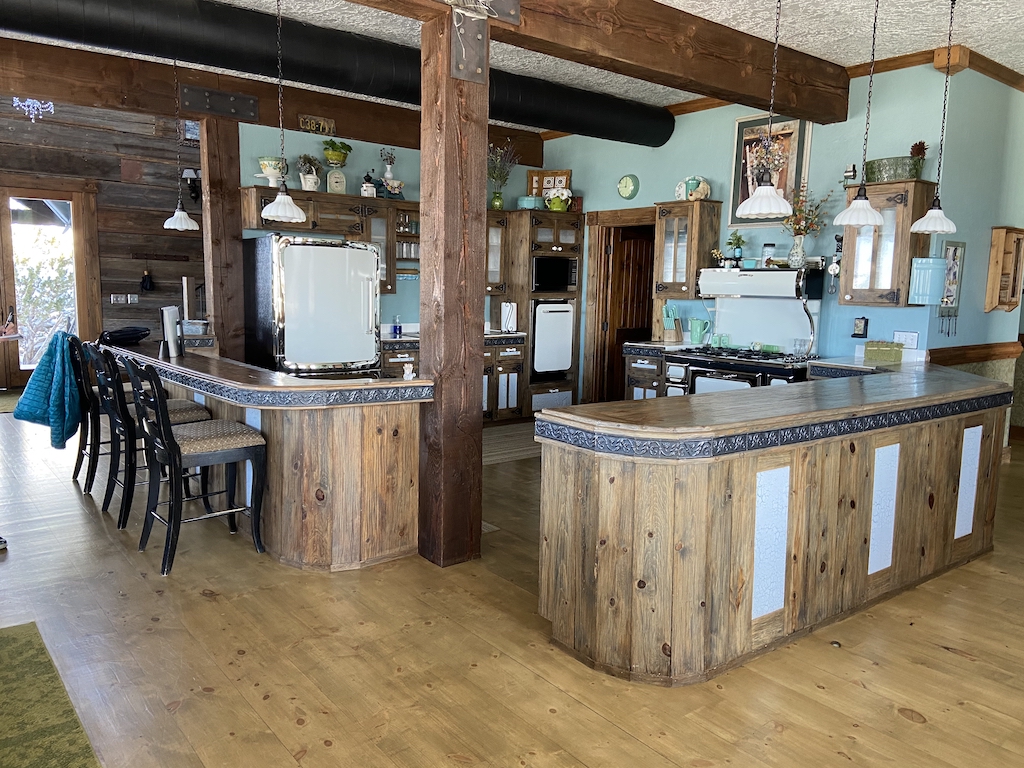 "We had about a five per cent chance of making it," Shumway said, "But we were great together. We made a good team." Cedar Branch is decorated with generations of family pictures in quirky frames.
They ultimately returned to Moab where Mike Shumway was raised and bought 40-acres adjacent to land his father owned and surrounded by Forest Service land. The couple, in the excavating and mining business, were well equipped to build. First, they parked a camper and would camp with the kids and then built a cabin for themselves, followed by the other houses. Three of them have just one bedroom and are ideal for couples seeking a romantic getaway.
Guests come from Moab and Salt Lake City—about a four-hour drive—from Colorado and across the country, including a lot from the East Coast, flying into Moab, Grand Junction CO or Salt Lake City.
Shumway has decorated each cabin herself, even building the poker table in the massive game room upstairs in Cedar Bend cabin. "For years I've collected quirky stuff from all over …this is all mine," she explained.
In winter, there's snow shoeing and cross country skiing; in summer and fall this area is a haven for hikers and mountain bikers.
On a first visit to Moab, Shumway said, guests head to Arches and Canyonlands National Parks on return visits but they want to stay put and enjoy being out of the fray—and with each other. A secluded spot like Whispering Oaks is perfect.
We certainly thought so, and hope to return soon.
Thanks, Kelly.