To Protect Her Humans and Celebrate her Moms Birthday
By Ollie the Collie, Senior Canine Correspondent, Taking the Kids
"Get in guys, we're going on an adventure!"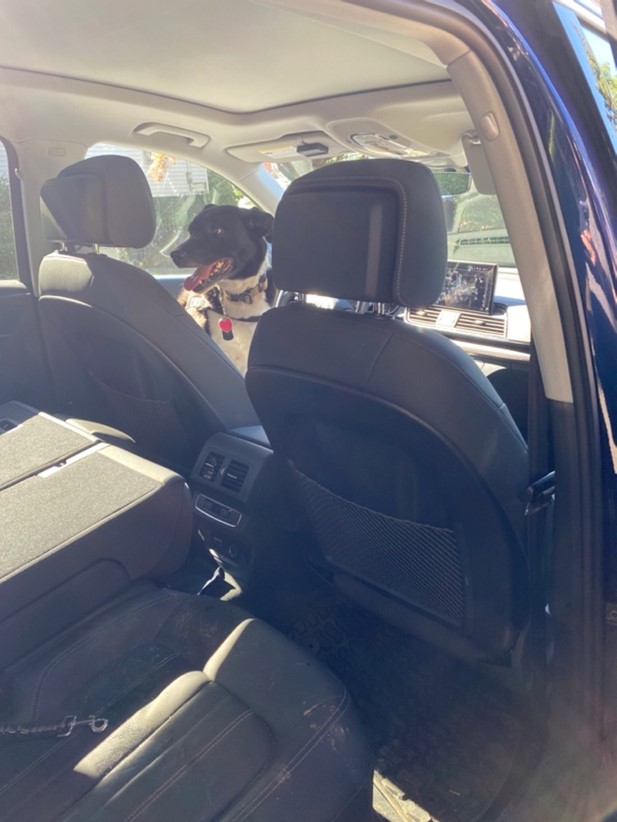 Ok I wasn't driving, but I wanted to try, and they say you miss all the shots you don't take right?
So, I sat in my normal seat in the back like a good girl – I still don't like long car rides, they stress me out!
That's why I was so happy when we arrived at the Kimpton Muse Hotel in Midtown Manhattan, where they are VERY doggy friendly. Let's just say they had a refreshing bowl of water and a treat waiting for me at check in – what service!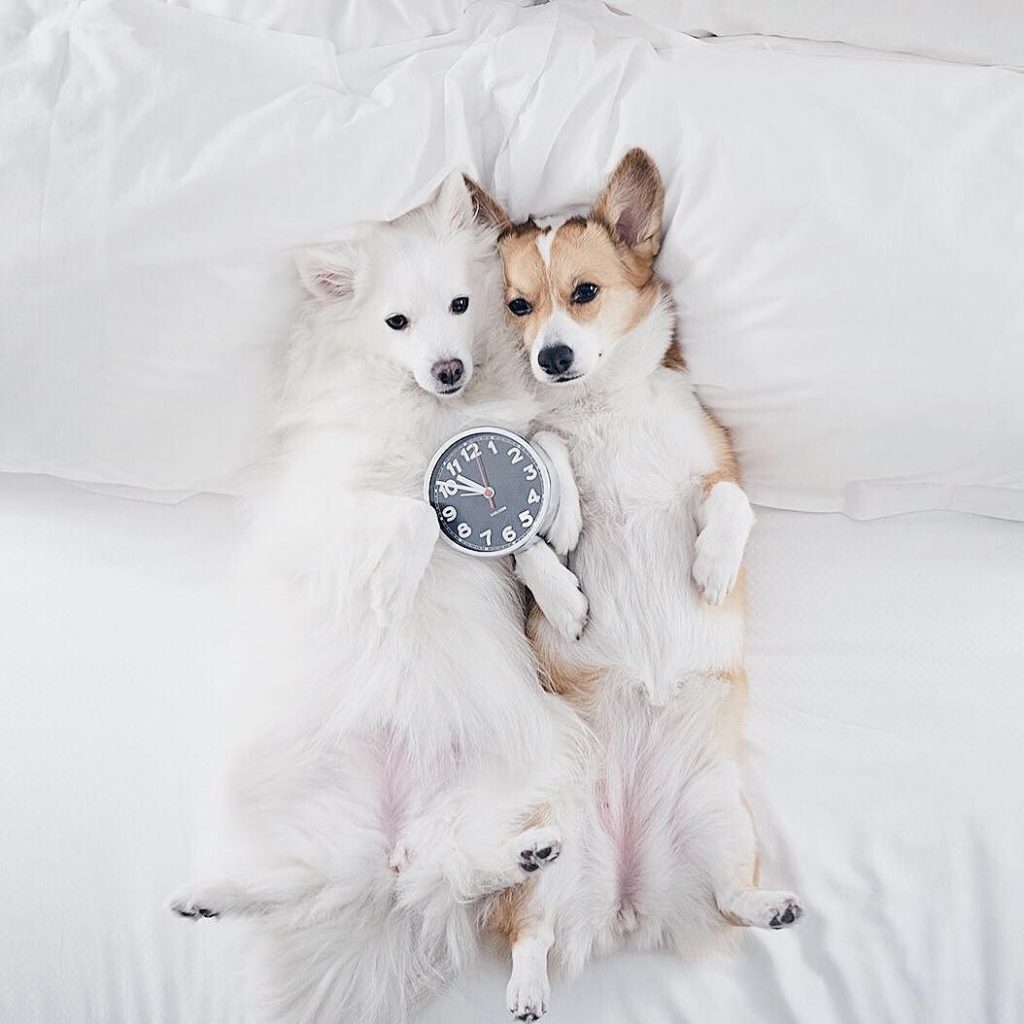 After we got settled at the hotel my mom wanted to show her friend, who was visiting from France, some of Midtown Manhattan, and well I'm not saying I'm a NYC veteran or anything, but I did live the first two years of my life here.
Naturally, I took the girls to Rockefeller Center, Mom embarrassed me and rode this contraption – humans are so odd sometimes.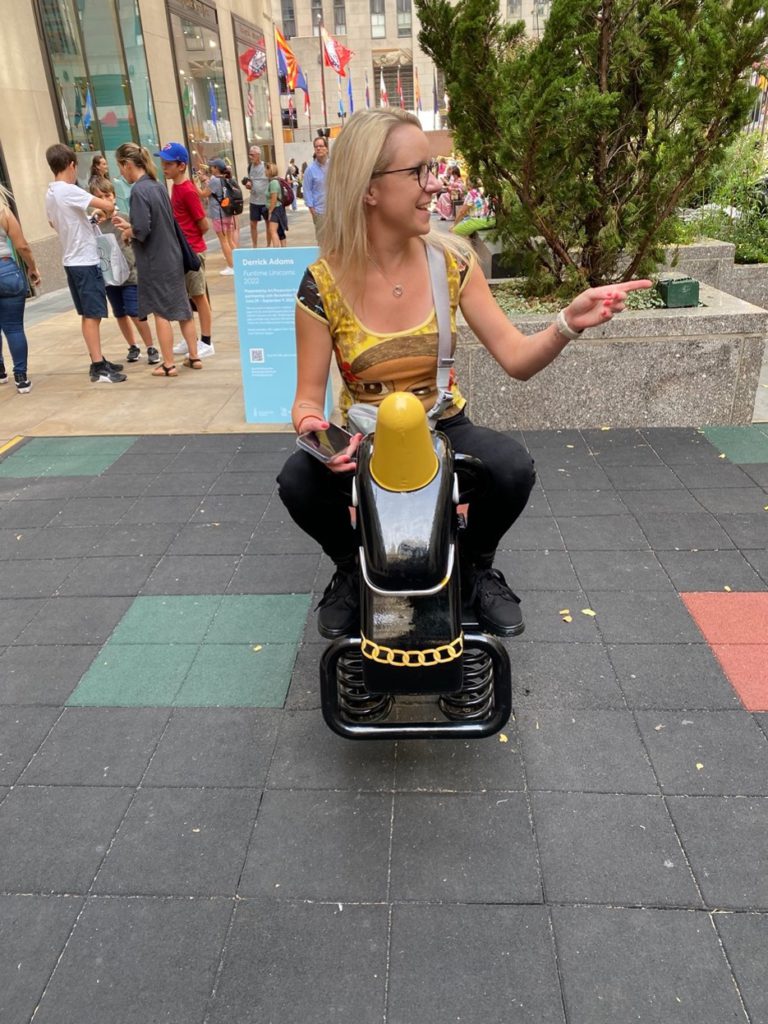 Then Mom wanted to take me in this fountain thing. I said OK but remember I have a tail; you must account for the tail…
They did not account for the tail, and I got wet…but it was a hot summer day, so I actually liked it.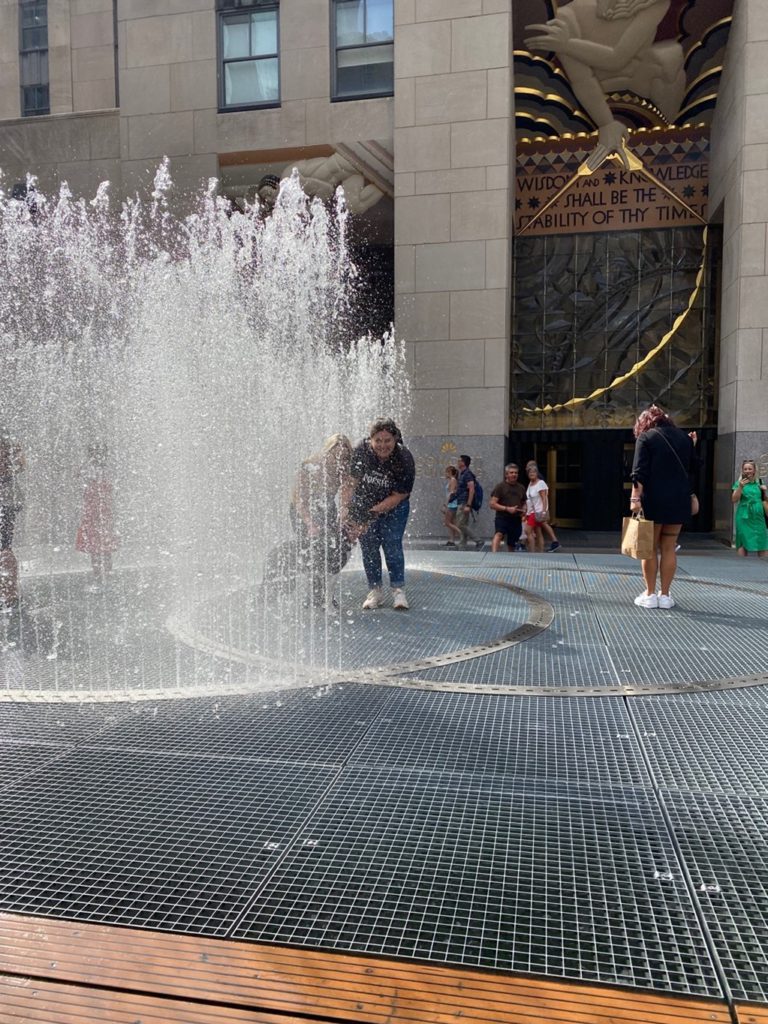 Then the girls wanted to check out St Patricks Cathedral. I said I'd stay outside and chase the pigeons.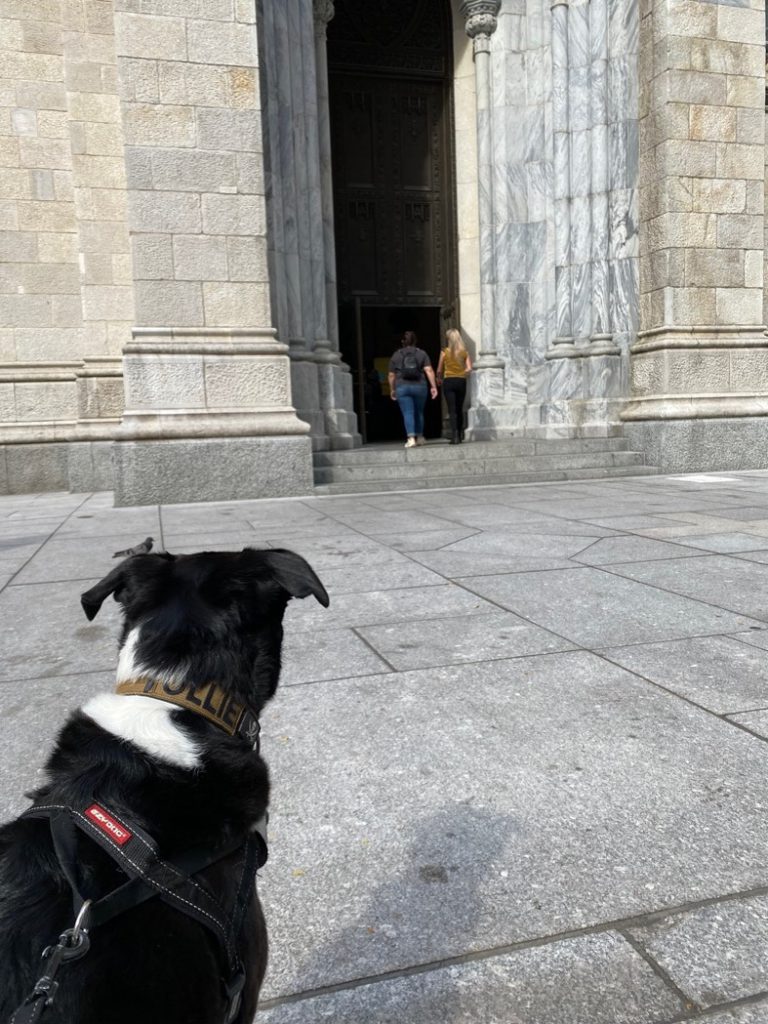 We had fun adventuring around Midtown, we saw Central Park and the Diamond District, and we all had Nathans Hotdogs, Dad gave me his, and it's true, they are DELICIOUS
That night Mom and Dad got me nice and comfy at the hotel and they went out to see The Lion King, a birthday present for Mom and treat for Mom's friend who has never seen a Broadway show. I don't get why dogs aren't allowed at shows, especially if the show is about animals! But don't get me started on the logical steps humans make…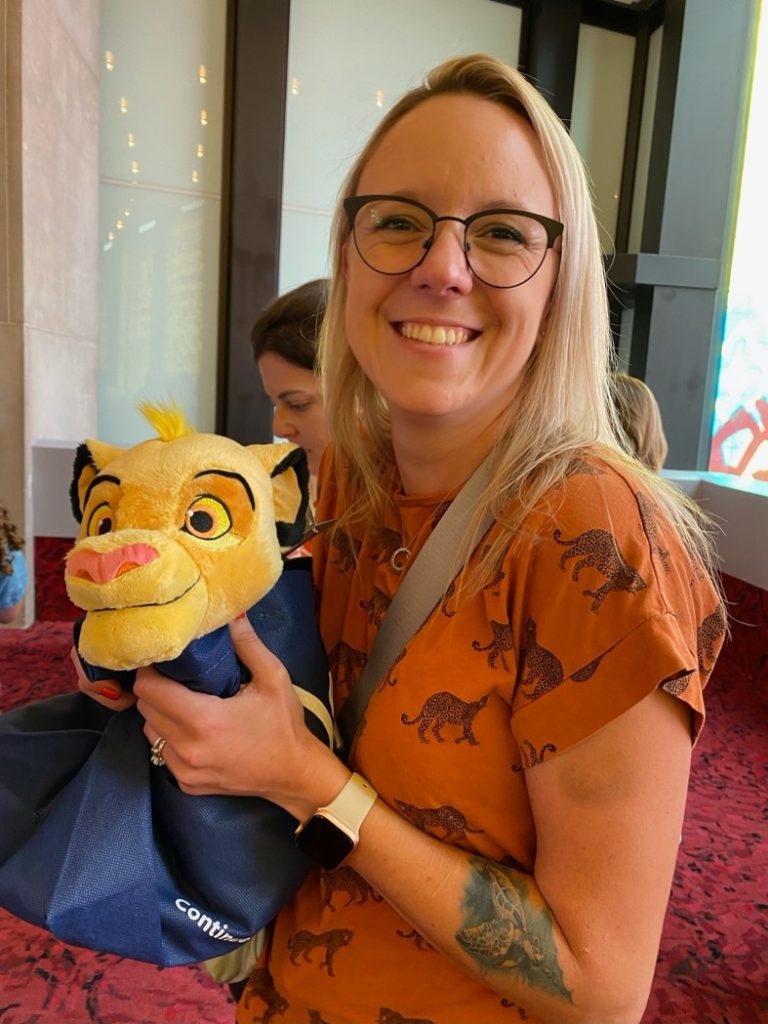 After the show Mom and Dad got a yummy dinner at Parker and Quinn, a great speakeasy style restaurant/bar in Midtown.
And took me for a little walk around Bryant Park, which was empty on a Sunday night – there is something so magical about warm summer nights in New York City.
The Kimpton Muse was a great hotel for us to stay at because of their central location in Midtown; close to the theatres and Bryant and Central Park, and their friendliness toward the canine species.
Kimpton is also great for those little humans who are members of the family. They currently have a family package running called "Little Apples in the Big Apple" that includes a New York C3 from CityPASS for two children. CityPASS tickets include passes to most NYC attractions, including 9/11 museum, Statue of Liberty, Museum of Natural History, etc…
Finally, after a whirlwind night, it was time to head back to the farm life in Connecticut. As we drove out of NYC, past the Hudson River on the West Side Highway, where dad and I used to go for long runs when I was a puppy, I thought about how those first couple years in NYC had shaped me into the hard-working type A doggo I am now, at the proud age of 9.
I thought of this just as I settled into belly scratch position at home…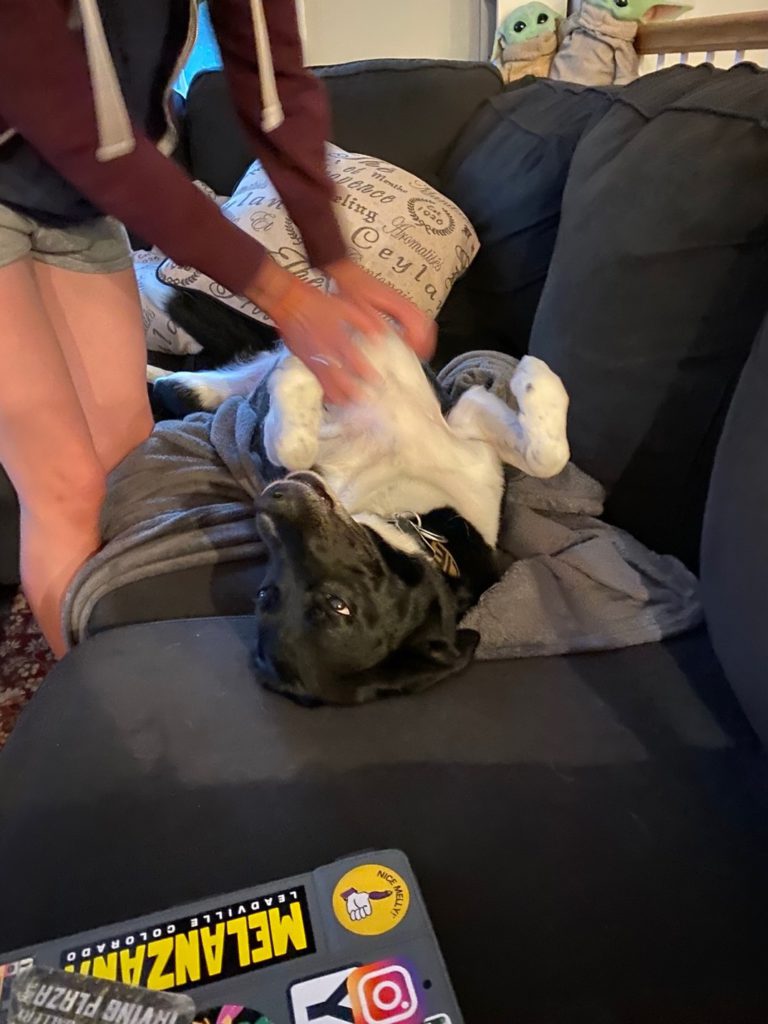 And as much as I like the big flashy city life, I like the country, and my little brother, Professor Chaos, just fine.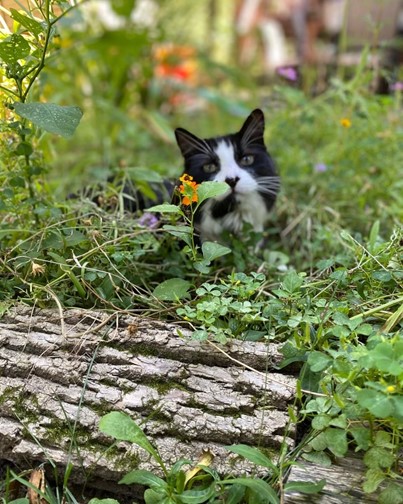 Until my next adventure, love from Ollie the Collie!