By Eileen Ogintz
NEW ORLEANS, LA (Day 2 of 4) — So what's the mystery?
We're in the so-called Mystery Dining Room at Antoine's in New Orleans, the famous restaurant that has been operated continuously by the same family since 1840, our first stop on a wonderful New Orleans Culinary History Tour through the French Quarter led by former history teacher Naif Shahady.
"The story of food is the story of this city," he explains. "People brought their cooking from all over the world—Europe, Africa, the Caribbean, and later the United States…" The French were here first, then the Spanish and after the Louisiana Purchase (from France) in 1803, the Americans.
But they couldn't get the same spices and ingredients so they substituted…thus the very unique cuisine. We're sampling Antoine's famous Gumbo. This is Creole, he explains, because it has tomatoes; the Cajuns—originally the French-speaking Acadians who came from Nova Scotia after the British won Canada—never grew or ate tomatoes   because the growing season in Canada was too short.
Jambalaya, he suggests, is a modification of Paella the Spanish loved—with Shrimp Chicken and Sausage rather than squid and Octopus.
Gumbo, like what we are eating, is an adaption of French Bouillabaisses—recipes brought from Antoine when he arrived here as a teen trained as a chef.
The slaves brought Okra, which here traditionally thickens Gumbo. This is a big rambling restaurant—14 dining rooms about to be taken over by the sixth generation of the family.
The aroma of good cooking, he tells us, is considered "the Cajun mating call."
Anyone who was anyone found their way to this restaurant—movie stars, athletes, presidents and royalty. Their pictures line the wall. (A tip: come for the $20.14 lunch!)
The mystery? New Orleans, of course has always loved their spirits—they still do—drinks like the refreshing Pimm's Cup and Szerac, a local version of a brandy and whiskey cocktail. This restaurant has a 30,000 bottle wine cellar that stretches 165 feet.
But during prohibition, of course, tippling was illegal. This room was a Speakeasy designated for men. Savvy women who didn't want to miss the fun would get here through a secret break in the door of the ladies' lounge, bringing a demitasse cup with them. When they returned to their friends, libation in hand, the others would want to know where it came from. "It's a mystery," the lady would reply.
We stop in at Arnaud's Restaurant to sample the famous Shrimp Remoulade, a shrimp salad made with special Creole Mustard . (A tip: ask to go upstairs to see the amazing free museum that showcases the Mardi Gras gowns of Germaine Wells, daughter of Count Arnaud and his successor. She was the queen of 22 Mardi Gras. "If you get to be Queen of one, that is a really big deal, once in a life time," Shahady explains.
Each dress is more elaborate than the next-sparkles, sequins, feathers. Long trains. Few even know this free museum is here, he says.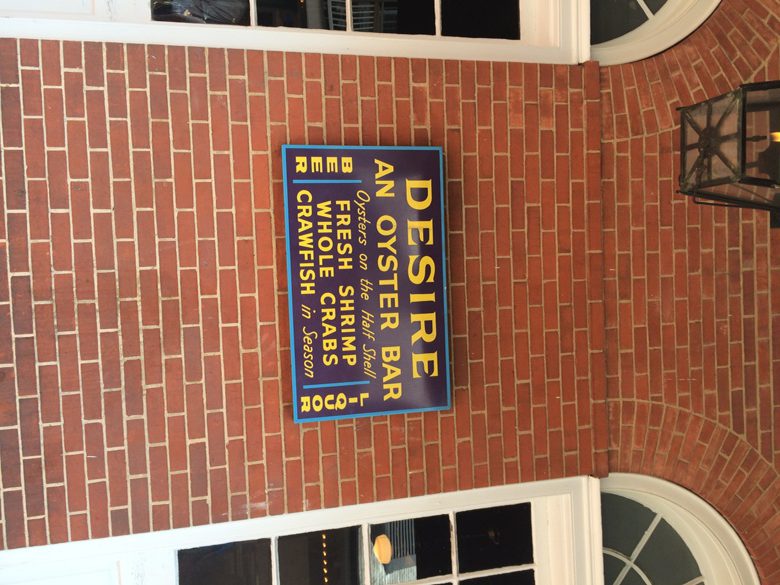 Turtle Soup is another New Orleans delicacy, made today with farmed turtle. When the European colonists first came in the 18th Century, Shahady said, the Native Americans ate a lot of turtle. Today it is a delicacy, eaten on special occasions. (We're at the Desire Oyster Bar at the Royal Sonesta New Orleans.)
We stop for a sample New Orleans' famous Muffuletta sandwich that originated with Italian immigrants here (bread covered with layers of marinated olive salad, cheeses, salami and ham, all heated) and Gelato at La Davina Italian Café right near St. Louis Cathedral. What flavors of gelato—Blueberry Basil, Rootbeer, Plum Beaujolais, Chocolate Gorganzolla, Bourbon Pecan….so good we return later that evening for more.
At the end of the 19th Century and beginning of the 20th Century, we learn, thousands of Sicilians came here, working on the docks, produce markets as butchers—so many that an area of town was called "Little Palermo."
Tujague's has been here since 1856 and was the place workers would come to eat slow cooked beef brisket with a distinctive sauce that to this day is a secret recipe. Yum!   There's a room here called "The Politicians' Room" — no windows!
Our last stop is Creole Delicacies (a great place to buy local spices and pralines) where long time cooking teacher Saundra Green serves up the red beans and rice that traditionally are eaten here on Mondays.
"Monday was washing day and the women needed something that would cook for a long time," explained Green. The women could throw in the ham bone from Sunday dinner and some sausage and then not worry about what they'd serve their family while they were busy with the washing. Even today, locals eat red beans and rice on Mondays.
Maybe I'll make Mondays Red Beans and Rice day too.