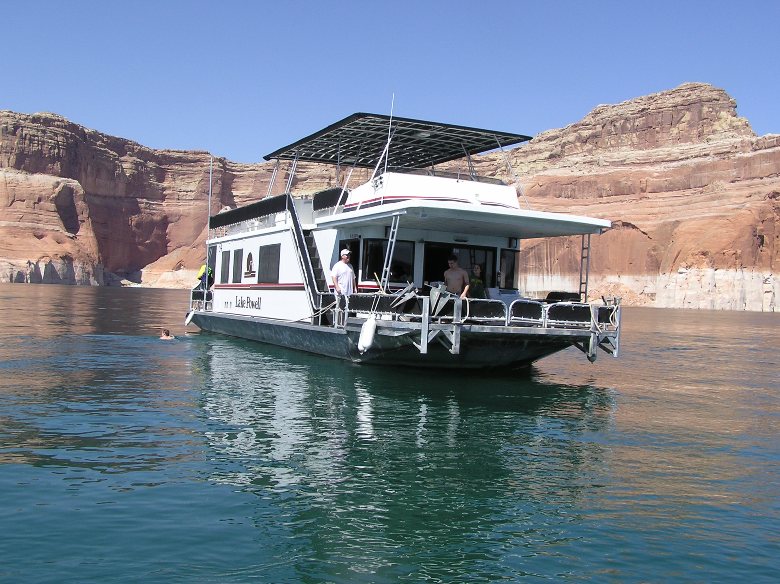 We're in the middle of nowhere.
There's not another family in sight, not a store for miles, no internet and only sporadic cell phone service.
And incredibly, no one is complaining or fighting.
They're too busy exploring the biggest water playground they've ever seen jet skiing and wake boarding, jumping off rocks into the water when they're not pushing each other off the water slide on the deck of our floating vacation house. Two-year-old Ethan is alternately splashing at the shore with his mom and playing with melted ice in the small cooler. Later, after we barbeque chicken and ribs, we'll sit around a campfire on the beach drinking a last beer, eating S'Mores and telling old family stories—the more embarrassing the better.
Who said today's families—even teens and college students—are too jaded for old-fashioned vacations?  Not on a Lake Powell Houseboat. These days, it's hard enough to gather the family at the same place together much less come up with something that will please everybody, whatever their ages—and in our case that means toddlers, teens, college students and newly minted college grads to 30 and 50 somethings. House boating, I discovered back in 2004, can fit the bill.
To my surprise, our 59-foot boat had plenty of room for the nine of us, even with only one shower and two bathrooms. It helped that we all like each other – a lot. We gathered from Connecticut, Illinois, Colorado and California, lugging bags of groceries on board.
And since there's no resort staff to do our bidding, everyone must pitch in, whether digging a pit for the campfire, anchoring the boat, playing with the baby, or scrubbing the pots. (NO dishwasher!)
That all contributes to the "it's-us-out-here-alone"adventure that we'll be talking about for years—along with the you-gotta-be-here jokes. "The boat forced us into spending quality time together," offered my 23-year-old nephew Chris Yemma, who just graduated from college in California.
That was exactly my intent, of course during the only week all summer we could all be together. We opted for Lake Powell after a family occasion brought us all to Las Vegas, about a four hour drive.
Even the kids who famously think scenery is "boring" are awed by the sheer beauty and size of the lake and the ever changing canyon walls and rock formations that look like mounds of chocolate ice cream scooped on top of vanilla..
Formed nearly 50 years ago by the construction of the Glen Canyon Dam on the Colorado River, Lake Powell is so big it starts in northern Arizona and extends into southern Utah—more than 1900 miles of shore line No wonder this is considered a premier Western houseboat destination, drawing families from all over the country.
We pick up our boat, water toys and motor boat (it's a lot more efficient to anchor the houseboat and explore via motor boat, we quickly learn) at Wahweap Marina, where "the guys" got an extensive Houseboating 101 lesson from an amiable instructor. After he makes sure they understand how to use the radio, he points out the thick black notebook full of instructions should anything untoward happen.
The rest of us quickly settle in. Anyone who has ever camped with kids or toddlers will appreciate how nice it is to enjoy the wilderness without forsaking conveniences like running water, hot showers, flush toilets and comfortable beds, though the five teens and young adults sleep on mattress-sized cushions under the stars
There's everything we need–even a TV, blender for margaritas and milkshakes and two gas grills—one on the upper deck. (Summer deals still are available as much as 30 per cent off—as much as half off if you go the end of August) .
Of course the trip doesn't go without a few glitches. Does any family vacation? We lose water pressure. (We solve the problem by reading the black notebook.) Two-year-old Ethan endures a heat rash and then a cold. His mom, my cousin Jayme Sitzman, fights morning sickness—every afternoon. Chris gets lost for a couple of hours one day on the wave runner. There are splinters, sunburn and sore throats. Thank goodness for my well-stocked first aid kit! Thank goodness we packed plenty of wine and beer!
Our last day comes too fast. We cook a big eggs-and-sausage breakfast and play in the water with Ethan while the older kids go water skiing and tubing. They swim to a tiny rock island about 100 yards off shore and take turns cannon-balling into the lake. They float in the sunshine on the big tube. Ethan looks off the side of the boat for "fishies."
We don't have to be anyplace or do anything—until tomorrow. And that's a good thing—a very good thing.