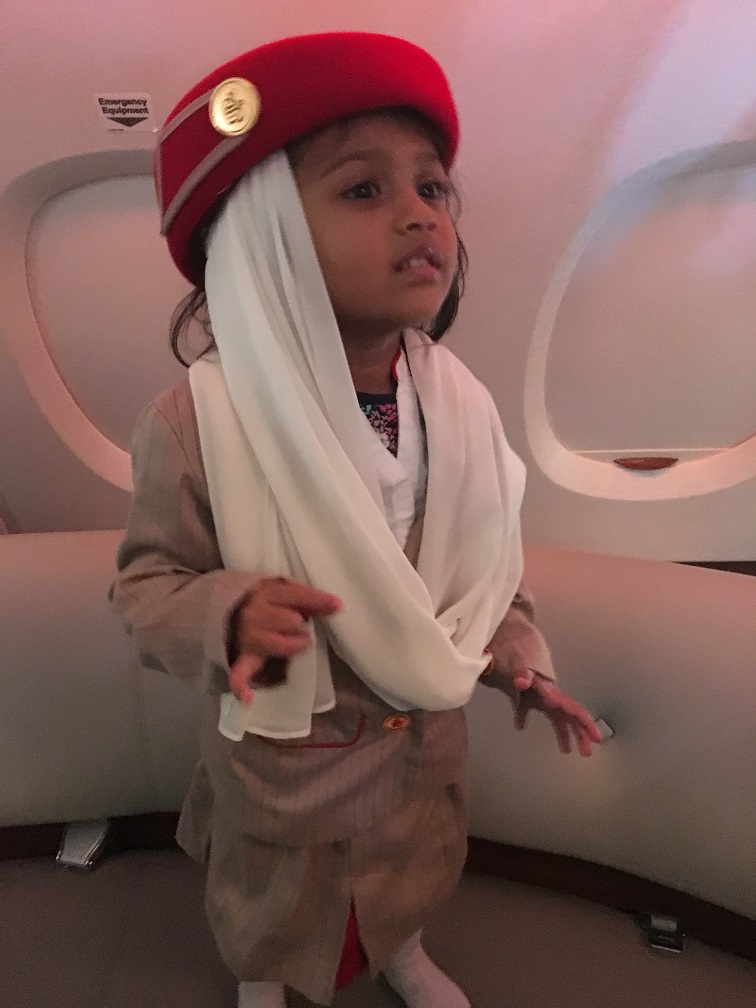 By Eileen Ogintz
ENROUTE NEW YORK-DUBAI ON EMIRATES AIRLINES — Lucky Kids.
They have their pick of new toys, movies and 50 Disney channels. There's pizza, pasta or chicken fingers and plenty of video games. The best part: parents can't complain about too much screen time or junk food—not when they're on a 12-hour plus flight from New York to Dubai.
Welcome to Emirates Airlines which takes customer service seriously, even for the littlest passengers. That includes baby toys, packages of wipes and diapers, baby food and formula, lest you forget something.
"It's the entire Emirates experience," said Samar Habayeb, flying home to Dubai with her mom and two week-old son Sammy Jimian. There are bassinets for infants if you want one (Habayeb preferred her Baby Bjorn) and, when you fly business class, a bar to chat up fellow passengers (and grab a canapé or two—also ideal for toddlers just learning to walk). Flight attendants make a point of offering their distinctive red hats with white veil (with seven pleats for the seven emirates) to little girls and captains hats to boys—and snapping their pictures with a Polaroid camera.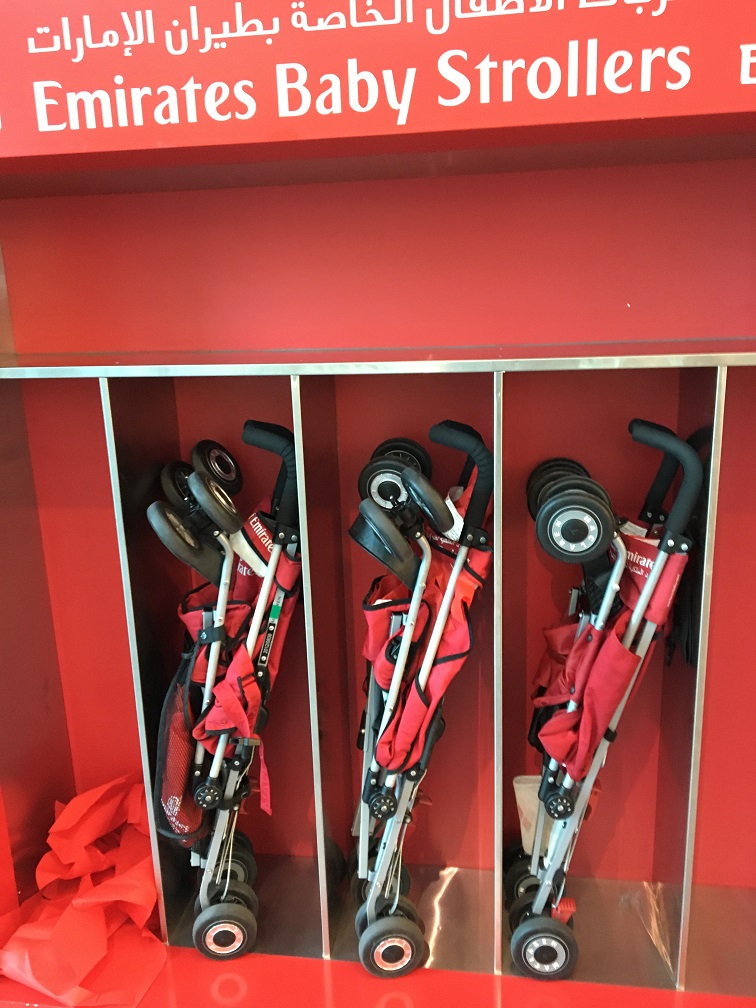 No wonder kids like Rian Filli, 9, tells his parents: "Emirates is my favorite airline."
He couldn't remember how many movies he'd watched because there were so many.
I like that the flight attendants bring around the toy bag to economy as well as business and first class. There are toys for babies, animals (a monkey, panda, lion or camel…with a cozy blanket inside; a "Find Your Way" activity book with fun facts about geography from Lonely Planet (the tallest building in the world is in Dubai—Burg Khalifa 2,717 feet); another "Fly With Me" animals activity book, a travel journal, etch a sketch and a messenger bag to put it all in—red of course! One two-year-old is decked out in a mini flight attendant's uniform (for sale for $57). There is also a captain's uniform.
"The kids select what they want and are surprised by the choice," said Catherine Sourial, the purser who oversees the cabin crew on our flight.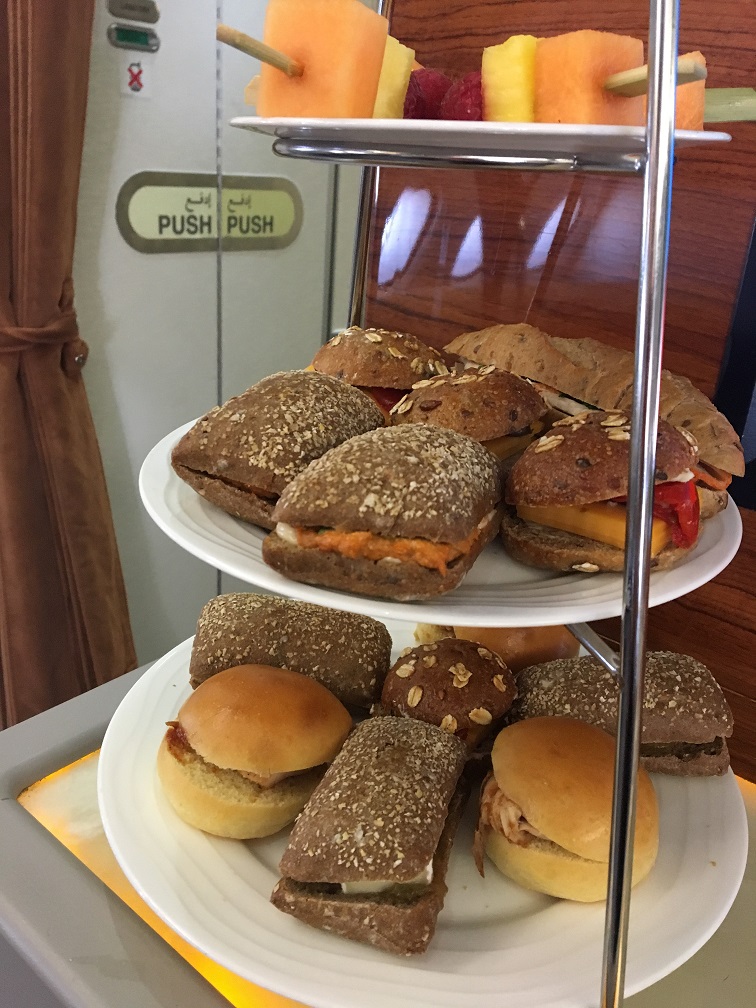 It's the extra touches—the captain signing their travel journals, the chance to have their picture taken in a flight attendant's or captain's hat—perhaps even the chance for a wannabe young flight attendant to help serve. "It makes their flight," said Luisa Jangemi, a long-time flight attendant who now trains staff—down to teaching them how to "engage" passengers at the flying bar. "It's about inviting them in, focusing on how to start a conversation," she said.
For the parents, it might be the flight attendant walking a child up the aisle or that every cabin has a diaper changing table in the bathroom.
Emirates is expanding rapidly. Thirteen years ago, the airline had just one route to the United States and just 71 aircraft. Now there are 12 routes, including one that goes to Milan and one to Athens before going on to Dubai, and 200 aircraft. The crew staff has more than doubled since 2010 to 24,000-plus. About 120 new crew start training per week—culled from 250,000 applicants a year who include doctors, lawyers, even an optometrist and a vet.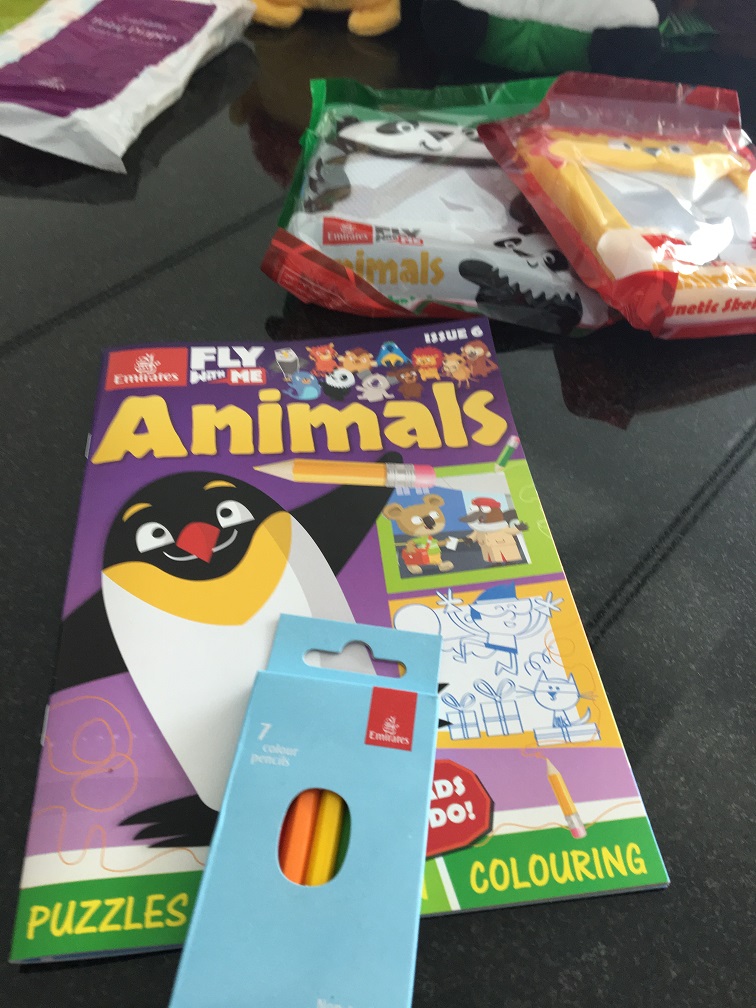 Getting the right cabin staff–the face of the brand–is so important that only four per cent of those who apply are accepted and represent 140 nationalities. Twenty-five percent of the cabin crew are now men; more women are actively being sought as pilots. In an eight-week training program they are schooled in everything from hair style (buns are preferred; no beards for the men) to the color lipstick (red to match the hat!) to cultural sensitivities (Middle Eastern men may touch noses rather than shake hands). "The last thing we want to do is offend a passenger," said Langemi.
Most important: safety. Emirates has one of the most sophisticated simulator setups anywhere, with $73 million in equipment. Everything from a fire on board to extreme turbulence to a water landing to a heart attack can be simulated.
The kids' meals in economy as well as business class looked more appealing than any I've been served on other long haul flights. And aboard the A380—the largest plane in the world with 498 passenger capacity, 14 in first class (they even have an onboard shower!), 76 in business and just over 400 in economy—economy feels more like economy-plus on other airlines.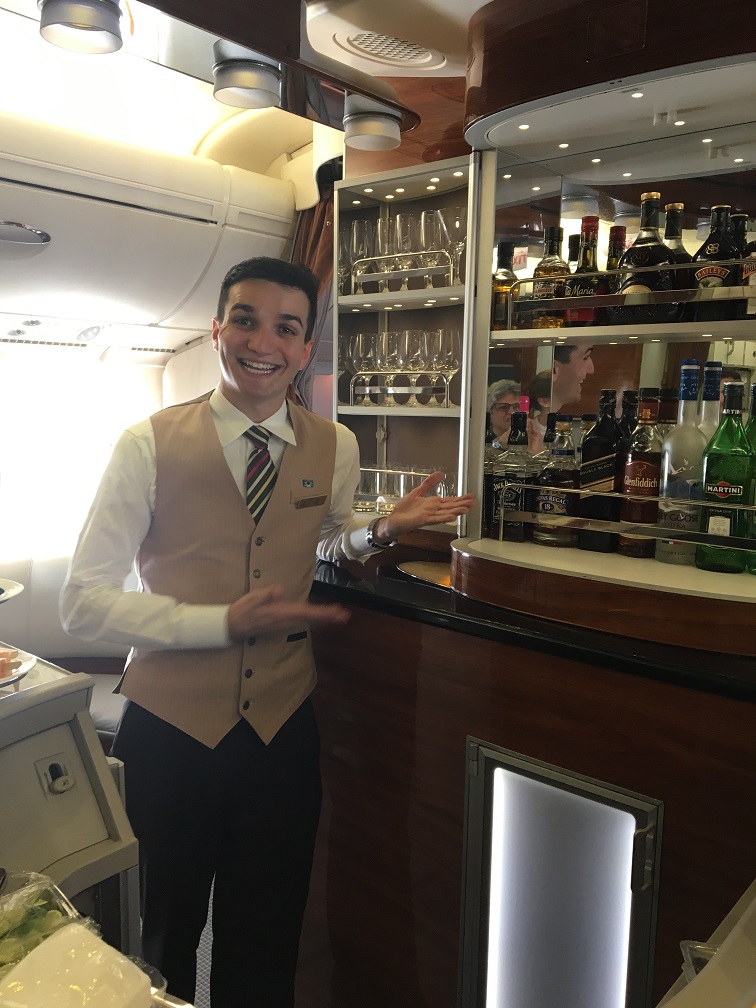 "The experience is not just on the plane," said Habayeb. It starts for business class passengers when they are whisked to-and-from the airport in a chauffeured car. It's the food in the best appointed lounge I've seen–prawn and asparagus salad; fruits, cheese plates, hummus and pita bread, wild mushroom soup chicken tika, cauliflower lentil salad, all varieties of alcoholic and non-alcoholic drinks. And that's before being served a three-course meal followed by a cheese board, after dinner drinks and chocolate. "Emirates does a better job about everything," she said.
"Quite spacious in coach. The kids love it," said Archana Mathur, traveling with her husband and two young sons in economy.
I see why the food is so good when I visit Emirates Flight Catering Facility in Dubai, where everything is made from scratch and menus are developed to meet the needs of wildly disparate cultures (sushi for the Japanese; curry for the Indians, vegetarian meals and those that will appeal to Australians and Americans).
Food workers are busy baking muffins and chocolate cakes; precisely portioning main courses and salads, rolling sushi. Everything is fresh –no additives, no preservatives with cold food consumed typically within 12-15 hours and hot food 72 hours.
The menus have changed as attitudes have shifted, said James Griffith, the Vice President of Culinary. People want lighter, healthier fare, he explained, and more flexibility when they eat. The airline does more surveys—including with kids and parents to determine what works and what won't appeal.
But one thing remains the same. "The parents want the kids to eat healthier," said Griffith, the father of two, "but the kids want chicken nuggets and pizza."