By EILEEN OGINTZ
Tribune Content Agency
Fiery Furnace… Eye of the Whale… Balanced Rock… Courthouse Towers.
Massive impossibly balanced rocks, huge pinnacles, double arches, collapsed arches…
There are more than 2000 arches in Arches National Park in Moab, Utah. Everyone will see something different. Which animal? A witch? A dinosaur? A hand?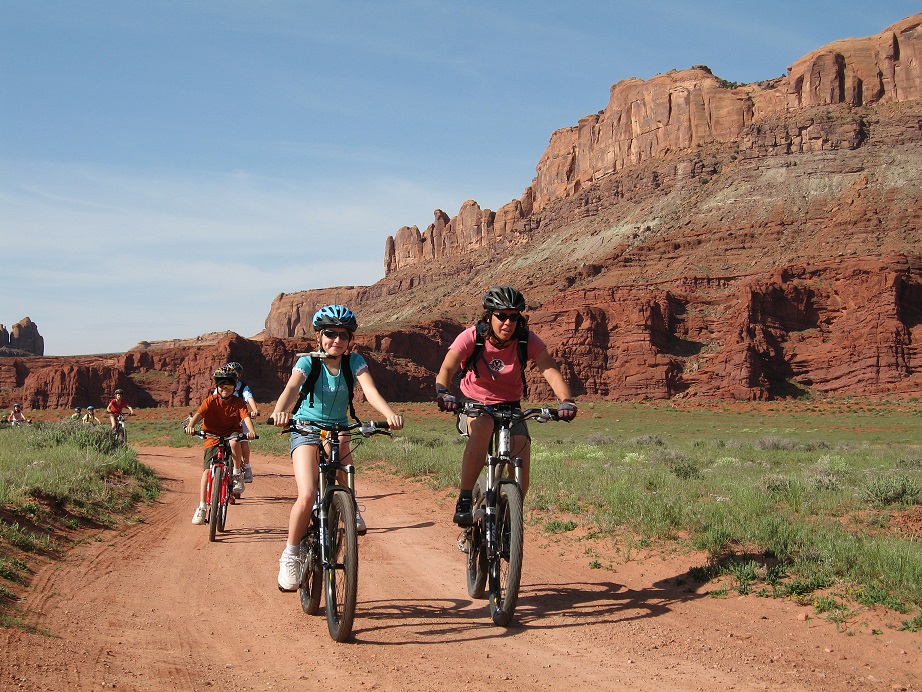 Some of the arches are named for things they remind us of — like Bagel Arch. Suggest the kids find their own names for arches!
In case you are wondering, an ARCH is a window or hole in the rock. A BUTTE is a flat-topped hill. A FIN is a tall skinny tower of rock. BALANCED ROCK is a tower with a bottom much smaller than the top.
Many families like to anchor themselves in Moab because they can visit Arches and Canyonlands National Parks, as well as mountain bike, paddleboard, river raft, horseback ride, hike, fish, golf, etc., without having to move to another locale. (Check out Moab Adventure Center for a variety of activities, including private tours of the national parks.)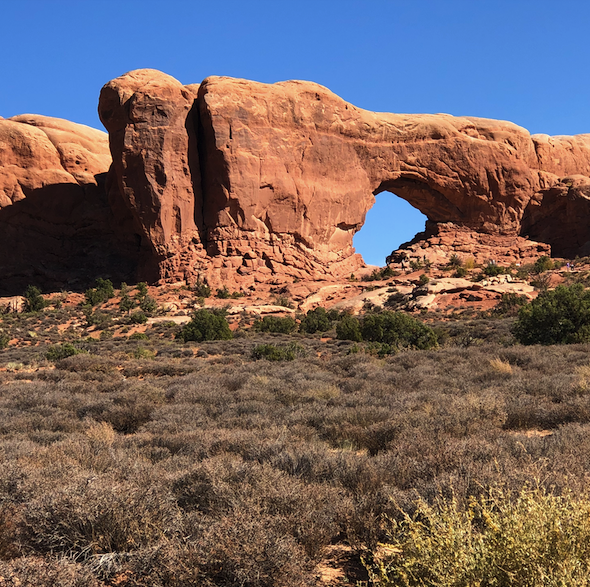 Like other national parks this pandemic summer, Arches and Canyonlands are reopening in phases. Check the parks' websites before your visit to know what's open and what's not. Visitor centers, park stores remain closed as do some campgrounds. Make sure to bring your own food and water! Another tip: To avoid long lines and traffic, arrive early in the morning or late in the afternoon. Late afternoon and evening visits can be the most pleasant, in fact, when it is cooler, the parking areas and trails less crowded and the light is best for photos.
We visited on an RV trip last fall, spending a few days at the KOA Moab campground, a great place to stay while we explore Arches National Park, Canyonland National Park and Dead Horse Point State Park, It's at the end of a mesa at the end of Canyonlands National Park, 2,000 feet above the Colorado River. (Check the Utah State Parks website for the latest COVID-19 updates.
Because families want to get outdoors this summer, RV trips are proving very popular as you have your own bathroom, can cook your own food, bring your pooch and give the kids some much-needed freedom in a campground. (Check RVshare for rental options averaging under $145 a night.)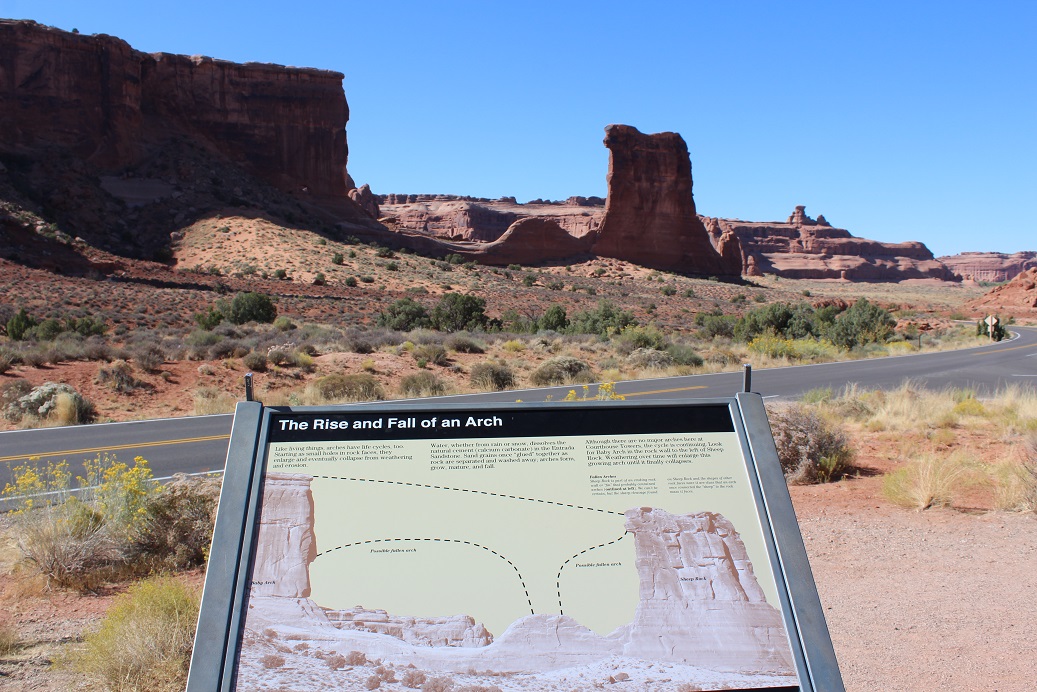 At Arches, there were many RVers who, like us, visit for the day. Kids especially love that there are so many short hikes. Stand in the middle of a giant circle in the rock! Walk right up to many of the park's largest arches — within just a short 20-minute walk. (You can take your pet outside where vehicles are allowed, but not on trails.)
You'll find short walks along the 36-mile Scenic Drive. Try the Park Avenue Trail. Ask the on-duty rangers for appropriate hikes and if kids can still become Junior Rangers as the visitor centers are closed. A tip: If your kids want to become junior rangers, download the booklets online. Both Canyonlands and Arches have set up basic outdoor visitor centers and hopefully, kids can get their junior rangers badges there.
Canyonlands is too big to explore in its entirety in one day. In the northern section, you'll see Island in the Sky with its spectacular vistas of ancient canyons, cliffs and washes. At Green River Viewpoint, see where John Wesley Powell set off on his explorations in the 19th century.
In the southern section of Canyonlands, the Green River and Colorado come together at the Confluence, just upstream from Cataract Canyon, which is legendary for fast-action river rafting. Powell's explorations mapped all of that but were more famous for exploring and mapping the Grand Canyon.
Schafer Canyon is one of the most spectacular spots, we thought. There is a gravel road down from the top of the canyon to the Green River on which ancient people trekked. It later became a livestock trail (ranchers would drive cattle and sheep down to the river for water and up to the grassy prairies for grazing). In the 1950s, the trail was widened to allow trucks to haul up uranium that was discovered in the canyon. Today, the road is used by hikers and mountain bikers mostly.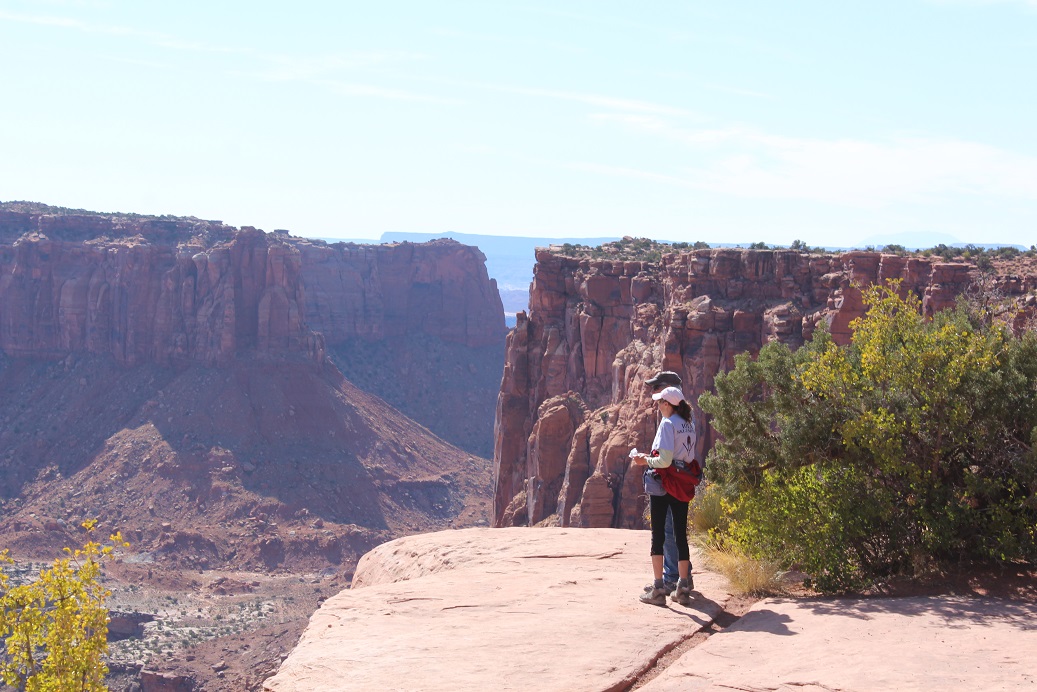 Wherever you hike, remind the kids that the soil is alive. All the tiny algae, mosses and fungi growing on the sand help plants grow and prevent dust storms; that's why it's so important here to stay on the trails.
You'll see plants that have adapted to the desert (little moisture, cold winters, hot summers, thin soil) like Big Sagebrush, Utah Juniper (that grows to 25 feet tall), Mormon Tea (the boiled stems are useful in treating bladder infections) and Prickly Pear cactus that blooms in early summer.
Hunter-gatherers migrated here as long ago as 10,000 years ago. No dwellings have been found here but there are rock pictographs. People living in modern-day pueblos are descendants of the ancient peoples; the first Europeans were likely trappers searching western rivers for valuable beaver and otter.
Arches National Park's famous arches here began as giant cracks that are called "fins." Over thousands of years, water seeps through and makes weak spots that eventually break out. You might see some in the making.
Who will be the first to strike a yoga pose in front of the arch?
©2020 Eileen Ogintz