By Eileen Ogintz
ABOARD THE QUEEN MARY 2 ON AN ATLANTIC CROSSING (Day 4) — There are red velvet cupcakes, macadamia chocolate tarts, chocolate fondant, three-chocolate mousse, chocolate cake pops and a chocolate fountain to dip cookies on a stick.
It's the Chocolate Buffet extravaganza and passengers seem to be taking full advantage, loading up plates with cupcakes, profiteroles, fudge and Black Forest Cake and more.
Is it possible to be on a cruise ship—in this case on Cunard's Queen Mary II crossing the Atlantic from Southampton to New York—without gaining weight?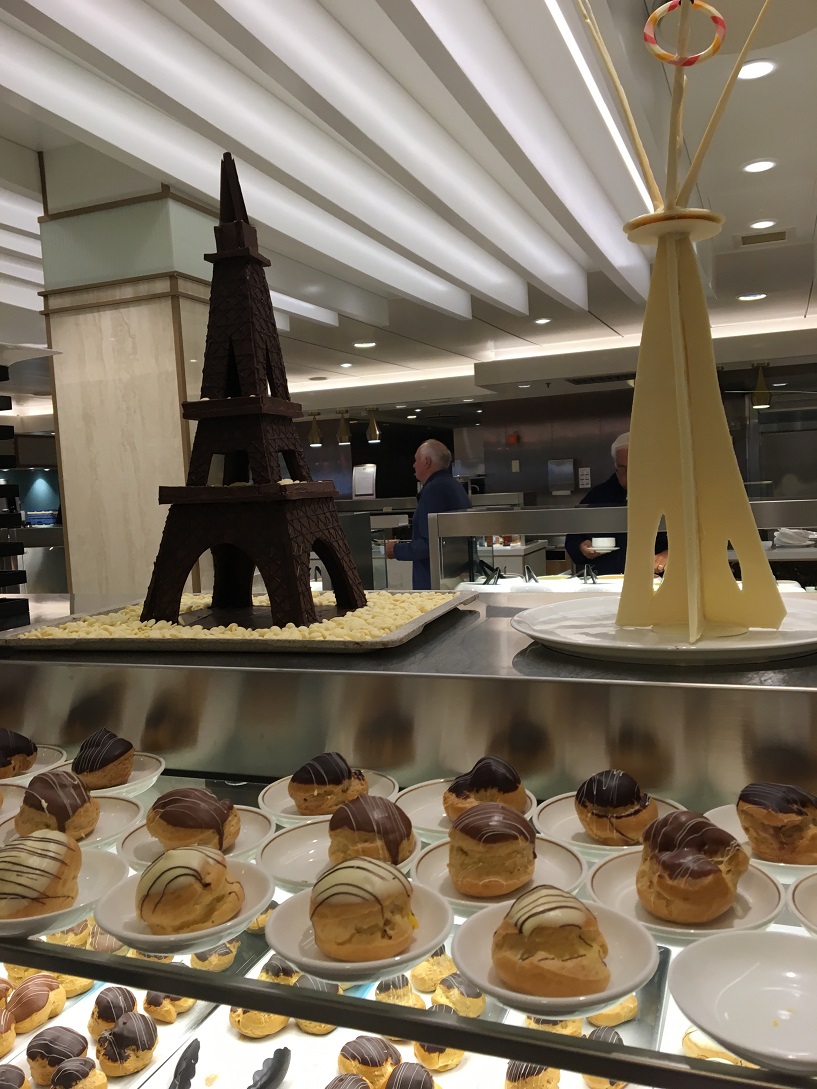 Canyon Ranch thinks you can. Not only is there a large spa on board with 31 staff including an acupuncture doctor (MD) to do injections like Botox and chiropractor but there are Canyon Ranch selections in the dining room for lunch and dinner.
"You don't need all of that heavy food," said Diane Cassa, a scientist traveling with her 13-year-old daughter Julia. "It's portion controlled and fat controlled," she said, as well as very tasty.
There is also a well equipped fitness center that's busy even before 8 a.m. and plenty of fitness classes too. (Take a stroll three times around the ship's promenade and you've walked more than a mile in the bracing sea air!)
Some people plan their entire trip around the spa and wellness activities, said spa manager Arlene Cassidy. But the emphasis is more on wellness than pampering. She explained that Canyon Ranch at Sea is now on 20 ships and can build spa packages for people whether they are concerned about weight loss, aching knees, back pain or simply retarding the aging process. "We want to educate the guest," explained Cassidy. "We are encouraging and inspiring people toward healthy living."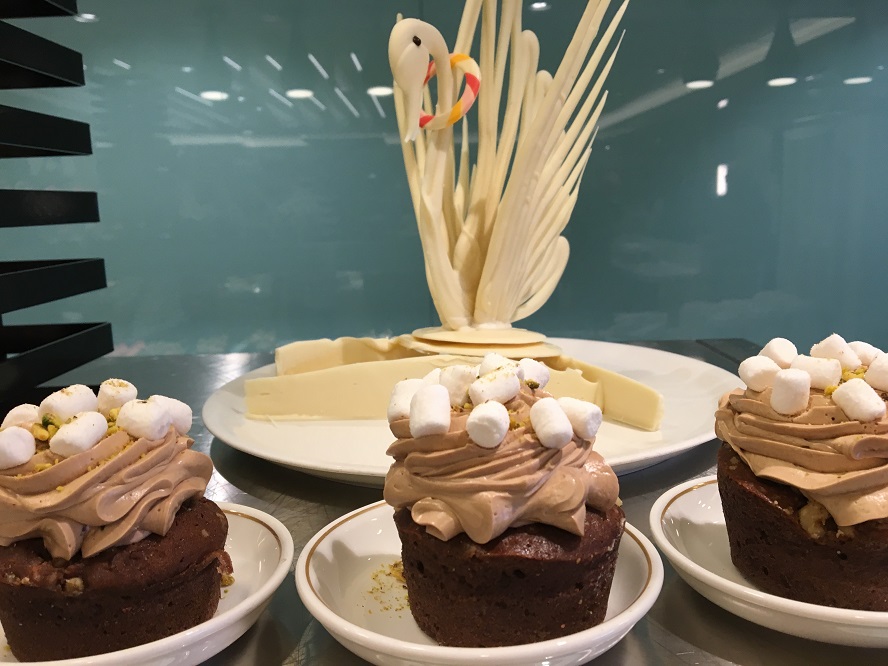 Canyon Ranch created its first wellness resort in 1979 in Tucson; Today there are others in Lenox, MA and Kaplankaya Turkey as well as a SpaClub in Las Vegas and on 20 ships.Here there are rejuvenation plans and anti-aging treatment plans, a men's recharge plan, conditioning body scrubs, Organic Body Wraps and Thermal Therapy.
I indulged in a 100-minute Detoxifying Ritual based on the practices of a traditional hama bathhouse. First, I was cleaned with Moroccan mint tea and silt purifier, scrubbed with coffee, olive stones and fresh lemons. A jasmine rose wrap clay was applied to draw out impurities and then orange quince steam mist recharges me. Cardamon amber oil relaxes muscle tension and stimulates circulation with a blend of cardamom, jasmine, bright citrus oil. I soak in a whirlpool tub with dead sea salts for 15 minutes and then have an excellent massage. Thanks Annique for doing such a lovely job!
There are also Seaweed Wraps with special hand-harvested seaweed from the northwest coast of Ireland which is said to detoxify, firm and soften the skin while releasing muscle tension.
There are free seminars every day on different wellness topics—how to walk without pain one day, how acupuncture works another. There are sessions on best using makeup and hairstyles to best flatter your features. All those who attend a session are entitled to a free consultation with the experts.
There are fitness classes—yoga, biking, stretching, among others (for a $12 fee). And a full range of spa treatments—anti-aging facials, a "detoxifying ritual," body scrubs and body washes, massage—take your pick of Thai, stone or deep tissue.
And as this ship has three formal nights, the salon does a brisk business in hair and nails with the five hairdressers always busy. "You have to book as soon as you get on board," said Cassidy. There is also a wonderful Water area with huge whirlpool, with jets strong enough to relax aching muscles, aromatic steam and sauna, a tropical rain mist shower, even a reflexology bath for tired feet and ice should you want some after the steam or sauna..
When kids are on board, they are welcomed with "pamper parties," mini facials or mani-pedis, even massage as long as mom or dad comes along.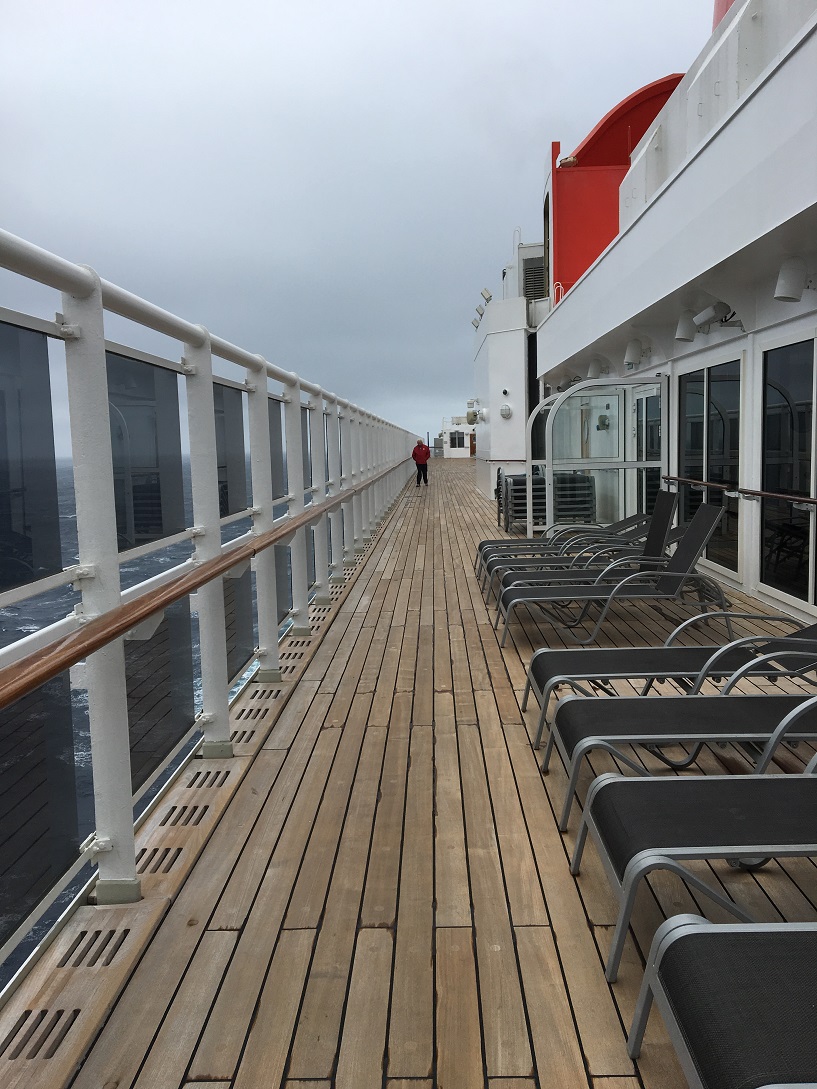 Diane Cassa who lives in Newfoundland said she especially liked how children like her daughter Julia are welcome throughout the ship "as long as they behave" in dancing lessons, for example, or historical lectures, at afternoon tea or a late evening ball where everyone is dressed to the nines.
"Waltzing at 1 a.m. in the middle of the Atlantic? How many people can say they've done that," said Cassa, adding that the passengers are always interested in sharing their stories with Julia—why they've chosen this voyage, for example, perhaps moving from Europe or a retirement celebration.
She and Julia were too busy with all of the shipboard activities to try the spa. But because there are no ports, it seems easier to get appointments and everything moves at a more relaxed pace.
While more women use the spa, men, said Cassidy, gravitate toward massage as well as acupuncture. I was impressed that unlike most spas I've been to, no one tried to sell me any products. "That's not the Canyon Ranch way," said Cassidy.
Diane Cassa, who has crossed the Atlantic before with Cunard, says passengers must think of this "as a voyage rather than just a holiday," a time to unwind.
Perhaps it's also a time to reassess the way you are living and eating. That's if only you can resist all of the chocolate!